Newly released documents provide more insight into the stint of a Montana State Prison warden who was fired before the end of his probationary period.
But they don't include specific details about reasons for Michael Fletcher's termination. Fletcher's hiring was announced in March 2017 and he briefly overlapped with the outgoing warden. He was dismissed in January 2018.
Because Fletcher was let go during his probationary period, the department could terminate him for any reason or no reason at all.
The nearly 150 pages of records include anonymous complaints claiming bad behavior by Fletcher, though it's unclear whether the accusations were investigated or confirmed by the state Department of Corrections. 
Fletcher disputes nearly all the accusations, which include poor treatment of prisoners, sexual harassment, trouble with alcohol and retaliation against employees who brought forward concerns.
A spokeswoman for the Department of Corrections would not confirm if Fletcher was ever formally investigated, answering a question about whether an investigation occurred by saying "The department has provided all available public records on this issue and has no further comment."
Fletcher told Lee Newspapers last week he was never investigated and only discussed the accusations with department leadership twice before being let go. Fletcher also said he was was frustrated with the lack of a reason for his termination, saying it left him in a bad position for finding new work.
Lee Newspapers requested Fletcher's correspondence, as well as the correspondence and other documents from the department director and any public records pertaining to Fletcher's job performance. Fletcher was hired by an interim director, Loraine Wodnik, who became deputy director when current director Reginald Michael was hired. Michael fired Fletcher.
The only document specifically mentioning Fletcher's dismissal was an email from Jan. 23, 2018, when Michael told the leadership team he'd released Fletcher from employment, effective immediately. No other details were included.
The rest of the documents include claims made by prison employees whose names were redacted or otherwise concealed.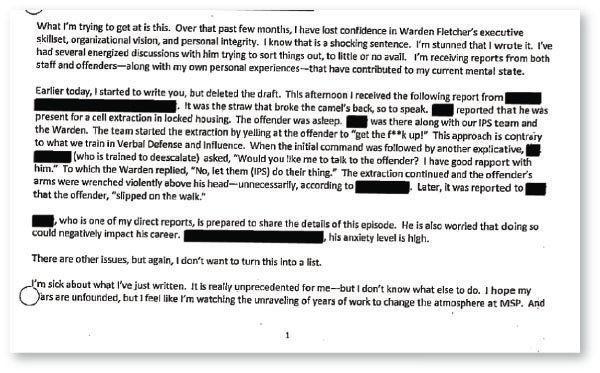 One exchange involves a claim that Fletcher watched as an inmate in locked housing was sworn at and had his arms "wrenched violently above his head — unnecessarily." 
Fletcher denied the prisoner was treated inappropriately, telling Lee Newspapers he just told people present to let a team of employees do their job. Two claims filed with the state's Human Rights Bureau alleged Fletcher and other prison officials discriminated against Native American inmates, but the bureau investigated and dismissed the complaints.
Other claims contended Fletcher drank more than the allowed limit at the local brewery, something else he denied. Montana breweries can only serve customers 48 ounces of beer a day.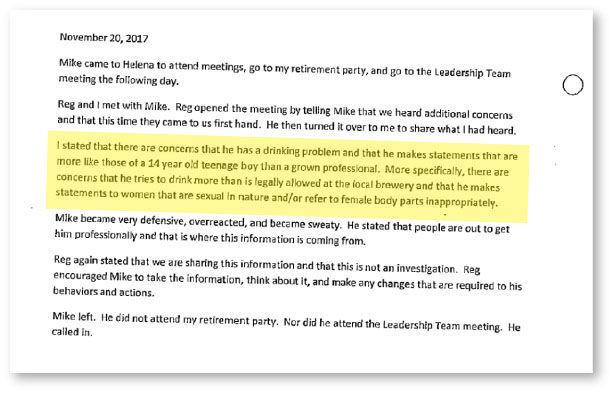 One department leader wrote about a meeting with Fletcher: "I stated that there are concerns that he has a drinking problem and that he makes statements that are more like those of a 14-year-old teenage boy than a grown professional. More specifically, there are concerns that he tries to drink more than is legally allowed at the local brewery and that he makes statements to women that are sexual in nature and/or refer to female body parts inappropriately."
Fletcher denied he ever behaved like that and said he went to the brewery owner to ask if his behavior was inappropriate.
"The owners told me, 'No, you've always been a gentleman here,'" Fletcher said. "I'm just shocked about this stuff that was never even brought to my attention."
In Deer Lodge last week, Michelle Warner, part-owner of Elk Ridge Brewing Co., confirmed Fletcher's account, saying that Fletcher came in with his wife and daughter and "was always very respectful."
"I never had a problem with him," Warner said. 
Scott Anderson, owner of Scotty's Bar and Casino, said Fletcher "never misbehaved in here. He always behaved, sat there, had a couple beers, and left. … He never did cause any trouble in here."
Employees of other local establishments that serve alcohol were unwilling to talk on the record about Fletcher's behavior. 
Other claims include allegations of sexual harassment.
An unnamed employee who went on a trip with Fletcher in June 2017 said he commented about stains on an old travel pillow, saying it had "probably different types of semen stains on it," according to documents.
"This made me feel ashamed," the employee wrote. " … The whole trip he talked about how there was semen on my pillow. I threw the pillow out in the garbage because of the shame."
A note from another employee dated May 2017 said Fletcher told a female employee several times "you need to make me breakfast."
You have free articles remaining.
"I was taken back by that comment because I know this is a very common joke that a guy would say to a girl after she had sex with him," the note reads. "… It can be described as frat boy humor." 

In another note, an employee said that while at lunch with a group of prison workers, Fletcher said he needed to buy "lingerie for his wife but couldn't figure out the cup sizes" and "kept asking the advice on the cup sizes from the women."
The documents provided show Fletcher had two meetings with department leadership, something Fletcher confirmed.
In the meetings, Fletcher had a "severe" reaction to being told about the claims, according to documents.
A note from one meeting reads: "While defending his actions, Mike stated that he had never been behind closed doors with female employees. We never mentioned anything about him being behind closed doors with female employees. However, I had heard concerns about this from others."
Documents say Fletcher was told he was not under investigation, but was encouraged to "take the information, think about it and make any changes that are required to his behaviors and actions."
One memorandum from the human resources director to the deputy director of the Corrections department from Nov. 29, 2017, includes other concerns raised about Fletcher. The memo shows the human resources director requested an incident report and follow-up, which included emails from employees explaining their concerns. But it's unclear what resulted from that. The memo says information was forwarded to the deputy director for her review.
In calls with Lee Newspapers last week, Fletcher disputed nearly all the claims made against him, except one where he swore during a speech to new employees. 
"The statement I used some foul language in some training class did occur," Fletcher said. "I was talking to the class and my language was to explain how inmates act. That was brought to my attention and I explained to [the deputy director] I'm passionate about what I do."
Fletcher called the rest of the allegations "gross, sickening and totally untrue." He also said letters of support he'd gathered from some employees were not included in files provided to him and Lee Newspapers.
The department said Friday it provided everything its human resources and legal units determined was public information.
One document from October 2017 shows at one point claims made by an employee against Fletcher were "looked into" by someone at the department and were not able to be substantiated. Those claims were made by an employee who acknowledged he heard the information second- and third-hand, and said he was struggling with Fletcher's leadership style. The employee said he was so stressed out it affected his personal life and health, and acknowledged he was "mentally at a place that he would struggle to give the warden credit for any good work that he does" and stated he was considering leaving his job.
Fletcher said was frustrated that he was never under any sort of formal investigation because it would have given clarity to what claims could be verified and which couldn't, including one that a state vehicle assigned to him had beer cans all over the floor.
"I said, 'If someone makes an allegation against me, I expect you to look into it and investigate it, but if it turns out to be a total lie with no foundation of truth I think you should be holding them accountable and letting them know these rumors are affecting my ability to do my job, they are affecting my wife,'" Fletcher said. "At no time was there ever any drinking and there was never a time where I went out and consumed any alcohol with the state vehicle. That never happened."
Fletcher said he was was not given a reason for his firing.
"I was told the department, that Michael (the director), wanted to go in a different direction. ... This came as a total shock to me. I knew there were people making crazy allegations about me doing stuff. It hurt. I've never been so embarrassed and hurt before, especially not knowing why I was let go. The director and deputy director just showed up and said, 'We're going in a different direction and we no longer require your services.'"
Fletcher said he was escorted out of the prison, his personal items were boxed up and he was given two weeks to get out of state housing.
"I'm embarrassed about what happened," Fletcher said. "I walked out of there without a reason given to tell a prospective employer. It's dirty, it's unfair. I did nothing wrong, and they knew I did nothing wrong because they never disciplined me for anything and they never investigated about it. You get all these crazy allegations but you decide not to investigate any of them and you never investigate the guy. If I did one third of the things they're saying, good Lord. If you want to get rid of me, that's fine, but don't smear me."
Asked why people would make what he says are false claims about him, Fletcher said there were some employees who were upset about changes he made at the prison, others who wanted the warden job but didn't get it, another who was close with the former warden and someone else who was a bully.
"The people who made these up, it makes me sick to my stomach," Fletcher said. "They made up these lies about me and my family. … We'd become prisoners in that town. We didn't want to go out anywhere, my wife would be outside the store before it opened to go in so she wouldn't get bothered by anybody."
Harold Byrne, who retired from the Nevada Department of Corrections where he said he was Fletcher's supervisor, worked very briefly — for what he says was just two days before Fletcher was fired — at Montana's state prison. Byrne now works in the corrections field in Arkansas.
A state employee pay portal confirms that Byrne was paid by the Department Corrections as a correctional officer for at least some period of time in 2018.
Byrne said he saw employees who didn't like changes Fletcher implemented and who retaliated by making complaints.
"In the short time I was there I didn't see the issues they were having or the accusations they were making against him," Byrne said Friday. "I know it's a close-knit community, and from my experience when you make changes you create enemies."
— Montana Standard reporter Ted McDermott contributed to this story.