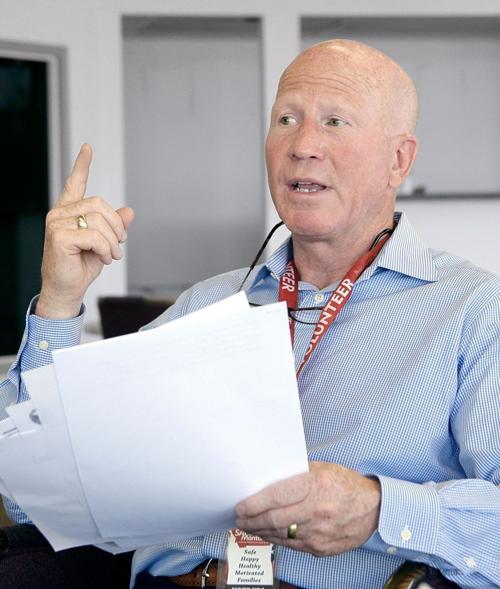 Opposition to a recreational cannabis campaign cropped up for the first time this week, less than eight weeks from the general election, headed up by a familiar face with a new brand.
It started with a video posted online Tuesday from the Montana Contractors Association, in which CEO David Smith lays out the group's opposition to marijuana legalization: workplace safety and a good labor supply. The group opposes Initiative 190, which would legalize, regulate and tax marijuana, and a complementary proposal in Constitutional Amendment 118, which would set the legal age of consumption at 21. 
"We just can't have the threat of an unsafe workplace," Smith said in a phone interview Thursday.
Following the Montana Contractors Association's announcement on Tuesday, a Facebook page titled "Wrong for Montana" launched on Wednesday, already primed with an anti-legalization video bearing the group's name. Smith said Thursday the MCA's opposition to I-190 will be, in part, contributing financially to Wrong for Montana's efforts.
The group was formed by Steve Zabawa, a Billings car dealer who has long opposed marijuana measures in Montana. His previous committee, Safe Montana, fought against medical marijuana expansion in 2014 and 2016. 
"We've been opposing it at every turn," Zabawa said in a phone interview Thursday. "I think it's great for Colorado, let them have the issues. But we don't need them here."
While his past efforts have been against medical marijuana, Zabawa said recreational use is a different bag. The campaign's Colorado references focus on higher emergency room visits and other "societal ills" that have played out since legalized marijuana went on the shelves in that state in 2014.
Pepper Petersen, spokesman for New Approach Montana, which is carrying I-190 and CI-118 in hopes of legalizing cannabis on Nov. 3, said Thursday the opposition groups are pushing "reefer madness," a reference to the 1936 film produced to scare the nation's parents on weed use. Petersen said Montana's medical marijuana cardholders, of which there are more than 38,000, show people can be responsible cannabis users.
"We've got a body of evidence that shows 40,000 medical marijuana patients who are perfectly functioning members of society that go to ball games and sponsor little league and pay their mortgages," Petersen said. "There's just so much common sense at play that tells you these are ludicrous exaggerations."
Zabawa's resurrection in the cannabis arena has already gathered support from a national outfit, Smart Approaches to Marijuana (SAM), similar to the support New Approach Montana has seen from its national affiliate, New Approach, and the Marijuana Policy Project, which has been a key hand in legalizing marijuana use in several states across the country. 
SAM Executive Vice President Luke Niforatos said Thursday the outfit is a non-partisan, non-profit "science-based organization" that's been involved in other initiatives across the country. 
"We're going to be putting the facts out there about the impacts of legalization," Niforatos said, adding the group's messaging will be backed up with data from Washington state, as well as Colorado. That messaging about black market benefits from legalization and too-high-in-potency cannabis is going to get to voters via mailers and digital advertising to meet the challenges of campaigning in the COVID-19 era, he said. 
The timing is in step with New Approach Montana's own campaign advertising push in the final stretch of the election season, and Niforatos said now is the time to get voters' attention.
"I think people are still kind of distracted by the federal and statewide races, and they'll start thinking about these issues in the next few weeks," he said.
Smith, of the Montana Contractors Association, said the state builders group's opposition was forged during a recent board meeting. The MCA has 250 members, 80 of them general contractors, another 60 of which are specialty contractors like equipment and supply dealers. 
Smith said Thursday any successful contractor has already established a drug-free workplace policy, but the association felt it was important to take a stand on the proposal. The association's membership, Smith said, was surprisingly passionate about its opposition during the I-190 conversation.
"A lot of people would probably say, 'Hey, why should I care what they do on their own time.' Indeed, you shouldn't, that's not your business," Smith said. "At the end of the day, safety is still important. If we're talking about not using marijuana recreationally, we're also saying take care of yourself, be healthy, show up for work tomorrow morning ready to go."
Petersen, of New Approach Montana, said he is still confident recreational marijuana will pass in November, and equally confident the contractors' group will see its benefits.
"We think eventually they'll see the benefit of it in terms of less opioid usage, less days off because their pain decreases, and they're going to see a substantial increase in revenue," Petersen said, clarifying that, if passed, the new tax revenues injected into the state budget will help construction projects go out to bid. 
Get Government & Politics updates in your inbox!
Stay up-to-date on the latest in local and national government and political topics with our newsletter.