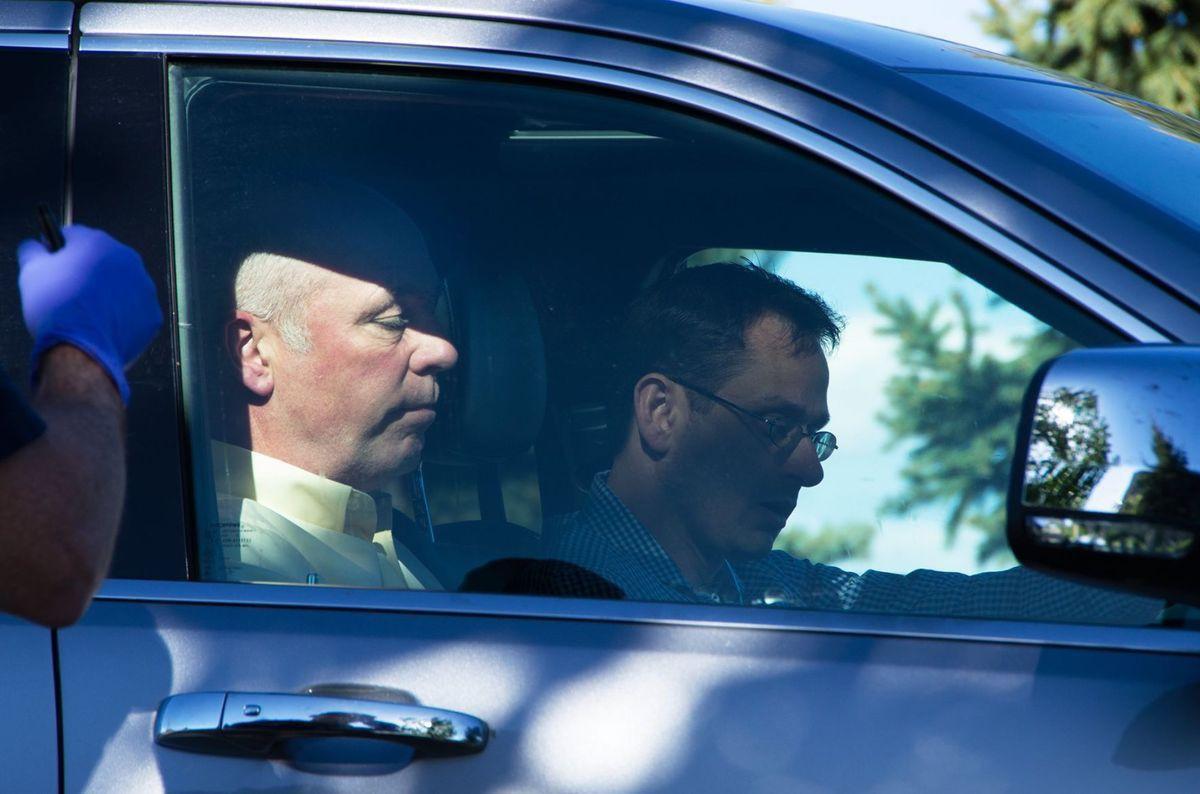 BOZEMAN — Republican congressional candidate Greg Gianforte was cited Wednesday night for misdemeanor assault after allegedly body-slamming a reporter who asked him a question about his stance on proposed health care legislation.
"Following multiple interviews and an investigation by the Gallatin County Sheriff's Office it was determined there was probable cause to issue a citation to Greg Gianforte for misdemeanor assault," the sheriff's office said in a statement released at about 10:30 p.m.
The incident occurred just hours before Thursday's special election to fill Montana's lone U.S. House seat, left vacant when President Donald Trump appointed Ryan Zinke as Interior Secretary. Democrat Rob Quist and Libertarian Mark Wicks also are running.
Earlier Wednesday evening, a Washington, D.C.-based reporter called Bozeman police to accuse Greg Gianforte of assaulting him during an interview at a Wednesday evening barbecue for campaign volunteers.
"Greg Gianforte just body slammed me and broke my glasses," Ben Jacobs tweeted at 6:06 p.m.
A Fox News reporter, Alicia Acuna, wrote that "Gianforte grabbed Jacobs by the neck with both hands and slammed him into the ground behind him. ... (The news crew) watched in disbelief as Gianforte then began punching the man, as he moved on top the reporter and began yelling something to the effect of, 'I'm sick and tired of this!'"
Those accounts differed sharply from a statement later issued by Gianforte's campaign.
Two reporters from the Bozeman Daily Chronicle soon started tweeting updates and photos as police and medics spoke to both Gianforte and Jacobs, a reporter for the Guardian, a British newspaper with a large U.S. following.
Jacobs was treated at Bozeman Health Deaconess Hospital, and released, according to Gallatin County Sheriff Brian Gootkin. In a telephone interview with MSNBC, Jacobs said an X-ray was planned for his elbow.
The sheriff's office said Jacobs' injuries "did not meet the statutory elements of felony assault."
Greg Gianforte just body slammed me and broke my glasses

— Ben Jacobs (@Bencjacobs) May 24, 2017
There was a local TV crew there when Gianforte body slammed me. Audio is posting soon at @GuardianUS

— Ben Jacobs (@Bencjacobs) May 24, 2017
Shortly after 7 p.m., the Guardian posted a 45-second audio recording of the incident, which began when he tried to ask Gianforte about a Congressional Budget Office report released Wednesday on the cost of the health care proposal passed in the House of Representatives.
Jacobs: "The CBO score, because you know you were waiting to make your decision about health care until you saw the CBO and it just came out."
Gianforte: "We'll talk about that later."
Jacobs: "Yeah but there's not going to be time. I'm just curious about how you'd react right now."
Gianforte: "Speak with (Campaign Spokesman) Shane (Scanlon), please."
At this point, conversation stops as both Jacobs and Gianforte apparently tumble to the ground, although it remains unclear how that happened.
In an interview on MSNBC, Jacobs said: "He grabs my recorder, my phone …  and yeah, throws me down, my glasses break."
Gianforte spokesman Scanlon, who was not in the room at that point, according to multiple reports, described the events differently in an emailed statement: "Jacobs grabbed Greg's wrist, and spun away from Greg, pushing them both to the ground."
What was said next was clear in the Guardian audio.
Gianforte, now yelling, is the first to speak: "I'm sick and tired of you guys, the last guy who came in here, you did the same thing! Get the hell out of here! You with the Guardian?"
Jacobs: "Yeah, you just broke my glasses."
Gianforte: "The last guy did the same damn thing."
Jacobs: "You just body slammed me and broke my glasses."
Gianforte: "Get the hell out of here."
Jacobs: "You'd like me to get the hell out of here, I'd also like to call the police. Can I get your guys' names? He just body slammed me."
An unidentified person, possibly Scanlon, says, "You've got to leave."
Guardian U.S. editor Lee Glendinning said in a statement that "The Guardian is deeply appalled by how our reporter, Ben Jacobs, was treated in the course of doing his job as a journalist while reporting on the Montana special election. We are committed to holding power to account and we stand by Ben and our team of reporters for the questions they ask and the reporting that is produced."
Within an hour of Jacob's initial tweet, the incident climbed to the top of trending stories on Facebook and Twitter, fueled by thousands of comments by journalists and political observers who had been closely watching the special election to fill a U.S. House seat vacated after Ryan Zinke was appointed Interior Secretary. It also was a leading story on numerous cable talk shows and news broadcasts Wednesday evening.
Scanlon did not respond to a call or text messages requesting an interview, but issued the following statement:
"Tonight, as Greg was giving a separate interview in a private office, The Guardian's Ben Jacobs entered the office without permission, aggressively shoved a recorder in Greg's face, and began asking badgering questions. Jacobs was asked to leave. After asking Jacobs to lower the recorder, Jacobs declined. Greg then attempted to grab the phone that was pushed in his face," he wrote. "It's unfortunate that this aggressive behavior from a liberal journalist created this scene at our campaign volunteer BBQ."
Alexis Levinson, a reporter for Buzzfeed News, told MSNBC that she had given a statement to the sheriff's office. In tweets and on air, she said she saw Jacobs go into a room where Gianforte was.
All of a sudden I heard a giant crash and saw Ben's feet fly in the air as he hit the floor

— Alexis Levinson (@alexis_levinson) May 24, 2017
Heard very angry yelling (as did all the volunteers in the room) - sounded like Gianforte

— Alexis Levinson (@alexis_levinson) May 24, 2017
"I heard the crash and saw his feet fly," she told MSNBC. She later told CNN that right before the incident, Scanlon had made some comments to Jacobs about not being happy with a previous Guardian story about Gianforte. "They are taking press they don't like very personally."
Jacobs told MSNBC that "I had been pressing the campaign for a few days to grab Gianforte one-on-one. And they told me they had decided in the past they weren't. I figured they were standing around there I would get his response to the CBO score. He had talked about holding off his opinion on health care until after the release of the CBO score."
Gianforte is scheduled to appear in Gallatin County Justice Court between now and June 7, 2017, the sheriff's office said.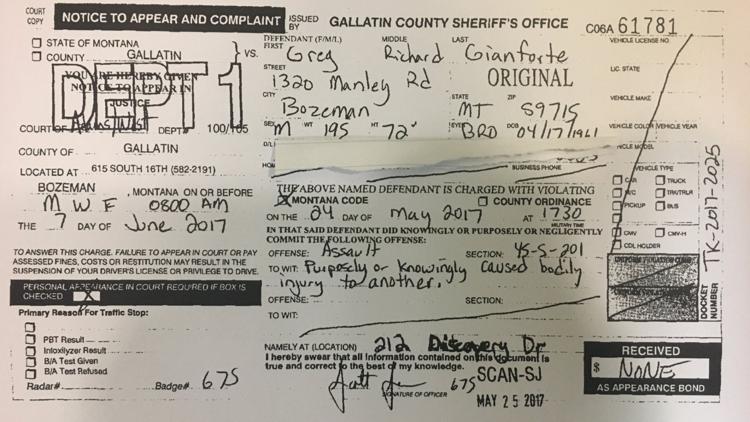 It is not the first time Gianforte has displayed a short temper with members of the media or voiced a distrust of journalists.
During the Republican's first campaign for public office last year, Gianforte met with the Missoulian editorial board as well as its city editor Gwen Florio and reporter Jayme Fraser. Under persistent questioning for more details about his position on refugee vetting and resettlement, Gianforte raised his voice, threw his phone down and repeatedly pounded the table.
"I'm not playing this game with you," he said. "I've been very clear. Montanans' safety is at risk and I will protect it and my opponent will not."
At an April campaign stop in Hamilton, Gianforte celebrated his 56th birthday and met with members of the Advancing Conservatism Society, a local constitutional Christian group. Ravalli Republic Reporter and Associate Editor Perry Backus wrote about the event including, as a later editorial described it, "the speech given by a local high school student, about the prayers and birthday cake."
Toward the end of Gianforte's talk, a man in the audience said to Gianforte, "Our biggest enemy is the news media" and asked, "How can we rein in the news media?" The man then turned to Backus, who was sitting next to him, and "raised his hands as if he would like to wring his neck."
Gianforte smiled, pointed at the reporter and said this: "We have someone right here. It seems like there is more of us than there is of him. I don't have a simple solution for you. I will say that doing town hall meetings and getting out and visiting with people is very important."
At a Billings Gazette editorial board a week later, he offered an apology for his comments about the press and said he fully supports the First Amendment, describing his remarks as a joke.
On Tuesday, the Guardian shared a video on Facebook of a different reporter trying to ask Gianforte about his support for Donald Trump. It might be the exchange that Gianforte referenced when yelling at Jacobs on Wednesday that "The last guy did the same damn thing."
In that video, Paul Lewis approaches Greg twice to ask him questions. The first time, Gianforte says, "We're here to visit with our folks here." As he starts to walk away, Lewis says, "Sure, that's great. You stand for Congress you get questions from journalists." Gianforte said he will talk to them next week. "That's what the guy told you."
Lewis said, "We're not here for next week," as Gianforte leaves. Apparently later at the same event, Lewis approached Gianforte to ask "about the national question, just about Mr. Trump, very, very quickly."
Gianforte nodded and stepped forward to talk. Lewis asked why Gianforte had distanced himself from Trump during his gubernatorial campaign but then embraced him and campaigned with his son.
"Nothing's changed," Gianforte said. "When I was running for governor. That's a state race, now I'm running for a federal position and I've always said that I was gonna vote for Donald Trump and now I'm in a position I get to work with him."
Lewis, talking over the end of Gianforte's comments, said, "Reluctantly. You said 'reluctantly,' I think." Gianforte walked away as Lewis spoke. The reporter stood alone for a moment then turned to the camera and said, "Short and sharp."
The Democratic Congressional Campaign Committee was quick to seize on the reports, calling for Gianforte to leave the race.
"Greg Gianforte must immediately withdraw his candidacy after his alleged violent assault of an innocent journalist," National Press Secretary Tyler Law wrote in a statement. "Further, Speaker (Paul) Ryan and the National Republican Campaign Committee should not waste another minute before publicly denouncing their candidate and apologizing for the millions of dollars they spent on his behalf."
The Chronicle reported that the event for volunteers continued at the campaign headquarters without Gianforte. His Democrat opponent appeared at a similar event for supporters in Missoula later that evening.
Rob Quist declined to comment on the incident when he briefly dropped by an event at Draught Works Brewery.
"I'm just here to thank my supporters," he said as reporters and television crews from national news outlets crowded around him in the bar.
One reporter continued to shout questions to Quist, asking if he thought Gianforte's alleged actions were appropriate, but the candidate walked past him to shake hands with a campaign volunteer.
"Tomorrow is going to be a big day," Quist said.
This story will be updated.
The Bozeman Daily Chronicle contributed to this article.