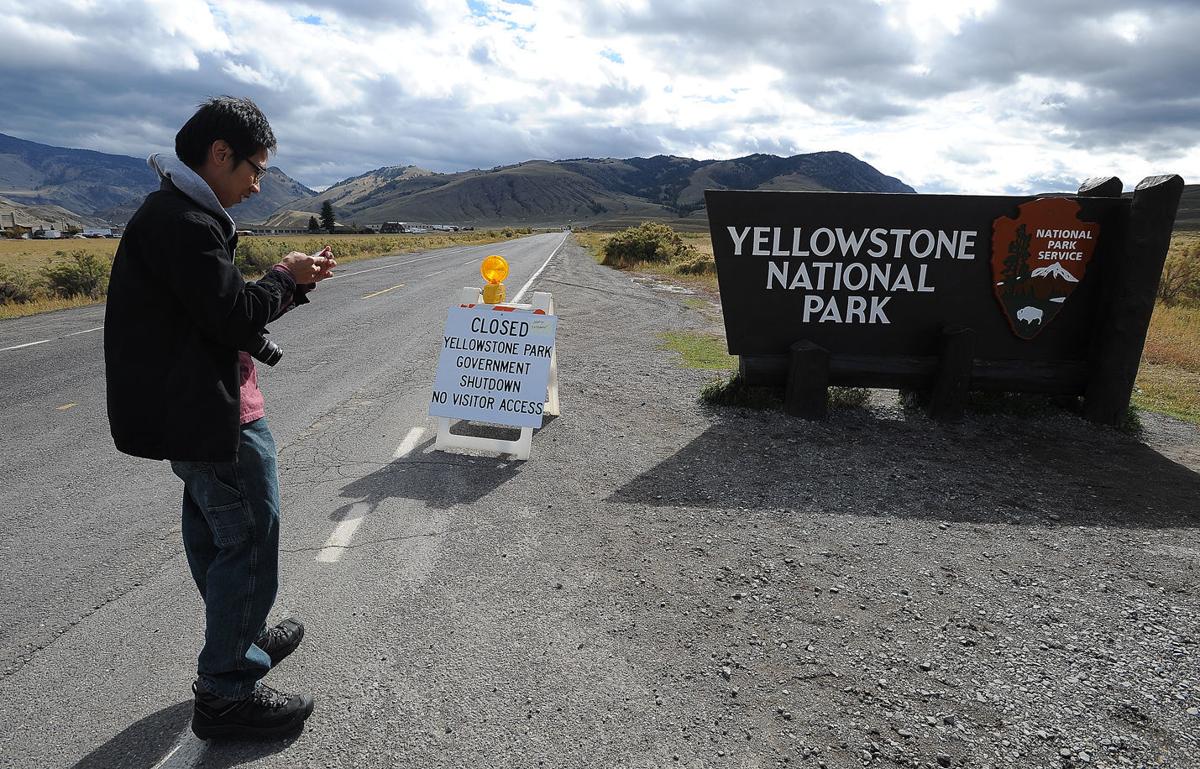 The effects of the government shutdown in Montana will be real but not all will be immediately apparent.
In Montana and elsewhere, services deemed essential, generally those that involve protecting life and property, will continue through a shutdown. That means law enforcement, customs, border and TSA agents, air traffic controllers and weather forecasters will keep working without pay.
Two other services in high demand this time of year, Amtrak and the Post Office, will also continue operating. The Departments of Defense, Health and Human Services, Energy, Education, Labor and Veterans Affairs are also all adequately funded for the moment.
But two of the government departments due to shut down at midnight Friday have a heavy footprint in Montana.
One of these is the Interior Department. Both Glacier and Yellowstone National Parks closed down during the 16-day government shutdown in fall 2013, leaving visitors frustrated at the gates. As another shutdown loomed this past January, the National Park Service, along with Interior's other agencies, made plans for a lapse in appropriations.
The Park Service's plan states that "park roads, lookouts, trails, and open-air memorials will generally remain accessible to visitors, but there will be no NPS-provided visitor services, including restrooms, trash collection, facilities and roads maintenance (including plowing), and public information," It adds that the Service will not issue permits, lead tours or provide other operational services during the shutdown.
Law enforcement and emergency response will continue at a level deemed necessary for essential activities.
This approach rankled the National Parks Conservation Association, which noted illicit off-roading and accidents at several National Parks, including Yellowstone, during the 48-hour January 2018 shutdown. "NPCA hopes for the sake of our federal workers and public lands that President Trump will work with our lawmakers to pass bipartisan legislation and keep our parks staffed and safe for all visitors," it stated on its website.
Interior's plans do allow national parks to work with local government and private entities to provide services in a park during a shutdown. The Glacier National Park Conservancy maintains a gift shop at the Belton train station, just outside the park's West Glacier entrance, and executive director Doug Mitchell said that the group had offered to provide assistance in the event of a shutdown.
"If Apgar [Visitor Center] closes, we'll be happy to have the Park Service direct people to Belton," he said.
Yellowstone Forever, that park's friends group, did not return a request for comment on whether they had any similar arrangements.
Montana's Indian tribes have a variety of relationships and joint activities with federal agencies. The Bureau of Indian Affairs defines its "essential functions" as coordinating law enforcement, emergency response, health and safety services, child abuse investigations and protecting federal facilities in Indian Country.
The Confederated Salish and Kootenai Tribes were braced for a possible shutdown. On Thursday, the tribes' Char-Koosta News posted a notice on Facebook directing all tribal employees to report to work as scheduled on Wednesday, December 26 (Tribal government is closed on Monday and Tuesday).
"Wednesday morning an assessment will be done to determine the next steps by the Tribal Council and staff as to which programs will continue operations and to what extent they will operate," the post stated. It was not clear Friday which programs might be affected by a shutdown.
The Department of Agriculture's U.S. Forest Service has deemed firefighting, law enforcement, protection of federal property, ongoing research and Job Corps activities as "essential."
Flathead National Forest spokesperson Janette Turk said she could not comment on a possible shutdown. The forest hosts two ski resorts — Whitefish and Blacktail — but Whitefish Mountain Resort spokesperson Riley Polumbus said operations there won't be affected.
Meanwhile, Chuck Roady, vice president and and general manager of F.H. Stoltze Land and Lumber Company in Columbia Falls, is confident timber sales on Forest Service land won't be affected. While previous shutdowns have caused challenges for the forest industry, he predicts that Forest Service directives will ensure continued access this time. "Regardless of whether people are around, we will still be able to operate," he said.
As the government neared the end of its current spending authority Friday afternoon, Montana Gov. Steve Bullock joined Republican Gov. Larry Hogan of Maryland in calling on Congressional leaders and President Trump to break their impasse over spending.
"If Congress and the Administration are unable to reach a funding deal, more than $314 billion in federal funds for vital government services will stop flowing to federal agencies and states," wrote Bullock and Hogan, respectively the chair and vice chair of the National Governors Association, "and hundreds of thousands of federal employees who provide services our citizens rely upon will be furloughed."
For more information on the Interior Department's plans for a government shutdown, visit doi.gov/shutdown. For information on the Department of Agriculture's plans, visit usda.gov/shutdownplans.