BOZEMAN — Republican congressman-elect Greg Gianforte will not spend any time in jail after he admitted a charge of misdemeanor assault Monday for "body slamming" a reporter on the eve of his election.
"I just want to say I'm sorry," Gianforte told Ben Jacobs, the reporter for the Guardian who he assaulted in Bozeman at a campaign event about 24 hours before polls closed.
Gallatin County Justice Court Judge Rick West ordered Gianforte to complete 20 hours of anger management counseling and 40 hours of community service, which must be completed by Nov. 28. Gianforte was given a deferred six-month jail sentence, meaning if he does not violate the conditions of his sentence the charge could be dismissed. Gianforte was also fined $385 and paid $4,646 in restitution. 
West initially tried to give Gianforte, 56, a sentence of four days in jail converted to two days in a work program. Work programs — which cut the time of a sentence in half — are not an option in assault cases, however.
When West first tried to sentence Gianforte to the work program, he said he considered how he would sentence someone charged with a similar crime who was not a congressman-elect.
"Looking at the crime itself, even with your (lack of) criminal background and everything you've done, is that something that I would normally in open court, to somebody who came in in jeans and a T-shirt, give them the same sentence?" West asked. "And in an unprovoked attack such as this, I would. In keeping with my standards of the time that I've been a judge, I think some jail time here would be appropriate."
West said he had been contacted by many people who suggested sentences for Gianforte. He called four days in jail covered to two days in the work program not "out of the ordinary."
"This is a standard sentence that I would do on an unprovoked attack or an unprovoked assault. There are ramifications."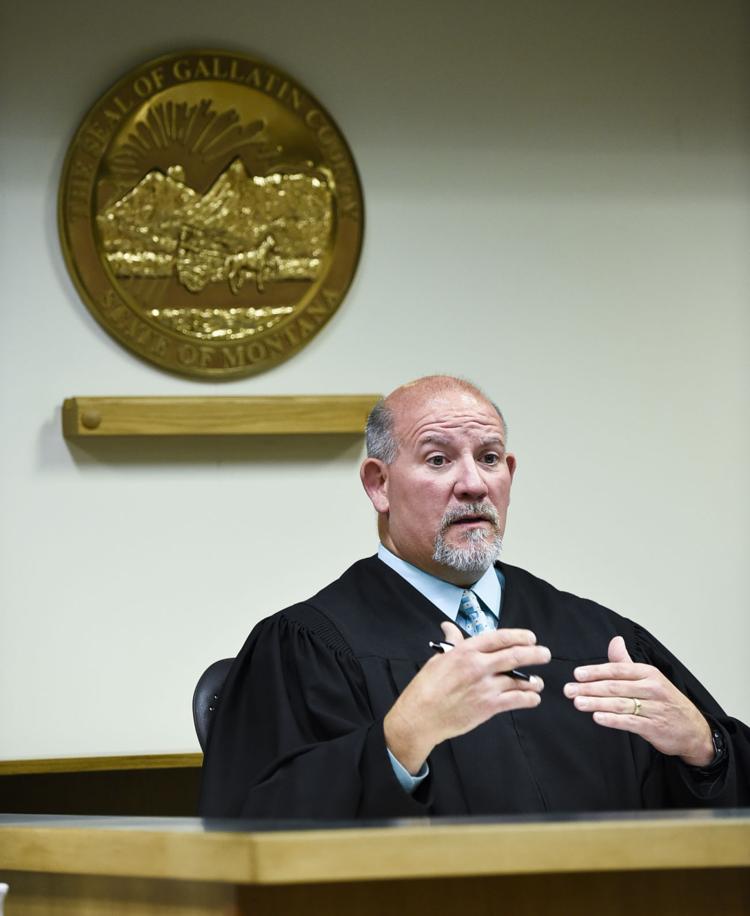 It was then brought to West's attention that the work program was not available to those who had committed a violent crime. That prompted him to change the sentence to anger management and community service.
"It is not my intent you spend four days in jail," West said to a small courtroom packed with journalists and some other members of the public. "I do not think that would serve the community or the taxpayers."
West said he felt anger management was necessary since Gianforte, who will go to Washington, D.C., under heavy scrutiny, could not handle questions from a single reporter.
Motioning around the courtroom, he said "It's not a lot of cameras compared to what you're going to see at the White House."
West referenced Gianforte's charitable giving in the Bozeman community and around the state when deliberating the sentence, but also said Gianforte's unprovoked attack overshadowed that. 
Gianforte has no prior criminal history. His attorneys objected to the congressman-elect going to the jail to collect booking information. If booked, his mugshot would be taken. It was unclear if a law passed out of the last state Legislature that gives a judge discretion over whether a person is booked applies in this case. Gianforte's attorneys and Gallatin County Attorney Marty Lambert will file briefs on the matter this month.
Jacobs, wearing a suit and new pair of glasses that replaced the ones broken in the attack, read to the court from a prepared statement. He spoke quietly enough the judge had to ask him to speak up.
Jacobs described the day of the attack, saying he had entered a room to ask Gianforte a question.
"I was just doing my job," Jacobs said. "Mr. Gianforte's response was to slam me to the floor and start punching me."
After the attack, Jacobs said Gianforte then sent an "inflammatory public statement in which he insisted this unprovoked ... attack was somehow my fault."
When pressed by the judge, Gianforte at first did not give clear details on the assault but later said he grabbed for Jacobs' phone, ended up grabbing his wrists instead and a "scuffle" ensued where both men fell to the ground.
In the hours after the assault, Gianforte's spokesman Shane Scanlon sent out a press release saying that Jacobs grabbed Gianforte's wrist and pulled both men to the ground. Scanlon's release also called Jacobs a "liberal reporter."
You have free articles remaining.
In his apology letter to Jacobs, Gianforte wrote "Notwithstanding anyone's statement to the contrary, you did not initiate any physical contact with me, and I had no right to assault you." Neither Gianforte nor his staff have clarified why a false statement was sent out after the assault.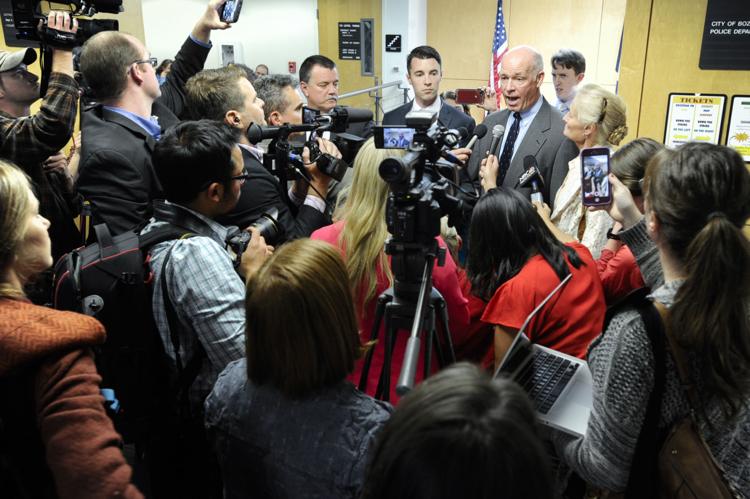 After the court hearing, Gianforte cut off questions from reporters before he could be asked about why his campaign sent out a false statement. 
A handful of protesters were outside the Law and Justice Center after court ended. They held up signs saying "Lock him up," "Shame" and "Justice vs. White Christian Privilege."
Jackie Crandall drove up from Roberts that morning to protest. "I think Greg Gianforte got special treatment," she said. "If he wasn't rich and powerful, he would be in jail. If he was black, he would be in jail."
After court adjourned, Lambert said he was happy with the sentencing.
"It's good for Ben Jacobs to have this behind him. It's good for Greg Gianforte to have this behind him. It's good for the people of Montana to have this behind them."
Last week, Jacobs and Gianforte announced they reached a civil settlement that included Gianforte writing an apology letter and donating $50,000 to the Committee to Protect Journalists. Jacobs did not receive any financial benefit from the settlement, which precludes any further civil action.
Jacobs said that after the apology, he's "confident (Gianforte) will be a strong advocate for the free press."
In his statement, Jacobs touched on the nature of political discourse, which has become increasingly aggressive and violent.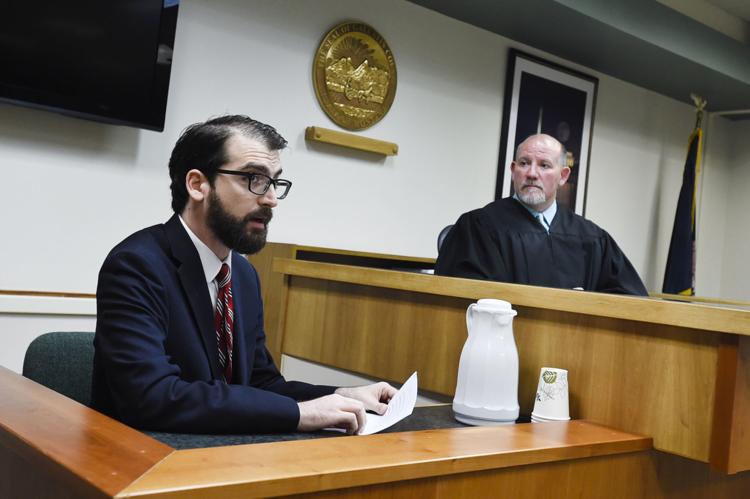 During his campaign last fall, President Donald Trump openly stoked rage toward the media and dismissed coverage he did not like as "fake news." In May, a reporter was arrested at the West Virginia State Capitol after trying to ask Secretary of Health and Human Services Tom Price and presidential adviser Kellyanne Conway a question. A reporter with CQ Roll Call was held against a wall by security at the Federal Communications Commission and then kicked out for trying to talk to a commissioner. Also in May, shots were fired at the office of the Lexington Herald-Leader in Kentucky.
"This needs to stop," Jacobs said. "There will always be fundamental political disagreements in our society. However, it cannot become personal and it certainly should not become violent."
Gianforte's apology and the court proceedings, Jacobs said, send "a strong message about the necessity for civil discourse and the role of the free press."
Jacobs on Monday said he'd like to interview Gianforte after he arrives in Washington, D.C., something Gianforte said he looked forward to.
Gianforte attacked Jacobs when he asked him a question about a health care bill at a campaign barbecue in Bozeman. Jacobs entered a room where Gianforte was preparing for another interview, and audio captured by the reporter shows the then-candidate quickly lost his temper.
In the recording, Jacobs can be heard asking about the American Health Care Act. An altercation can be heard, followed by Jacobs saying Gianforte "body-slammed" him and broke his glasses. Gianforte then yelled, "Get the hell out of here."
A Fox News reporter who saw the assault later reported Gianforte grabbed Jacobs "by the neck with both hands and slammed him into the ground behind him."
Gianforte defeated Democrat Rob Quist by 6 percentage points to win Montana's lone U.S. House seat, vacated when Ryan Zinke became Secretary of the Interior. It's unclear when he will be seated; election results will be certified June 15.
Though Gianforte's court hearing is over, it's unclear if there will be any consequences when he is seated in the U.S. House. Earlier this month a group of several national journalism organizations called for congressional and ethics investigations into Gianforte's actions.