HELENA — In a convention Monday night, Montana Republicans picked Republican businessman Greg Gianforte as their nominee for the special congressional election in May.
Gianforte was picked after a single round of voting, securing 150.5 votes by 8:45 p.m. in one round of voting Monday night. Candidates needed 123 to win; fractional votes are due to weighting by county population.
"We are going to bring our conservative values to return liberty and freedom to Montana and this country," Gianforte said after winning. "We will make America great again."
Last year Gianforte entered the world of politics in a bid against Democratic Gov. Steve Bullock, who won re-election in November with 50 percent of the vote to Gianforte's 46 in Montana's most expensive gubernatorial race. He is a Bozeman businessman who started the technology firm RightNow Technologies, which sold to Oracle for $1.8 billion.
Montana is in need of a representative to fill its lone seat in the U.S. House after former U.S. Rep. Ryan Zinke resigned March 1, minutes after being confirmed as Secretary of the Interior.
Bullock has set a special election date of May 25, the earliest possible. In picking the date, Bullock said he wanted the vote quickly and not the 100 days allowed after Zinke's resignation because Montana has no other representation in the House. Zinke had not voted since Jan. 5, a little less than a month after being named President Donald Trump's nominee to head the Interior.
To get into the candidate pool, hopefuls had to pay a filing fee of $1,740 to the Montana Republican Party, get support from at least 10 members of Republican central committees in at least five counties around the state and meet age and citizenship requirements.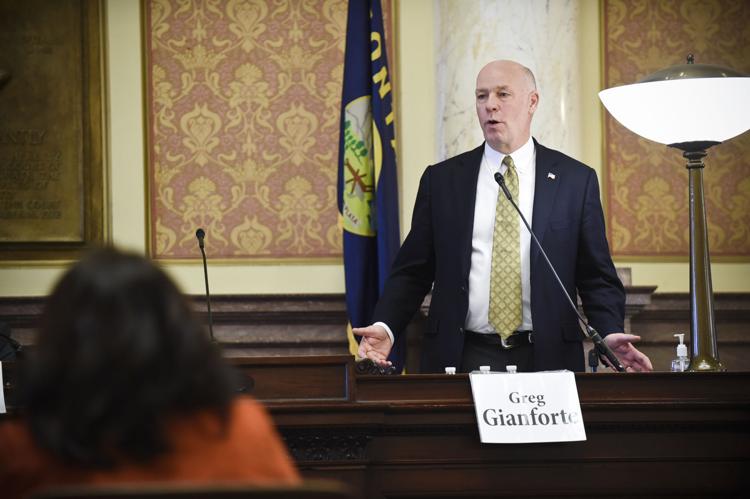 Gianforte beat out five other candidates, including state Rep. Carl Glimm, from Kila; state Rep. Ed Buttrey, from Great Falls; Ken Miller, a former state senator from Laurel; Dean Rehbein, a Missoula contractor; and Samuel Redfern, who runs a nonprofit in Missoula.
In a five-minute speech before the first round of ballots was cast, Gianforte quickly aligned himself with President Donald Trump, who he spoke little about during his campaign for governor this past fall. "We need to back Donald Trump and keep this seat in Republican hands."
Gianforte told delegates the country needed to defend its border and not allow Montana communities to become sanctuary cities. He also said the U.S. needs to "stop bad trade deals and protect our sovereignty" and took digs at the Democrat's nominee, musician Rob Quist, who was picked the night before through a similar process at the same hotel.
"We don't need to send Nancy Pelosi a court musician who wants to socialize medicine," Gianforte said. He also called Quist an "out-of-touch liberal who wants to create a national gun registry."
Gianforte's campaign has said polling shows he holds a double-digit lead over Quist and has 84 percent name recognition statewide.
In response, Quist communications director Tina Olechowski shot back at Gianforte.
"Rob Quist comes from a ranching-farming family where guns are a way of life ... He supports the Second Amendment and will not support any legislation that does not align with Montana's values."
Olechowski also said Quist is "running to fight for the right of every Montanan to have access to affordable health care and fix the health care system for Montana's veterans."
Democrats are trying to paint the race as a referendum on Trump, who has seen his approval rating plummet after his inauguration Jan. 20, with the most recent Gallup poll putting it at 43 percent. Georgia is also holding a special election, set for June, to replace former Rep. Tom Price, a Republican who is now the Secretary of Health and Human Services.
The races are already getting national media coverage as well as money. The Hill, a Washington, D.C., based news outlet, reported Monday the Congressional Leadership Fund, a Republican super PAC, spent $700,000 on an ad attacking Quist.
Gianforte said "Montana has already spoken" when it comes to Trump, who won the state with 56 percent of the vote.
"Montana has a choice. We can either put someone in our lone house seat to advance the Trump train or we can pick someone who will fight against Donald Trump."
That sentiment rang true with at least one of his supporters, a proxy delegate from Beaverhead County.
Ron Johnson, of Dillon, said he supported Gianforte in the governor's race and does so now too. Wearing a red Make America Great Again hat, the former four-term chairman of the Beaverhead County Republican Central Committee said he wants Gianforte in Montana's congress seat so that he'll work with Trump.
"It hurts me we're spending all of this time on both sides fighting and not doing what needs to be done for this country," Johnson said. "We need to work together to get the job done."
Republicans gathered at the same hotel where Democrats picked political newcomer Quist as their candidate to fill the vacant seat the day before. Though new to candidacy, Quist is a well-known musician who toured with the Mission Mountain Wood Band for years.
Mark Chase, a delegate from Columbus, said the decision after the first round of voting shows that the state Republican party is united.
"When somebody wins an election on one vote and they said it would take three, that shows he's got Republican support." In years past, Republicans at the statewide level have struggled to bring together the more conservative wing of the party with moderate Republicans who have voted with Democrats on some issues.
Montana Republican Party Chair Jeff Essmann, who is also a state representative from Billings, told delegates before the first round of voting that each candidate pledged to him they'd support whoever became the nominee.