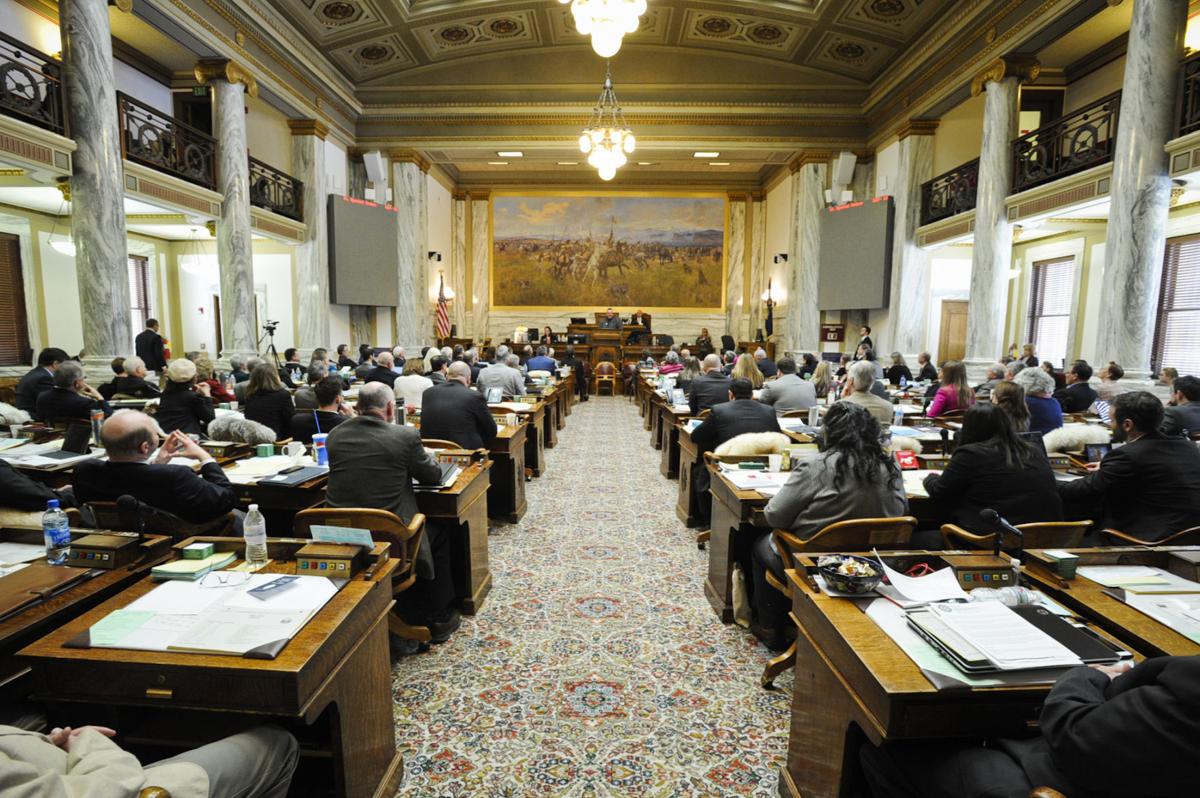 In a normal session, the Montana Legislature is what one lawmaker Monday called a "petri dish" for illness. So how's the 2021 session going to look in the middle of the novel coronavirus pandemic?
A group of lawmakers met Monday to discuss plans for everything from installing a remote voting system to ways the public could participate from locations around the state.
Susan Fox, executive director of the Legislative Services Division, said during the meeting she expected a mix of lawmakers in the Capitol and meetings held remotely.
"Some (lawmakers) are downright uncomfortable coming to Helena and they won't. And others say that everybody has to be in Helena, and we know that that's probably not the case if there's still infection around. So it's most likely going be some form of hybrid session," Fox said, based on a survey of holdover legislators and those not facing challengers in the November election. 
The session would start Jan. 4 and typically runs until mid-April. There are 150 legislators, plus hundreds of staff, lobbyists, media, members of the public and more in the Capitol during a normal session.
The Legislative Services Division has created suggestions for four proposed scenarios. Under the first, a "vast majority" of lawmakers participate remotely, with few exceptions. About 25 staff and lawmakers would be in the Capitol, and public participation would be done remotely. Some suggested Monday having outposts in public places like libraries around the state where public could comment over platforms like Zoom.
The second scenario would be a hybrid virtual session, with about 50-100 legislators and staff in the building. The public, including media and lobbyists, would still participate remotely.
The third would still be a hybrid session, with between 250-500 people in the Capitol each day, with groups limited to 50 in areas that are open to the public. More public participation would be allowed, and sergeants for the House and Senate would enforce social distancing and count people in meeting spaces.
The fourth option would be a regular session, where an average of 800-1,000 people a day could be in the Capitol. There would be accommodations for vulnerable legislators or staff, and anyone with symptoms of the virus would be sent home.
Fox said her staff, based on Monday's discussion, will focus on figuring out how to technologically pull off something like the second or third scenarios. Further complicating things is the fact that current lawmakers can't actually make a final decision on how things will look. A Legislature can't bind a future group of lawmakers, so it will ultimately be up to those elected in November, plus holdovers, and new party leadership elected in December to make the final call.
Still, lawmakers can work on drafting rules now to prepare.
In July, Republicans in the Capitol for an interim meeting on the day after Gov. Steve Bullock issued a statewide mask mandate were not wearing face coverings. That led to a dispute with Democrats who were participating remotely and "walked out" of the meeting, leaving the committee without a quorum. 
After that dust-up, the director of the Legislature's Legal Services Office, Todd Everts, was asked to summarize the state and public health measures with which the Legislature must comply or enforce. He presented lawmakers with a 17-page analysis Monday that drew no final conclusions.
"It's not black and white and there isn't a bright line, yes or no," Everts said, adding that it would take a legal challenge to determine.
The Legislature is a separate branch of government and has control over how it conducts the session, including how it manages its own spaces. Lawmakers also generally have immunity from misdemeanors when acting in their official capacity during a session. But the emergency declaration the state is under also gives broad powers to the executive branch, as well as local governments, to enact directives to ensure public health.
State Sen. JP Pomnichowski, a Democrat from Bozeman, asked what makes lawmakers different from members of the public when it comes to following public health mandates.
"We're also just human bodies capable of transmitting virus, so how is it that this directive does not apply to us regardless of other status?" Pomnichowski said. 
Democrats were much more vocal in calling for a remote session during Monday's meeting.
"We just really need to fish or cut bait with the decision to go online and work toward that," said Rep. Mary Ann Dunwell, of Helena. " … It would be much more effective to have an online session. … I don't believe we have a right to unilaterally endanger public health and safety of the public."
Sen. Tom Jacobson, a Great Falls Democrat, suggested lawmakers consider a session focused solely on the budget and not other policy issues.
Democrat Rep. Kim Abbott, of Helena, said if compliance with wearing masks is high, it's likely more people can attend in-person hearings.
The Legislature has obtained sanitation supplies and personal protective equipment to prepare, said Angie Carter, with the Legislative Services Division.
That includes 16,000 KN-95 masks, more than 1,000 of the disposable dentist-type masks and more than 850 cloth masks. There's also hand sanitizer, disposable microphone covers, cleaning supplies and disinfectant. Carter said staff has also ordered more bleach, paper towels, spray bottles, plexiglass shields and more. 
So far the Legislative branch has been reimbursed about $1,400 from CARES Act funding and plans to submit $14,000 in additional costs for reimbursement, Carter said. She anticipates another $20,000 more in costs for cleaning supplies and personal protective equipment that could also be reimbursed.
The Legislature has also spent $90,000 that has been submitted for reimbursement under CARES for a remote voting system.
Concerned about COVID-19?
Sign up now to get the most recent coronavirus headlines and other important local and national news sent to your email inbox daily.