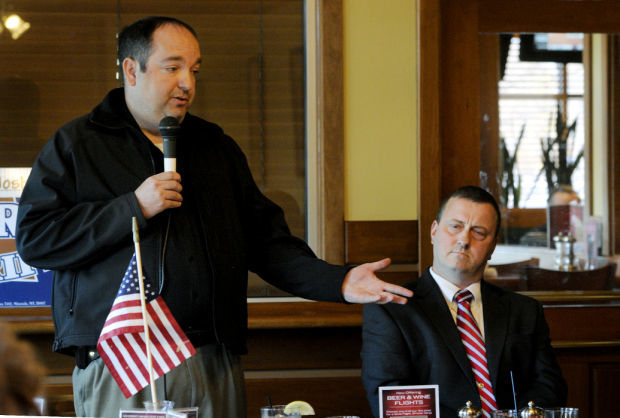 With a last-minute entry on the final day of candidate filing on Monday, Missoula County is poised to see a repeat of the primary fight that was the most contentious race of the 2014 election.
Josh Clark, the former Missoula undersheriff who lost the primary to Sheriff T.J. McDermott and then launched a late, unsuccessful write-in campaign for the general election, filed Monday to seek the office in 2018. As in 2014, both McDermott and Clark will be running in the Democratic primary in June.
Following his loss in 2014, Clark pursued an eventually unsuccessful complaint through the Montana Human Rights Bureau, which denied his claims that McDermott  discriminated against him. Clark was assigned to be a patrol deputy following the election, bypassing the captain's rank he held before being undersheriff.
Clark resigned from the department in early 2015, and still has a lawsuit open against Missoula County over similar discrimination claims.
The winner in the June primary will be on the November ballot against Deputy Sheriff Travis Wafstet, who entered the race as an Independent.
The only other June primary for the Missoula County races will be for the seat now held by Commissioner Jean Curtiss, who is looking for a fourth six-year term. Voters will decide between her and local farmer and University of Montana lecturer Josh Slotnick in the Democrat primary. The only other candidate in the commissioner race is Jeffrey Halvorson of Arlee, an Independent who filed on Monday.
Missoula County Attorney Kirsten Pabst has another four-year term in hand, with no candidates filing to run against her. The same is true for Justice of the Peace Landee Holloway, as well as District Court Judges Robert "Dusty" Deschamps, John Larson and Leslie Halligan.
Justice of the Peace Marie Andersen, who is in the final year of her first term, will be on the November ballot against Missoula attorney and part-time Municipal Court Assistant Judge Alex Beal.
David Wall is unopposed for county auditor, Tyler Gernant for clerk and recorder/treasurer, and Erin Lipkind for county superintendent of schools.
In the Flathead, Monday's filing deadline brought a lot of options for voters.
In Lake County, Republican incumbent Gale Decker is being challenged for the District 3 Lake County Commissioner seat by Democrat Caroline McDonald. The only other contested countywide race is for sheriff, with David Coffman seeking to unseat Don Bell. Since both men are Republicans, they'll square off in the June 5 primary; the commission seat will be decided in the Nov. 6 general election.
Other Lake County candidates for countywide offices who aren't being challenged include County Attorney Steven Eschenbacher, Clerk and Recorder Paula Holle; Justice of the Peace Randal "Randy" Owens, Superintendent of Schools Carolyn Hall, and Treasurer Robin Vert-Rubel.
In Flathead County, the races are a bit more wide-open. Four Republicans are vying for the sheriff's position after Chuck Curry decided to retire at the end of his term. Voters in the primary will choose among former Flathead County Undersheriff Jordan White, along with former Flathead County Deputy Calvin Beringer, Patrol Commander Brian Heino, and Sgt. Keith Stahlberg. That race will be decided in the June 5 primary.
Two men — Paul Sullivan and William Managhan — are running for the nonpartisan Justice of Peace in Department 2. Eric Hummel, who was appointed to the position in 2016, is not being challenged for the Department 1 seat.
Republican incumbent Gary Krueger filed for a second six-year commission term to fill the District 3 seat. He'll face off in the primary with fellow Republicans Randy Brodehl, Gerald "Jay" Scott and Ronalee Skees. The winner of that primary will face Democrat Tom Clark in the Nov. 6 general election.
Among the legislative races around western Montana, maybe most notable is ex-Griz football player Chase Reynolds, who filed as a Republican to run against incumbent Democrat Diane Sands for the Senate District 49 seat. Two other candidates, representing the Libertarian and Green parties, filed for the seat as well.
Almost every western Montana seat is now challenged, with some Missoula-area districts overstuffed with five candidates vying for the seat. Many of these, such as House Districts 89 and 91 (with four Democrats and one Republican) will be busy primary contests in June.
4 — Mark Blasdel, R-Kalispell*
            Diane Taylor-Mahnke, D-Whitefish
5 — Bob Keenan, R-Bigfork*
            Jennifer Allen, D-Kalispell
48 — Nate McConnell, D-Missoula
            Adam S. Pummill, R-Missoula
49 — Diane Sands, D-Missoula*
            Chase Reynolds, R-Missoula
            Greg Strandberg, G-Missoula
50 — Bryce Bennett, D-Missoula
1 — Steve Gunderson, R-Libby*
3 — Zac Perry, D-Hungry Horse*
            Shawn Leslie Guymon, L-Kalispell
            Jerry O'Neill, R-Columbia Falls
4 — Matt Regier, R-Kalispell*
            Kwen Shirley, D-Kalispell
5 — Dave Fern, D-Whitefish
7 — Frank Garner, R-Kalispell*
            James Cossitt, D-Kalispell
            Robert Welzel, R-Kalispell
8 — John Fuller, R-Kalispell
9 — Warren Illi, R-Kalispell
You have free articles remaining.
            Robert Petersen, D-Kalispell
10 — Mark Noland, R-Bigfork*
11 — Derek Skees, R-Kalispell*
            JoBeth Blair, D-Kalispell
12 — Greg Hertz, R-Polson*
13 – Bob Brown, R-Thompson Falls*
            Gerald J. Cuvillier, D-Trout Creek
            Chris Gross, D-Thompson Falls
14 — Denley Loge, R-St. Regis*
         James Mortenson, R-Paradise
15 — Adrien Owen Wagner, G-Heart Butte
         Marvin Weatherwax Jr., D-Browning
86 — David Bedey, R-Hamilton 
         Jacob DeVries, R-Hamilton
         Jason F. Nickisch, D-Florence
87 — Nancy Ballance, R-Hamilton*
88 — James Crews, R-Stevensville
         Margaret Gorski, D-Stevensville
89 — Katie Sullivan, D-Missoula
          Patrick Weasel Head, D-Missoula
          David "Doc" Moore, R-Missoula
          Dirk Williams, D-Missoula
90 — Marilyn Marler, D-Missoula
91 — Nancy de Pastino, D-Missoula
           Connie Keogh, D-Misssoula
92 — Mike Hopkins, R-Missoula
           Lee Bridges, D-East Missoula
          "DJ" Derek Smith, R-Missoula
           Duane "Cecil" Schlabach, D-Seeley Lake
93 - Eldena N. Bear Don't Walk, D-St. Ignatius
94 — Kimberly Dudik, D-Missoula*
95 — Shane Morigeau, D-Missoula*
96 — Adam Hertz, R-Missoula
            Thomas Winter, D-Missoula
97 – Brad Tschida, R-Missoula*
98 — Willis Curdy, D-Missoula*
            Jessuah Bardgett, L-Missoula
99 — Marilyn Ryan, D-Missoula*
            Raney Tschida, R-Missoula
100 — Andrea Olsen, D-Missoula*