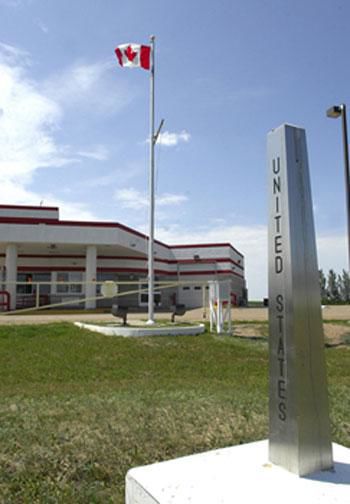 Northwest Montana and southeast British Columbia are bracing for an economic hit as the U.S.-Canada border tightens.
Last year, Montana's ports of entry logged more than 1.1 million people entering by personal vehicle. That traffic is set to drop sharply after President Trump and Canadian Prime Minister Justin Trudeau on Wednesday announced an agreement to close the U.S.-Canada border to all non-essential travel to limit the spread of the coronavirus.
"There will be a significant hit to northwest Montana," predicted State Sen. Mike Cuffe, R-Eureka, whose district lies just south of the Roosville Port of Entry. While freight and vital travel — such as people commuting to work across the border — are expected to continue, the tourism that sustains towns on both sides of the border isn't.
"This is aimed primarily (at) tourism and recreation," Cuffe said Wednesday, adding that many Canadians "own property in Lincoln County, Flathead County, and they love to come down and play."
Terry Comstock caters to many of them. The founder of Eureka-based real estate firm Comstock Rumble Properties, he estimates that in recent years 50% to 70% of his business has come from Canadians buying second homes in Montana.
"It's hugely affecting us," he said of the coronavirus. "I have two sales currently that are in duress over this." In recent days, he said, the Loonie's rapid depreciation against the U.S. dollar had put the squeeze on Canadian buyers, and the border closure was adding even more pressure. Comstock recalled one buyer who had wanted to know on Friday if he could speed up the closing on a house in Montana. "Today, he's wondering if he really wants to close it. … He may not see the house until midsummer."
Comstock currently has four employees. Asked if he expected to have to lay some off, he replied, "Oh, yes."
"Our big concern right now is the small businesses," said Blanche Flanagan, interim director of the Eureka Area Chamber of Commerce. "They're probably going to be hurt the worst."
One of her counterparts north of the border sees the fallout spreading further
"I think the immediate impact is on small businesses in tourism, but the full-on effect is going to be huge," predicted Brad Parsell, executive director of the Fernie Chamber of Commerce. This British Columbia town sits about 42 miles north of the border. Its ski resort, which would normally stay open through mid-April, has already closed.
"It's a little too early to gauge the impact this will have," Parsell said of the border closure. Now that Fernie is in its shoulder season, "we're just hoping and praying we'll be through the worst of it before we get to June."
For all these concerns, Parsell said that "the Fernie business community is rallying around all of the preventative measures that are being talked about." Cuffe, too, considers the restrictions a necessary evil. "It is a serious thing," he said of the coronavirus. "There's no question it's going to be tough for a while, but as several folks said, (it's) the way we break the back of this curve" showing the rise in cases. Both men commended the U.S. and Canadian governments for their economic relief efforts.
Cuffe also serves as president of the Pacific NorthWest Economic Region, a cross-border economic and policy group. On Tuesday, it issued a statement calling on both the U.S. and Canadian governments to keep supply chains moving amid the closure.
Comstock said that his Canadian clients, too, accept the measure.
"I think they, like us, are just trusting that we're making the right decision, and we have to trust them, because it sure sounds scary."
"We seemed a little unprepared" for the outbreak, he added, "but I don't know how the world could be prepared for this."
Concerned about COVID-19?
Sign up now to get the most recent coronavirus headlines and other important local and national news sent to your email inbox daily.