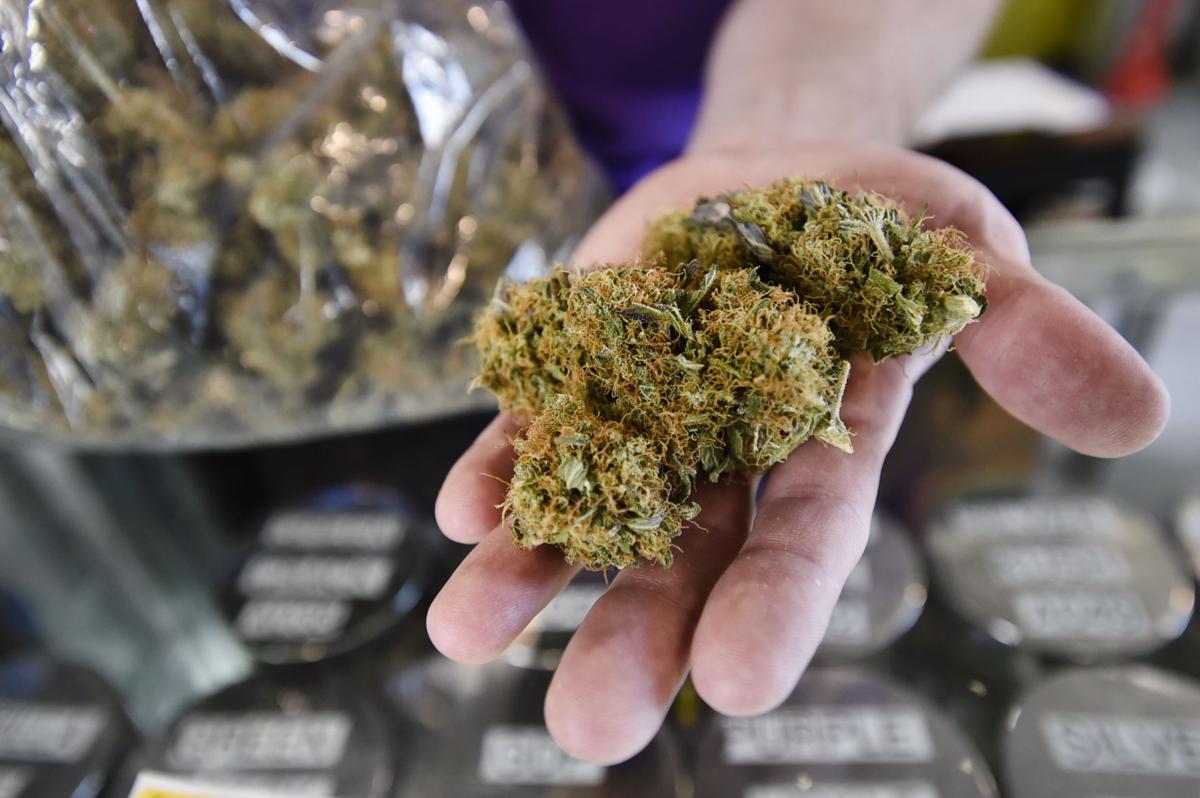 The campaign to legalize recreational marijuana spent more in the most recent reporting period than the four previous reporting periods combined, almost entirely on advertisements set to hit the airwaves in October.
New Approach Montana put $2.3 million down for television commercials to run in October and into November to convince voters to green-light Initiative 190, which would legalize, regulate and tax marijuana, and simultaneously Constitutional Amendment 118, which would set the legal age of consumption at 21. The joint initiative's passage would put a 20% tax on non-medical marijuana.
The messaging in these commercials won't focus on overcoming some opposition; none has emerged, at least publicly, in the last year since the legalization campaign got underway. The messages will primarily focus on alloying the two initiatives in voters' minds, said New Approach Montana spokesman Pepper Petersen.
"That's the real battle now, to make sure people know to vote for both of these, that they're complementary," Petersen said.
The ballot initiative group reported $2.5 million in spending from June 26 through Aug. 25, the most recent reporting period for records with the Montana Commissioner of Political Practices. Until this reporting period, spending totaled about $1.9 million. By comparison, the campaign spent about $1 million just to gather signatures in a time-frame shortened and complicated by the early months of the coronavirus pandemic. 
By another comparison, $2.3 million in ad spending is pocket change against the dollars spent on the showtime elections, like the U.S. Senate or gubernatorial races, said University of Montana journalism professor and political analyst Lee Banville. So even if it's late in the game, it's important to check in, Banville said.
"You have to realize that any of these issues, whether we're talking about this ballot initiative or lower down the ballot, candidates are really going to struggle to get attention when so much money is coming in, especially for the Senate race and the governor's race," Banville said. "There's not a lot of air in the room. This order is a way for the marijuana legalization supporters to say 'We're serious about this.'"
Federal Communications Commission filings show the ads will appear across weekday programming, day and night. Viewers of local news broadcasts, Family Feud, Judge Judy, Ellen and This Is Us will all get to know New Approach Montana's pro-marijuana messaging beginning Oct. 13 — a few days after ballots are mailed.
"What you get for $2.3 million: You're going to see this message if you've got your TV on, or if you're at the bar," Banville said.
New Approach also spent $30,000 in the most recent reporting period on commissioning a study by the University of Montana's Bureau of Business and Economic Research to examine the impact on the state budget and the post-COVID economic landscape. That study, Petersen said, should be released in the coming weeks. 
The campaign has so far raised more than $4.7 million. Its largest contributor, by more than $1 million, has been the North Fund, a 501(c)(4) outfit based in Washington, D.C., with a scant online footprint. In response to a question submitted by email Wednesday asking what interest the North Fund has in contributing $2.9 million to passing marijuana legalization in Montana, spokesperson Naomi Seligman issued the following statement: 
"The North Fund, a 501(c)(4) nonpartisan social impact organization, partners with committed community leaders to help make our country a more just, fair, and equitable place to live, work, and raise families. We focus on supporting innovative social entrepreneurship, educational initiatives, and advocacy campaigns that lift up communities and create real and lasting change."
The organization's 501(c)(4) status also means it does not have to disclose its donors.
Get Government & Politics updates in your inbox!
Stay up-to-date on the latest in local and national government and political topics with our newsletter.