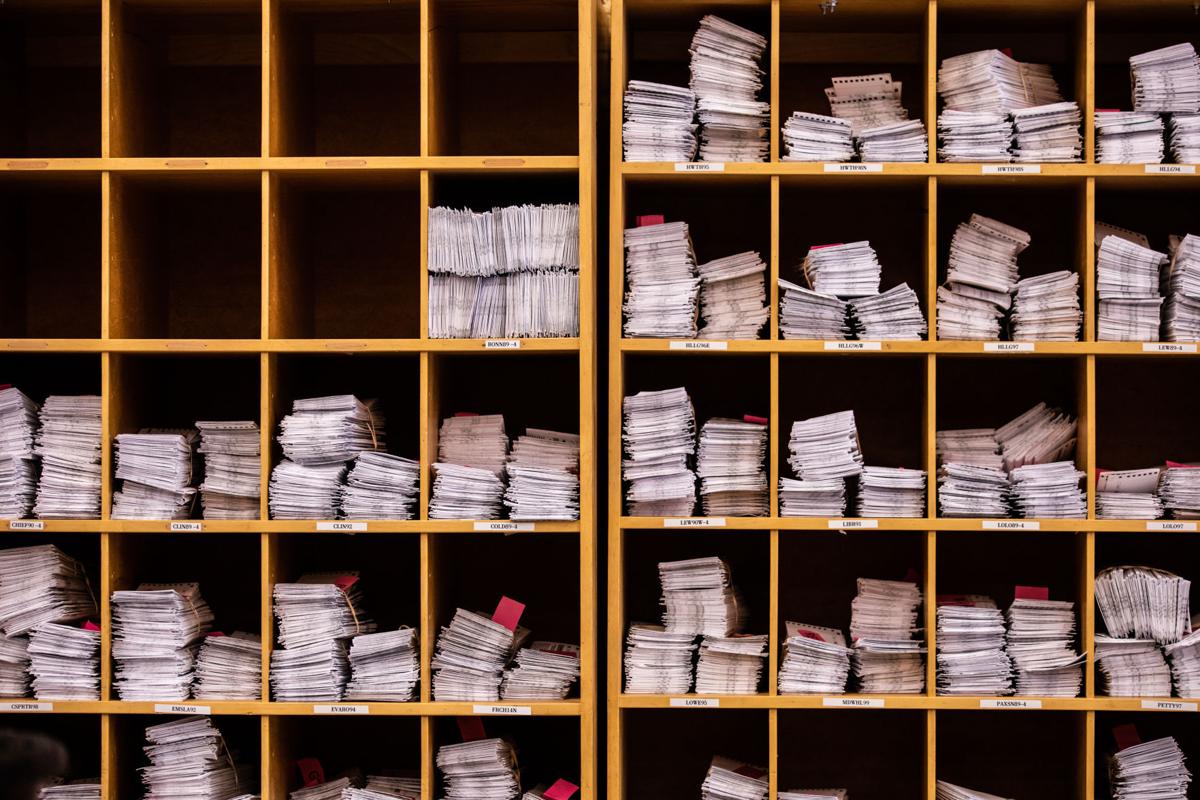 With a Friday deadline to notify the Secretary of State's Office on how they will conduct the Nov. 3 general election, only a handful of Montana counties are holding out for a traditional poll election.
A few have yet to decide.
Even though Jefferson County's clerk has already mailed the Secretary of State's office that she prefers a mail ballot, County Commission Chairman Leonard Wortman said Monday the commissioners have yet to sign off on that plan.
"We have a resolution on our agenda for tomorrow (Tuesday) to basically change that so we would have a regular poll election," he said. "We had a whole lot of calls from people requesting that we have a poll election. … There's a lot of people, myself included, who much prefer to vote in person."
Counties that open their polls on election day must observe social distancing and other precautions.
"It seems to me that we can take the necessary steps to protect people," said Wortman. "If people can stand in line at Walmart and stuff," they can stay safe while voting, he said.
All 56 counties used mail ballots in the June 2 primary election, held one day after the state entered Phase 2 of reduced restrictions due to the coronavirus pandemic. That election saw a 41% turnout rate, the highest in a midterm primary since the 47% who voted in 1994 during Democratic President Bill Clinton's first term.
The Secretary of State's Office limits press requests to emails, but did not respond to repeated emails as to which counties are holding a poll election. However, Audrey McCue, elections supervisor for Lewis and Clark County, sent an informal survey to all 56 counties. As of last week, 52 had responded, with only 10 opting for poll elections.
Lincoln County didn't respond to McCue's questionnaire, but decided last week to hold a poll election, said Chris Nelson, election administrator.
The county felt it could guarantee the minimum of three polling places it felt necessary to hold a successful poll election, and as of Monday, Nelson said it looked as though Lincoln County might be able to open all seven of its usual polling places.
As have other counties, Lincoln County cited the issue of finding a sufficient number of election judges, most of whom tend to be older and thus in a high-risk category for COVID-19. The county needs 70 judges to open all its polling places, Nelson said, and as of Monday was on track to reach that number.
Richland County was likewise able to muster enough election judges for its seven polling places, enabling it to hold the poll election that most people preferred, said Clerk and Recorder Stephanie Verhasselt. She cited a relatively low number of COVID-19 cases — 58, according to the state Department of Public Health and Human Services' count — and only three or four them active, something that made county officials comfortable with a poll election.
Hill County's commissioners, who first adopted a resolution to allow mail-in ballots, then changed their minds and finally settled on a mail-in election, said Clerk and Recorder Sue Armstrong.
In Ravalli County, as in Lincoln County, commissioners heard from residents who preferred a poll election. While commission Chair Chris Hoffman said last month that he was "adamantly opposed to mail-in ballot elections," he also expressed full trust in Clerk and Recorder Regina Plettenberg, who preferred a mail ballot.
Plettenberg said Monday she'd already submitted Ravalli County's mail ballot plan to the Secretary of State's office and that it's been approved.
Even though voters will receive their ballots by mail, she expects many to return them in person, which could make for a long night of counting ballots on Nov. 3.
Ravalli County saw record turnout in the June primary "and we expect this one to be the same way. I think it's going to be record-breaking around the state," Plettenberg said.
Given that it's a presidential election, and with statewide ballot initiatives in addition, "people have a lot to sit home and study and think about. … I think we're going to see a lot of drop-off at the end of the (Election) Day."
Concerned about COVID-19?
Sign up now to get the most recent coronavirus headlines and other important local and national news sent to your email inbox daily.