HELENA — The Montana Democrats on Sunday picked musician Rob Quist of Creston as their candidate to replace Interior Secretary Ryan Zinke in the U.S. House.
Zinke resigned from Congress on Wednesday and will be replaced in a special election May 25. Gov. Steve Bullock set the election for 85 days after Zinke's resignation, although he had 100. Montana won't have a representative in Congress until Zinke is replaced.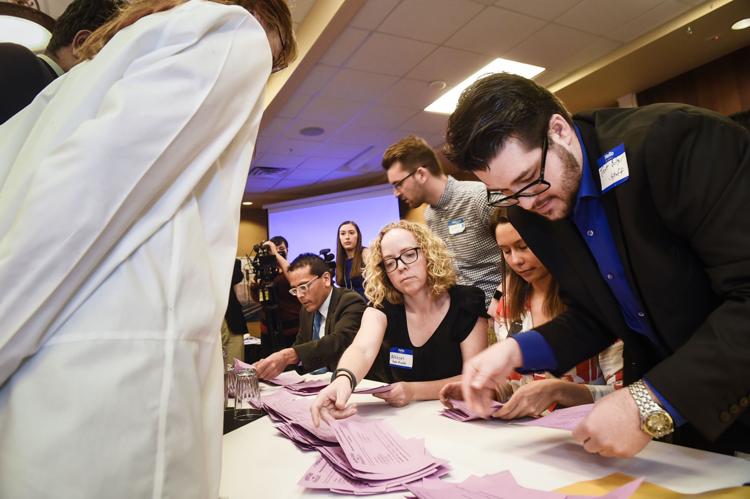 The party held four rounds of voting during the special nominating convention at the Best Western Premier Great Northern Hotel in Helena, eliminating the lowest vote-getters each round until someone ended up with more than 50 percent.
Quist defeated state Rep. Amanda Curtis on a vote of 90-69 in the final round. State Rep. Kelly McCarthy of Billings was eliminated after the third round, Gary Stein of Missoula was eliminated and Dan West of Missoula dropped out after the second round, and attorney John Meyer of Bozeman, Lee "Link" Neimark of Whitefish and Tom Weida of Helena were eliminated after the first round. 
Before the voting began, delegates had 30 minutes to give one-minute speeches for the candidate of their choice. Quist, Curtis and McCarthy received the majority of their support, with at least five delegates speaking on each candidate's behalf. Most delegates who spoke said the three candidates were most likely to put together the best campaign in 80 days. West had two delegate supporters and the remaining candidates had none.
The leading candidates were divided on whether political experience would help or hinder their electability. Candidates did agree on several core aspects of the Democratic platform, such as keeping public lands public and fostering an inclusive environment.
Quist, who gained fame in the Mission Mountain Wood Band, has never held elected office. When announcing his campaign, Quist touted years of public service including serving for 11 years on the Montana Arts Council and as a state ambassador to Montana's sister state in Kumamoto, Japan. He advocated for the Montana Food Bank and received a grant from the Office of Public Instruction to create anti-bullying programs and art programs in public schools.
Quist said he's traveled the state and understands what kind of representation Montanans need. He grew up in Cut Bank and now lives in the Flathead Valley. The musician received an endorsement from former Gov. Brian Schweitzer, who called Quist a political outsider who will stand up for Montana.
While nominating Quist, Rosebud County Committee Vice Chair Jean Dahlman said he has a unique relationship with Montanans and will appeal to Independent and Republican voters.
"These are the voters we must win over in order to win the general election," Dahlman said.
Dahlman said Quist has already shown he's capable of growing the party. While traveling to garner the support of delegates, he created seven new central committees.
"Never have we seen such uncertainty. Voters are alarmed," she said. "They are asking for a new kind of leadership."
Kyle Kuntz, a delegate from Blaine County, said Quist was the most electable candidate and will find support from both sides of the aisle.
Quist said he's come to know Montanans without being a career politician, which gave him a broad perspective and ability to represent the entire state.
"I ask you to look outside the bubble of Helena to a man who has represented Montana from behind a different kind of microphone," he said.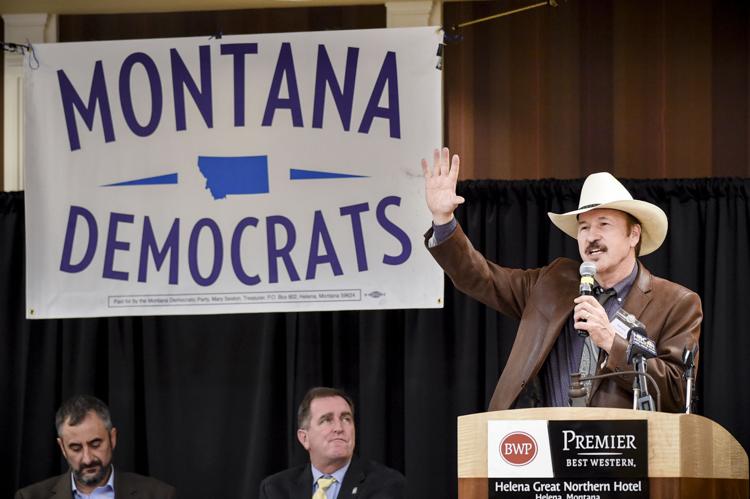 He spoke to policies he would support, including fixing the Affordable Care Act, funding education, opposing the transfer of public lands and supporting women's reproductive rights, including protecting funding for Planned Parenthood.
The last Democrat to hold the congressional seat was Pat Williams, who served from 1979-1997.
"I hope to get to Congress and have the same impact Pat Williams had," Quist said after winning the nomination. 
He added that the election is going to be a sprint, but said Quists are good at sprinting. 
"I think, who better than a musician for a campaign like this?" he said. "I think we're really well prepared."
Quist said he has been connecting with Montanans his whole life, and he doesn't think he will have trouble getting people to cross party lines. He said he has had conversations with Republicans, and they agree on 80 percent of the issues. 
"I really don't feel like I'm an underdog in this race," he said. 
Kevin Hamm, with the Stonewall Democrats, gave an energizing nomination speech for Curtis, which drew applause and cheers from the crowd. He said Curtis, who was defeated by Republican Steve Daines after being nominated to run for U.S. Senate only 50 days before the 2014 general election, has experience in a short and fast-paced election.
"She has walked through that fire already," he said. "It's time we help the lady take the seat."
Curtis also highlighted the necessity of experience, mentioning her two terms in the state Legislature and the requirement of the nominee to immediately understand and act on federal policy issues. She said she's already been vetted by Republicans after running against Daines.
She took time out of her speech to issue a general warning to whoever won the nomination, saying they will deal with trackers from the opposition and said the other side doesn't play nice.
"They'll make up lies about you," she said. "They'll give you a tracker who acts as your shadow whose only job is to make you look bad or lose your cool."
If chosen, Curtis promised to have authentic conversations with Republicans and unite people according to the state's core values.
"This is about more than looking like a Republican," she said. "This is about talking to our friends and neighbors."
Curtis ended her speech by acknowledging she's a woman, which she called the elephant in the room. She shamed delegates for suggesting a woman couldn't win right now.
"Do you hear yourselves? Did you hear the 10,000 women in Helena? For the record, once and for all, without a doubt in my mind, I do think a woman can win right now," she said. "I think this is our time more than ever."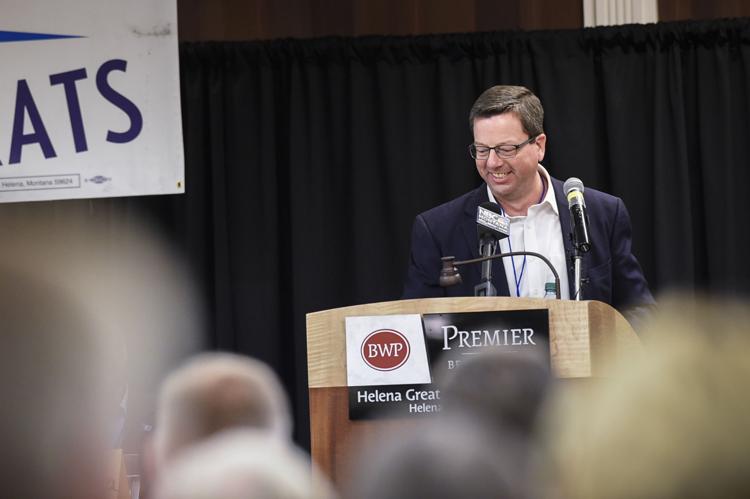 Rep. Nate McConnell, D-Missoula, nominated McCarthy and referenced his sponsorship of a bill to prohibit discrimination against the LGBTQ community, even though McCarthy knew the odds weren't in his favor.
"Like all of us in this room, Kelly wanted the ugly practice of discrimination to end," McConnell said. "Kelly knows what courage is."
McCarthy touted his three sessions in the Legislature. He's built the budget as part of the House Appropriations committee for three sessions and said 80 percent of the legislation he carried last session became law. He said Montana needs to send a representative who understands the nuances of the current political climate.
"In this race, legislative experience and national security experience and experience serving our nation matter," McCarthy said.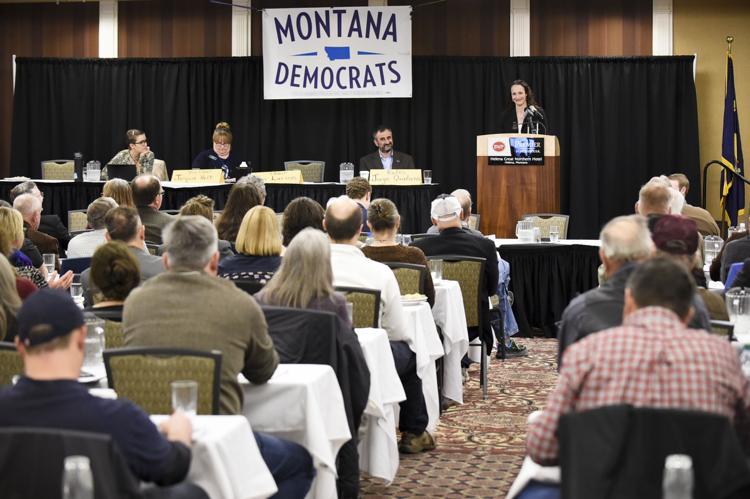 The majority of the Democratic votes came from county committee people. Gov. Steve Bullock and Sen. Jon Tester each got a vote, and 21 came from the party's executive committee. Another 10 votes came from partner organizations, such as the College Democrats and the Montana Indian Democrats Council.
Republicans will choose their nominee on Monday evening at the Best Western Premier Great Northern Hotel. Unlike the Democrats, the Republicans required each of their seven candidates to put forward a $1,740 filing fee. They also required candidates to get support from 10 committee voters in at least five counties.
All of the 212 Republican voters come from county committees. Candidates include 2016 gubernatorial candidate Greg Gianforte, state Sen. Ed Buttrey of Great Falls, Dean Rehbein of Missoula, Drew Turiano of East Helena, Rep. Carl Glimm of Kila, Ed Walker of Billings and former Republican chairman Ken Miller.
Gianforte has already launched a statewide advertising campaign for the special election with a 60-second commercial and claimed he's already secured enough votes to get the nomination on Monday.
Ron Vandevender, state party chair for the Libertarians, said they will pick their candidate in a convention Saturday in Helena. Candidates include Mark Wicks of Inverness, James White of Helena, Rufus Peace of Livingston and Chris Colvin and Evan Gardner of Kalispell.