BILLINGS – Rob Quist is about to get booed, maybe for the first time in five decades, on the public stage as he transitions from Montana music legend to Democratic U.S. House candidate.
"I can't remember being booed. I don't think I ever have," Quist told Lee Newspapers on Tuesday, two days after winning the Montana Democratic Party's nominating convention.
"I heard they're actually gearing up to spend $700,000 on attack ads against me," he said. "We can't take it too personally. They're trying to silence our voice in Montana, and we can't allow them to."
The "they" to which Quist refers are Republicans. Sunday, Quist, the former front man for Montana's Mission Mountain Wood Band, became the Democratic Party's candidate to replace the Republican Secretary of the Interior Ryan Zinke in the U.S. House. Zinke resigned his House seat March 1 to become the first Montanan in a presidential Cabinet. Zinke's departure triggered a May 25 special election to pick his successor.
U.S. Sen. Steve Daines, R-Mont., tweeted "Growing up in MT I was big fan of Rob Quist's music and MMWB. But Rob's FOR Bernie Sanders and FOR gun registration. That's out of step with most Montanans."
Growing up in MT I was big fan of Mission Mountain Wood Band/Rob Quist's music. Now he wants to be our Congressman. 1/

— Steve Daines (@SteveDaines) March 6, 2017
I am big fan of Rob Quist's music and MMWB. But Rob's FOR Bernie Sanders and FOR gun registration. That's out of step with most Montanans

— Steve Daines (@SteveDaines) March 6, 2017
Quist's Republican opponent, selected Monday night, is high-tech entrepreneur Greg Gianforte, who was also the GOP's unsuccessful 2016 candidate for governor. Daines worked for Gianforte at RightNow Technologies. The software company, now owned by Oracle, was founded by Gianforte in Bozeman 20 years ago.
The first opportunity voters have to pick up absentee ballots is April 25, just 48 days from now. If Quist wins, he will be the first Democrat who Montanans have elected to the U.S. House in 21 years. 
Democrats have managed to hold the governor's office and a U.S. Senate seat with wins of 50 percent or less when Libertarians are on the ballot and Republicans are stuck in the mid 40s. But Republicans have delivered double-digit blowouts in the state's only U.S. House seat. In 2016, Democrat Denise Juneau lost by 70,000 votes.
'Associated with Montana'
Perpetually musical, Quist broke into the chorus of Europe's "The Final Countdown" when reminded of how quickly this race will be over, an odd pick for a man who in the 1970s staked his reputation on bluegrass and endeared himself to Montanans by headlining The 1974 Aber Day Keggar, a beer bash so big it made the Guinness Book of World Records.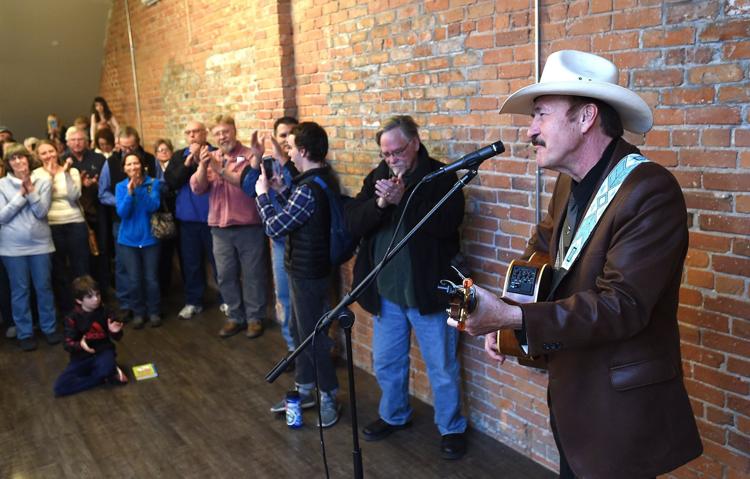 Baby Boomers remember the Woodstock-style 1,000-keg party as a fundraiser for the University of Montana library. They remember Quist and the Mission Mountain Wood Band as a country bluegrass act that toured with the likes of Dolly Parton and the Grateful Dead. Later, one of Quist's former bandmates died in a plane crash while doing a flyover of a Flathead area concert they just performed as the Montana Band.
"I guess us old duffers, we all know the Mission Mountain Wood Band," said Brian Schweitzer, former Montana governor and the last Democrat at the top of the Montana ballot to receive more than 50 percent of the vote. "There's no one who is more associated with Montana than Rob Quist."
Schweitzer said Quist is a non-politician who knows the state, much like the former governor who had never held public office before running unsuccessfully for U.S. Senate in 2000.
Quist said he's admired Schweitzer since meeting him at a Billings restaurant back in 2004. Schweitzer was running for governor, and Quist offered to perform at fundraising events for the campaign.
You have free articles remaining.
Quist received the Schweitzer bump in January when the former governor endorsed Quist's campaign on Facebook. He also received a little advice from Schweitzer, who told Quist to hit the road and visit every county precinct committee the musician could. Not only did Quist visit the committees, he convinced rural Democrats in seven counties without party leaders to organize. As a result, he showed up at the nominating convention with 28 votes that didn't exist before Quist hit the road.
People don't realize how competitive Quist is, said Larry Epstein, who grew up with the candidate in Cut Bank. The former Glacier County attorney had himself forgotten how competitive Quist was until his old friend called in December to say he was thinking about running for Congress. Long ago, Quist was a competitive high school basketball player who made the state tournament and walked onto the University of Montana basketball team before leaving to focus on music. Music Rob and Basketball Rob were two different temperaments. Epstein was ready to talk Quist out of running, but then he heard that competitive side come through the phone.
"He was so fired up," Epstein said. "And Rob was a competitive high school athlete. And in those days, he was focused. But then you know as a musician I didn't see the competitive, the incredibly competitive Rob Quist for a very long time until January. This is the Rob Quist that sets a goal and goes out and sees 40 different county committees."
'He's got to respond'
Epstein is also a lobbyist for county attorneys and peace officers associations at the Montana Legislature. He said when Quist arrived in Helena ahead of last weekend's nominating convention, there wasn't anyone who didn't recognize Quist. It seemed like everyone wanted to walk up and say hello.
It will be up to Quist to protect that likability as people learn about his politics, said Craig Wilson, Montana State University political scientist emeritus. There will be people, like Sen. Daines, who were willing to sing along with Quist's music but not dance to his political tune.
"Quist doesn't have a record. So, they have to paint him with a record and he's got to respond to that," said Wilson, who for full disclosure said Quist's band practiced in the basement of the Sigma Nu fraternity in Missoula while Wilson was a member.
Right from the start, Republicans have characterized Quist as a Bernie Sanders liberal who supports universal health care and sanctuary cities, places where local law enforcement are limited from cooperating with federal immigration sweeps.
Quist told Lee Newspapers he did support Bernie Sanders. Campaign records show Quist donated to Bernie Sanders, who easily won the Montana Democratic primary election in 2016. It's one of only three campaigns to which Quist has donated. He contributed to Schweitzer in 2004 and 2008. He donated to Gov. Steve Bullock's re-election campaign in 2016.
Quist, who lives near Creston in Flathead Valley, does support a Medicare-style government health care for everyone. It's an idea on which Sanders campaigned.
"I think health care should be a right of citizenship. It should be a single-payer system," he said.
In Montana, the sanctuary cities attack was first brought against Gov. Bullock for not banning Syrian refugees. Quist said singling out refugees is a path Montana has shamefully taken before when Japanese Americans were imprisoned at Fort Missoula during World War II.
"The statement that I've made is that we cannot discriminate against an entire ethnic population based on the actions of a small group," Quist said.
Quist, 69, grew up on a ranch with Republican parents. His mother was a teacher on the Blackfeet Indian Reservation. He's a gun owner who never saw the need for private ownership of assault-style weapons.
"As far as these full automatic weapons, I'm definitely old school," he said.
The attack ad wasn't sitting well with Quist after just two days. It was that accusation of being "out of tune" that rubbed him the wrong way.
"I will challenge Gianforte to pick the instrument of his choice, and we'll see who's out of tune," Quist said.