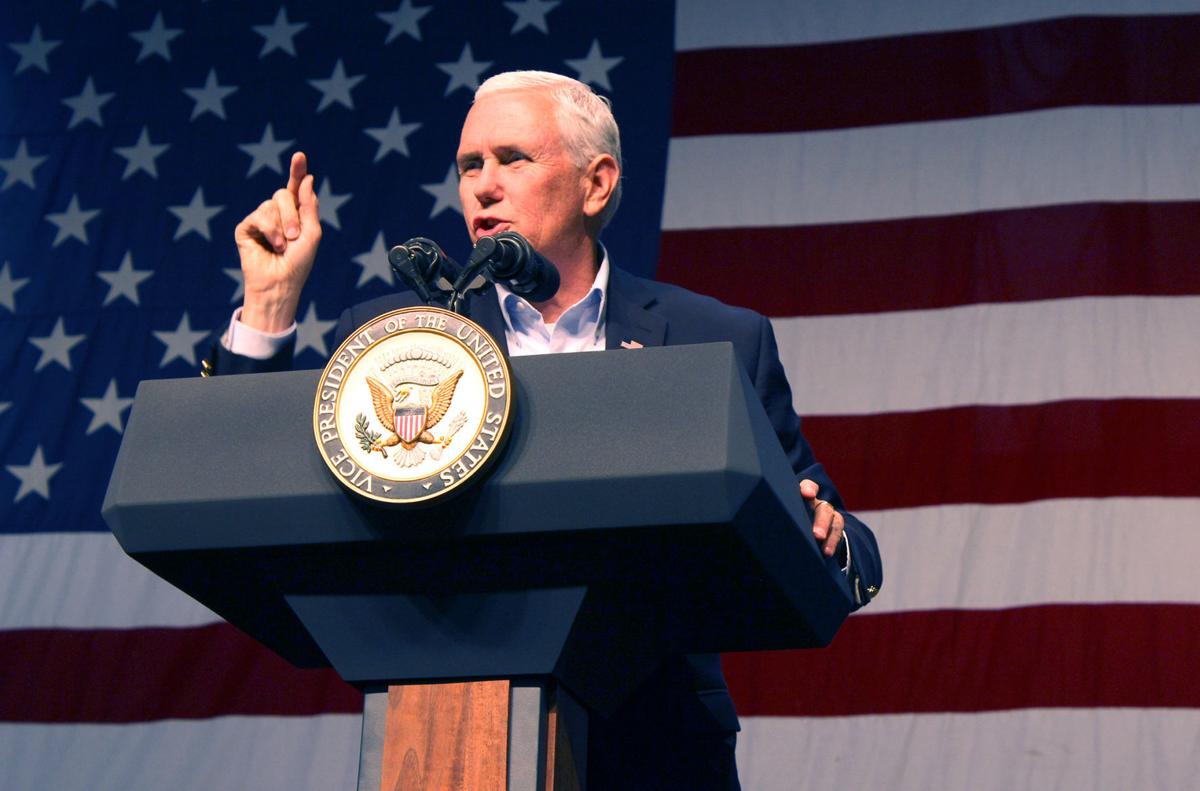 KALISPELL — After months of fighting hard for Matt Rosendale's U.S. Senate campaign, the Trump administration's closing pitch to Montana voters clocked in at about 20 minutes.
The messenger — Vice President Mike Pence — drew several hundred to a hangar at Glacier Park International Airport Monday afternoon. Warmed up by U.S. Rep Greg Gianforte, R-Mont., and U.S. Senators Steve Daines of Montana, Lindsey Graham of South Carolina and Cory Gardner of Colorado, the guests cheered as Rosendale took the stage and reminded them of this Senate race's national pull.
"Our rallies are attended by the president and vice president of America," he said. "That is the difference between being a Democrat and a Republican."
Meanwhile, Rosendale's Democratic opponent, two-term incumbent Jon Tester, held rallies in Missoula and Great Falls Monday with House candidate Kathleen Williams and Gov. Steve Bullock.
The Democrat is touting the need for health coverage for pre-existing conditions and his work on veterans.
In Kalispell, Pence echoed Trump's Montana rallies as he extolled the administration's conservative judicial appointees, its tougher stance on national security and border enforcement, and tax and regulatory cuts — changes that, he said, Rosendale would help advance.
"Under President Trump's leadership, jobs are back, confidence is back, in a word, America is back.
"But it's just getting started," he continued. That's why we need Matt Rosendale in the United States Senate."
The crowd's cheers became boos when Pence turned to Rosendale's opponent, attacking incumbent Tester's stances on immigration, taxes, judicial nominees and other issues. Polls have shown Tester, a Democrat, and Rosendale closely matched, but Pence, who was joined by his wife Karen, struck an optimistic tone. "I got a feeling that 'blue wave' is gonna hit a red wall right here in Montana and all across America."
And, with final requests to vote and to pray for America, Pence was off. In a sign of how these midterms have drawn attention to America's sparse interior, he had to attend an afternoon rally in Rapid City, S.D., on behalf of that state's Republican gubernatorial candidate Kristi Noem.
The spate of attention has been relished by Flathead conservatives, who recently hosted Donald Trump Jr. in Kalispell and Ronan. "We're a small town, but it's nice that they gave us a chance to be part of the process and show our support," said Pat Hunt of Kalispell.
Pence's review of the administration's policies and Tester's opposition struck a chord with Lee Kaufman, also of Kalispell. "It kind of brought home that Tester is … a sycophant for [Senate Minority Leader Chuck] Schumer" he said afterward.
He and others in attendance were quick to reiterate the Rosendale campaign's high points: Tester's actions towards Rear Admiral Ronny Jackson and Supreme Court Justice Brett Kavanaugh, the economy's performance under Trump, and illegal immigration. Through it all simmered a deep distrust of Tester and the Democratic party.
Discussing the incumbent's opposition to the nomination of Jackson, Lee surmised that "he was put up to that by Schumer or [California Sen. Diane] Feinstein or one of those other slugs."
Joe Schupert of Whitefish said that Democrats "want to go back to higher taxes."
"They want sanctuary cities, they want all the illegals …. It won't be a country when they're done."
Reminded that Tester has voiced opposition to sanctuary cities, and has been endorsed by the National Border Patrol Council, a union for that agency, Schupert replied, "I don't believe it … I don't believe any of that. All through his campaign he's been lying."
As he waited in line, Montana Sen. Keith Regier, R-Kalispell, also lauded the Trump administration's tax cuts and voiced concern about border security. He, like other Montanans, has gotten an unprecedented amount of face time with the current president, receiving four visits as Trump attempts to bring Rosendale to the Senate.
Regier described Trump's Missoula rally as "fantastic," adding that he was struck by "the quality of the crowd," which he saw as "really upbeat about the president, America, Rosendale."
Trump's remarks at that rally — where he praised U.S. Rep. Greg Gianforte for body-slamming Guardian reporter Ben Jacobs — were widely condemned, but Regier had a different take on Gianforte's assault. "I heard from voters that it showed that Gianforte is a fighter and will fight for Montana, and it showed his human side, too."
Pat Hunt, meanwhile, found fault with Rosendale's opponents. "You hear so much negativity from the Democrats, I just want to feel like there's other people like me."
As the line to see Pence grew from one end of the hangar to another, she remarked, "there's strength in numbers."
The Associated Press contributed to this story.