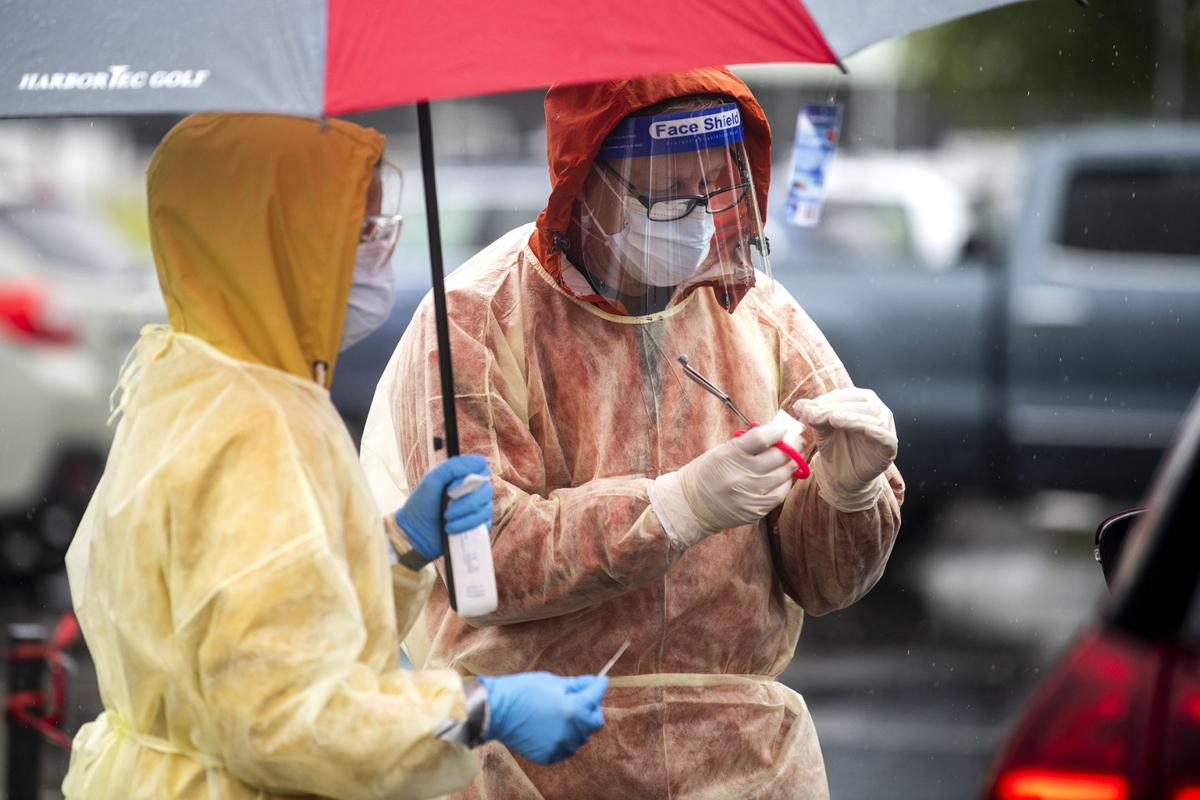 The state of Montana set a grim record Monday, adding the most cases of COVID-19 it has seen in a single day at 56.
It's been one month since the state moved into the second phase of a gradual reopening June 1, with higher capacity at bars and restaurants and the end of a 14-day travel quarantine.
Statewide there are 288 active cases and 13 active hospitalizations. Overall, 919 Montanans have tested positive, and 609 have recovered. To be considered recovered on the state's tracking dashboard, a person must be out of isolation and no longer able to spread the virus.
Over the last few weeks, Montana has seen a significant increase in the pace at which it adds new laboratory-confirmed cases. The seven-day average of cases added per day reached the low 20s over the last week and hit 26 Monday. For comparison, that number was in the single digits or less than one from April 15-June 16.
Gov. Steve Bullock's office said Monday that investigations are still ongoing for the newly reported cases, but that some are tied to large gatherings and emphasize the importance of wearing a mask in places where social distancing is not possible. The settings involved in the new cases include weddings, workplaces and large households, a spokeswoman said. The office was not aware of any cases tied to protests around the state over recent weeks.
"Of particular note, the cases announced today involve positive cases connected to several recent weddings," information provided from the state health department Monday read.
Bullock has encouraged people to wear masks in public in settings that do not allow for distancing, but has not required them as some other states and areas have. The Centers for Disease Control and Prevention have said wearing a mask can slow the spread of the virus.
Montana was under a stay-at-home order for about a month from the end of March to the end of April, followed by the partial reopening of retail operations and bars and restaurants at half capacity. State health officials said case growth during that period was sufficiently low enough to allow for the start of a gradual reopening.
While the state has not put a pause to any activities allowed under Phase 2, counties and tribal nations are allowed to enact further restrictions. Big Horn County last Friday implemented an order requiring mask use when outdoors in situations that do not allow for social distancing, with exceptions for children under the age of 2 and those with health issues. That county and the Crow Reservation have been hit hard with cases in recent weeks.
Yellowstone County reported adding 14 new cases Monday. Gallatin County added 13, Glacier added nine, Flathead added six and Ravalli added four. Custer and Richland counties each added two cases.
Big Horn, Cascade, Granite, Lincoln, Stillwater and Valley counties each added a case.
Testing in Montana has dramatically increased, with 6,479 tests run between Sunday and Monday. That's the most tests reported processed over a day in the state. The rate of tests that come back positive has decreased as more people are tested. Montana has the fifth-lowest positive rate in the country, at about 1.2%, according to the Johns Hopkins Coronavirus Resource Center.
Part of Bullock's proposal for reopening Montana included a goal of testing 60,000 people a month. Since the start of the year, 88,743 Montanans have been tested, though about 50,200 of those have come in the last month. The state is working with local groups to host surveillance testing of vulnerable populations like nursing home residents and employees, as well as testing in "destination" communities that are popular with travelers.
Events like testing in Big Horn County have identified positives.
Of the new cases reported Monday, a spokeswoman for Bullock said though investigations are ongoing, it appears few new cases are from testing events. Most positives in clusters start with the testing of symptomatic people, and through testing their contacts, the state is finding more asymptomatic cases.
Tests for symptomatic people are generally sent to the state lab, where turnaround is about 24-48 hours. Tests collected at surveillance testing events for asymptomatic people generally go to private labs, unless someone tested reports symptoms. The turnaround for asymptomatic tests at private labs has a turnaround time of about three to five days.
The Montana VA Health Care System also said Monday that enrolled veterans are eligible for free COVID-19 testing at 13 locations.
The state and the Department of Public Health and Human Services are providing testing supplies as part of its surveillance project. The tests are for asymptomatic veterans and will be done through drive-thru sites. Anyone going to a VA facility must wear a face covering and ones will be provided if needed.
The state health department will notify those who test positive and the VA will contact those who test negative.
Also Monday, Malmstrom Air Force Base in Great Falls reported its first confirmed case. A release from the base said the person will isolate on the base.
Concerned about COVID-19?
Sign up now to get the most recent coronavirus headlines and other important local and national news sent to your email inbox daily.