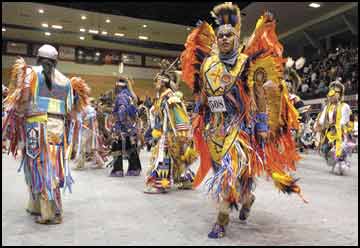 He's known every president since Harry Truman. On Friday night, Earl Old Person taught one to dance.
To the beat of three rawhide drums, Old Person slowly danced around the arena floor of the Adams Center with University of Montana President George Dennison at his side, intently watching Old Person's feet.
Gamely, Dennison attempted to mimic the step of the Blackfeet chief during the honor ceremony to kick off UM's 40th annual Kyi-Yo Celebration.
It's a special weekend and a special powwow, said Old Person, who has lived in Browning all of his 78 years. The master of ceremony for years, he was at the first college powwow in Missoula many more than 40 years ago.
"It actually started in 1955," said Old Person before Friday's grand entry. "We had our first powwow at the student union building. It wasn't that large, but it was the start. After that we used the Hellgate gym."
The powwow was the Montana Institute back then, a collaboration of the Montana Intertribal Board and some university professors.
"This was the first of its kind in the United States, as well as Canada," said Old Person, who has a $5,000 scholarship in his name at UM and 10 years ago received an honorary doctorate from the school. "After that, other universities had them. This is the reason all these people come, because it was the first."
Even as he spoke, some 40 minutes before the Grand Entry began, the arena swarmed with dancers, drummers, family and friends. It was, said one powwow veteran, one of the largest opening night crowds in memory.
Buck Wallahee, a member of the Yakima tribe in Washington, methodically donned his outfit for the men's traditional dance contest as the scheduled Grand Entry time came and went.
"It's supposed to start at 6, but it looks like it's running a little bit late," he said.
When the first drumbeats broke out to start the opening ceremony, it was just after 6:45 p.m. Twenty minutes later, the floor was a kaleidoscope of dazzling colors and every kind of traditional and fancy dancer.
Led by an honor guard, five flag bearers and head dancers Shandin Pete and Salisha Old Bull-Pete, a husband-and-wife team from Arlee, the dancers traced ever-tightening circles around the lead party.
The host drums - the 12-man teams of Sizzortail, of Oklahoma, and The Boyz of Minnesota - took turns providing the songs. Sizzortail, representing seven tribes, was a winner at the biggest powwow in the country, the Gathering of the Nations, in Albuquerque, N.M. The Boyz, also known as T.B.Z., are also among the best-known drums in the business.
Women danced with babes in their arms. Fancy dancers, one in bright pink trim and another in a lighter shade of the same color, twirled around the fringes of the line.
Small girls, certainly not more than 3 years old, solemnly kicked up their heels with hands on hips.
William Turcotte of Fort Belknap cut a colorful figure. He was here to compete in the Men's Golden Age Traditional category, for those 55 years and older.
"We're the old men of the powwow," he laughed as his partner, Susan Altona, smoothed the feathers of his cape.
Turcotte's costume "is a little brighter than most traditional dancers," but like most dancers, there's a reason for what he wore.
Turcotte said his son Russell was murdered at a gathering of the Rainbow People six years ago.
"If you look at my dance regalia, you see a lot of rainbow colors," he said. "He was a rainbow person, so I'm a rainbow dancer."
Old Person shared the microphone at the south end of the arena with Ruben Little Head, a young and enthusiastic Northern Cheyenne from Lawrence, Kan.
"There's no more beautiful sight in the whole world - right there," Little Head marveled as the Grand Entry took shape.
The Boyz drew a crowd when they sat and drummed, spectators standing around their circle snapping photos and recording their songs. Two men, each with a small boy on his shoulders, looked on, one wearing a New York Yankees cap, the other a Boston Red Sox hat.
The hot T-shirt of the night seemed to one that pictured four Indian warriors, spears in hand that read, "Homeland Security: Fighting Terrorism Since 1492."
"I think people come here to see the dancing," Old Person said. "There's a lot of new dancers that come, the drummers come up with new songs. A lot of our people they collect songs, through recording machines, just for their sounds, for their own use.
"It's just a place to enjoy the weekend. Like I said, the reason a lot of people come is because it was first of its kind here. And no matter what, they'll be here."
Saturday's schedule for the 40th Kyi-Yo Celebration at the University of Montana:
Groundbreaking ceremony for UM's new Native American Center at 9 a.m. on the Oval. A reception will follow at 10 a.m. in Turner Hall.
Youth traditional games at 10:15 a.m. on the Oval sponsored by the Traditional American Indian Games Association.
Youth 3-on-3 basketball tournament at 11:45 a.m. in the Adams Center's West Auxiliary Gym.
The 40th annual Kyi-Yo Celebration grand entry will begin at noon and again at 6 p.m. in the Adams Center. Admission is $8 for both afternoon and evening sessions, $5 for just Saturday evening. Grand exit and awards ceremony at 11:30 p.m.