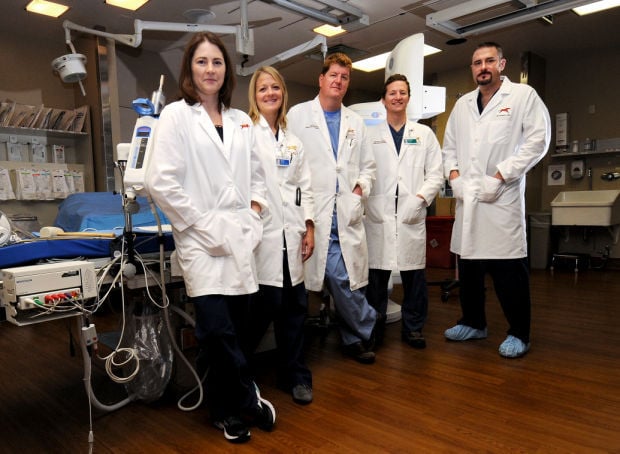 Surgeons, cardiologists, internists, nurses and all other manner of health-care professionals gathered at Providence St. Patrick Hospital in Missoula this week for the 25th annual Rocky Mountain Valve Symposium.
Tim Descamps, executive director of the International Heart Institute of Montana Foundation, which hosts the event, said apart from bringing in doctors from around the country, heart specialists from as far away as Australia, Europe and Asia came to town for the three-day conference.
He attributed the draw to three main factors: the faculty, location and the hospitality of Missoula.
"Surgery and cardiology, it's a very small group, and it gets passed along by word of mouth," Descamps said.
Dr. Matt Maxwell, director of cardiovascular surgery at the International Heart Institute of Montana, said the reputation of the symposium is due to the legacy of Dr. Carlos Duran, who helped develop mitral valve repair surgery and later helped found the Heart Institute here in Missoula.
"None of this would be happening without him," Maxwell said.
The discussions on Saturday included speakers like Dr. James Cox, who developed the procedure still used today to the treat abnormal heart rhythm atrial fibrillation.
"He's had an amazing contribution to the field over the course of his career. I listened to him talk all the way back in 1990," Maxwell said.
Cox said even after his MAZE procedure was developed, morbidity rates meant it wasn't reasonable to apply it to most people.
"After about 15 years, new devices made it a lot less invasive," he said. "Now you can do almost the complete procedure with a small incision on the right side."
Cox said he was at the first symposium in Missoula, and always makes a point to come back when he is invited.
"It's always one of the best surgical meetings. This one's always been very practically oriented," he said.
Dr. G. Burkhard Mackensen of the University of Washington centered his talk on Saturday around advances in 3-D imaging and how it has helped cardiologists diagnose the problems before surgery.
"It shows these leaflets are in a different ZIP code, they just aren't anywhere close to each other," he said, showing a slide featuring a tricuspid valve opening and closing, with blood able to leak back through, even when it should have been closed.
Mackensen said issues with that valve, used to prevent backflow into the atrium on the right side of the heart, is often overlooked during surgery, calling it "the forgotten valve."
Maxwell said the tricuspid valve is an area that is prone to infection that eats away at the tissue, meaning it won't make a tight seal when closed.
"If you're waiting too late for surgery, the patient just gets sicker and sicker," he said.
The biggest risk of heart surgery, he said, is still the collateral damage caused by the procedure itself, particularly in open heart surgery.
Maxwell said most mitral valve surgery, on the left side of the heart, is done where organs are exposed, rather than a percutaneous-style using small incision sites. Right now, Maxwell said millions of dollars in research are going into working on that problem.
"If you can fix it without open surgery, obviously that's where we want to be," he said.