Space heaters left unattended amid flammable items. Gas stoves used to heat a room. Overloaded extension cords. Turkey fryers.
After record-setting cold arrived in Billings, Fire Marshal Mike Spini wants area residents to take steps to avoid the devastating results he has seen repeatedly over his more than 20 years with the Billings Fire Department every time the thermostat takes a dive.
"A little common sense goes a long way going into this time of year," Spini said. "And I just ask people to think about what they're doing."
Some of the basic steps to limit risks include replacing smoke and carbon monoxide detector batteries.
Problems often arise when people augment the heating in their home, Spini said. Space heaters are often used, but not everyone takes the necessary precautions.
Home heating sources in general should have three feet of space cleared around them in every direction.
When it comes to space heaters, experts recommend they be plugged directly into an outlet, not an extension cord. As Spini explained, extension cords might not be able to handle the amount of power that a space heater's cord uses, which can lead to an overload and a fire.
Space heaters should be turned off at bedtime or when leaving a room, and they should have an automatic shut-off function should they tip over, according to the U.S. Fire Administration.
The USFA also encourages people to have their furnaces inspected every year and to keep flammable items away from furnaces.
Another way people try to increase heat in their homes is the use of gas stoves. Running a gas stove constantly as a heat source can lead to hazardous levels of carbon monoxide.
You have free articles remaining.
One of the most consistent causes of cold weather fires in Billings is people trying to thaw pipes with either propane torches or torpedo heaters.
The tube-shaped torpedo heaters are often left unattended and out of sight, sometimes in crawl spaces, Spini said.
"We see this almost every year when there's a freeze up where someone uses a propane torch or they get a torpedo heater or some kind of heater that puts off a lot of heat and they use that to thaw their pipes," Spini said. "And they end up catching their house on fire. That's one thing I can say we see happen quite often."
As for the turkey fryer fires, the fire marshal said those tend to happen with increased frequency around Thanksgiving. People who use a turkey fryer are encouraged to use it outside, away from their home in a cleared space.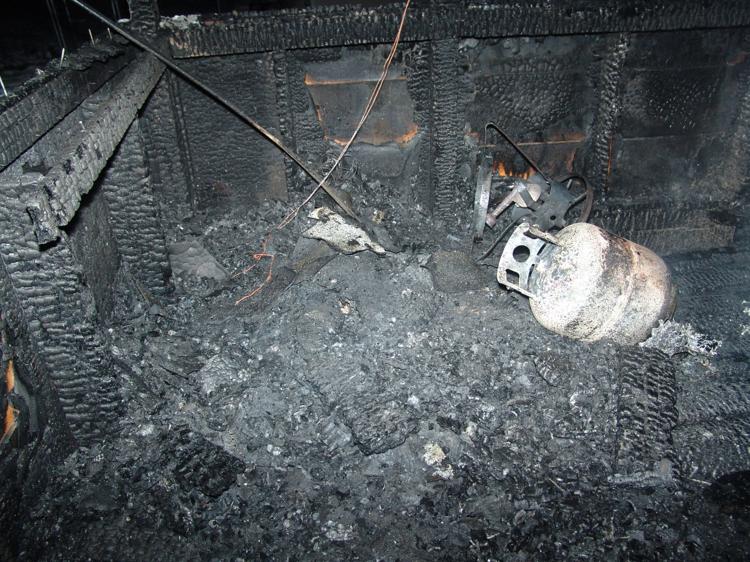 Fires with turkey fryers typically occur when hot oil overflows and ignites with the heat source below. The oil bursts into flames and the entire apparatus can quickly ignite and burn other flammable materials nearby. In some cases the overflow is caused by the fryer being filled too high with oil. A partially frozen turkey can also cause oil to splatter from the fryer.
The USFA recommends turkeys be completely thawed before use in a fryer, that people use a cooking thermometer to check the temperature often to avoid overheating, and that cooking gloves are worn when using a turkey fryer.
From 2014 to 2016, an estimated 2,400 residential building fires occurred in the United States on Thanksgiving Day, leading to deaths, injuries and millions of dollars in property loss, according to the National Fire Protection Association. Of those fires, 76.5% were the result of cooking, 7.1% were caused by heating. All other causes accounted for 16.4% of Thanksgiving Day fires.