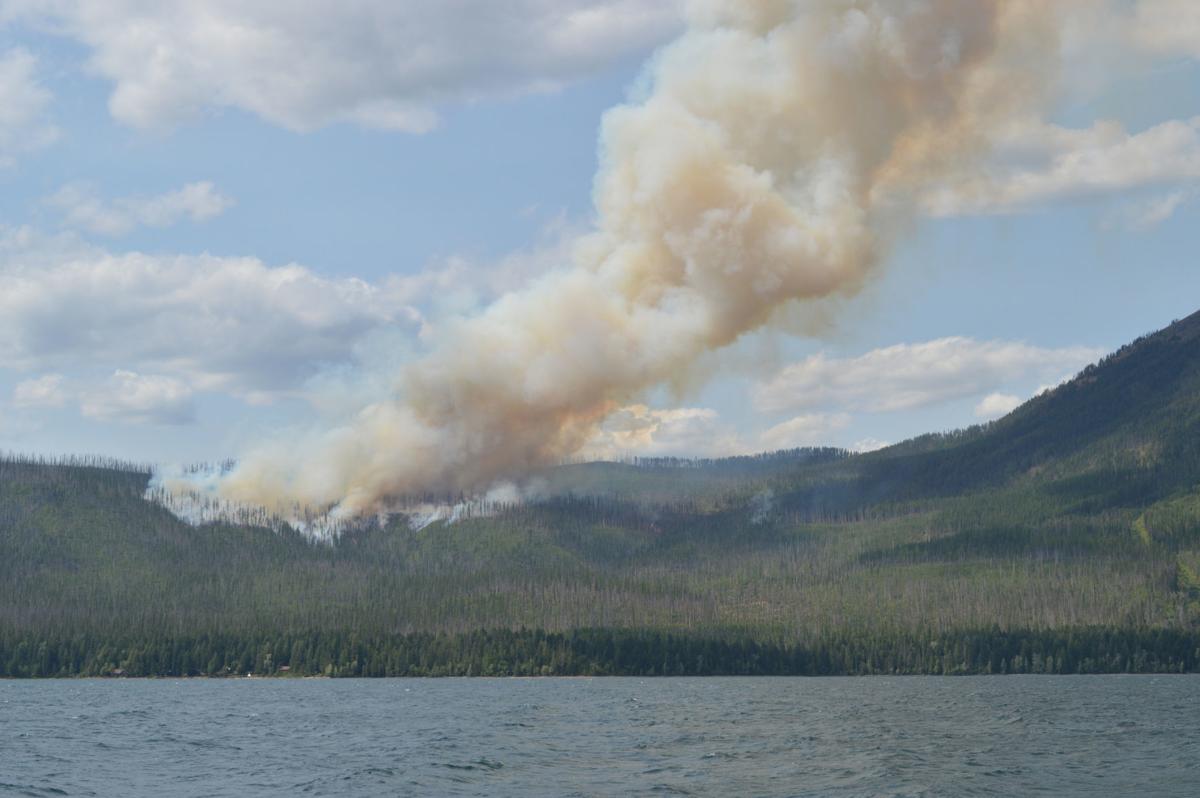 GLACIER NATIONAL PARK — The Howe Ridge fire covered about 3,500 acres Thursday — a 900-acre increase from Wednesday. As winds picked up Thursday afternoon, Apgar Village businesses and park began wetting down lawns with sprinklers and garden hoses. 
Separately, on Wednesday Flathead County Sheriff Chuck Curry issued an evacuation warning for a small number of residents near Essex due to the nearby Paola Ridge fire, currently 400 acres in size.
In a press release Thursday morning, Glacier National Park stated that "fire burned actively through the night, with single tree torching and spotting producing growth to the southwest. Additional spotting and growth were observed on the north edge of the fire on the southern slope of Mount Stanton, as well as the northwest edge of the fire toward Rogers Lake."
An aircraft equipped with infrared-imaging equipment flew over the fire Wednesday night, allowing its measurement to be updated.
Meanwhile, two helicopters continued dropping water on the edges of the fire Wednesday, and structural protection crews continued working around Lake McDonald.
The following areas remain closed: Avalanche and Sprague campgrounds; North Lake McDonald Road (private residences and the Lake McDonald Ranger Station); the Lake McDonald Lodge Complex (all businesses, employees, and private residences), and private residences along the Going-to-the-Sun Road. The Going-to-the-Sun Road is closed between the foot of Lake McDonald (near Apgar) and Logan Pass.
The press release cautioned that "increased atmospheric instability" was expected throughout the day. "Wind directions will change, resulting in potential for the fire to expand to the southwest and northeast."
Thursday afternoon, the sky was overcast, and strong but shifting winds blew through the area, clearing haze from the village and the lake's southern end, and briefly revealing the fire's smoke plume.
The National Weather Service forecasts winds to blow mostly to the south and southwest, at speeds no greater than 12 miles per hour, through noon Saturday, before shifting to the north and northeast. Temperatures will range between the 50s and 80s, with a slight chance of precipitation.
In the Missoula area, the National Weather Service warned that Friday afternoon and evening could bring "plentiful lightning, gusty and erratic winds and potential wildfire starts." The chance of precipitation was put at 50 percent Friday afternoon and evening, with wind gusts of up to 40 mph, and wind shifts far from the storms themselves because of "thunderstorm outflow," according to the forecast. A red flag warning is in effect until noon Saturday.
A total of 78 personnel are currently assigned to the fire, and a Type 1 Incident Management Team is scheduled to assume control Friday morning.
Near Essex, a closure order is in effect for the area's roads and trails, but local landowner access and traffic on U.S. 2 were still permitted. Aircraft and drones are prohibited from flying overhead.