Every 40 seconds someone in the world dies by suicide, which is also how often loved ones are left behind to make sense of it.
On Saturday evening a large crowd gathered in Helena at the Capitol rotunda to recognize International Survivors of Suicide Loss Day.
It is the one day a year when people affected by suicide gather in their communities to find comfort and gain understanding as they share stories of healing and hope. For the second consecutive year, several local organizations came together to provide loss survivors in Lewis and Clark County with a chance to find comfort and heal together.
"We want survivors to feel not alone," said Jess Hegstrom, one of the event's organizers and a suicide loss survivor. "We want them to know that they can achieve a new normal and move forward in a healthy way that is individual to them."
An act of Congress first created Survivors of Suicide Loss Day in 1999. Since then, AFSP has sponsored and supported the event. In 2017, there were more than 380 locally organized events held throughout the U.S. and around the world.
Saturday's event opened with welcoming remarks from Tova Reddick Starkel, one of Survivor Day's organizers and a survivor herself. Reddick Starkel shared that despite the difficulty of the holiday season for herself and others who have lost loved ones to suicide, she finds hope in events like Survivor Day.
"We want to encourage survivors to share their stories," said Reddick Starkel. "It can help your pain become more bearable."
After her remarks, Reddick Starkel introduced the evening's keynote speaker, Dr. Tina Barrett, founder and executive director of the Tamarack Grief Resource Center in Missoula, along with her colleague and loss survivor, Jennie LaBuhn. According to Hegstrom, Barrett and LaBuhn were selected as speakers to put the focus of this year's event on survivors and the people who work with survivors.
Both Barrett and LaBuhn were featured in the October BBC News documentary on Montana suicides, "What's Killing America's White Men?" As a licensed counselor, Barrett has worked with bereaved youth, adults and families in individual, group and workshop settings. 
Much of Barrett's speech was directed at the survivors sitting in front of her. She discussed the three stages of healing that she has helped survivors navigate: stabilization, grief work and post-traumatic growth. She stressed, however, that each person's healing process is unique to them.
"It's your journey," said Barrett. "If it's not hurting you or someone else, it's probably OK."
For survivors moving forward from loss, Barrett encouraged them to "Greet those around you with exuberance. Make sure they know you're glad they're here," she said.
Barrett later introduced her colleague, LaBuhn, who lost her husband to suicide on Veterans Day in 2014.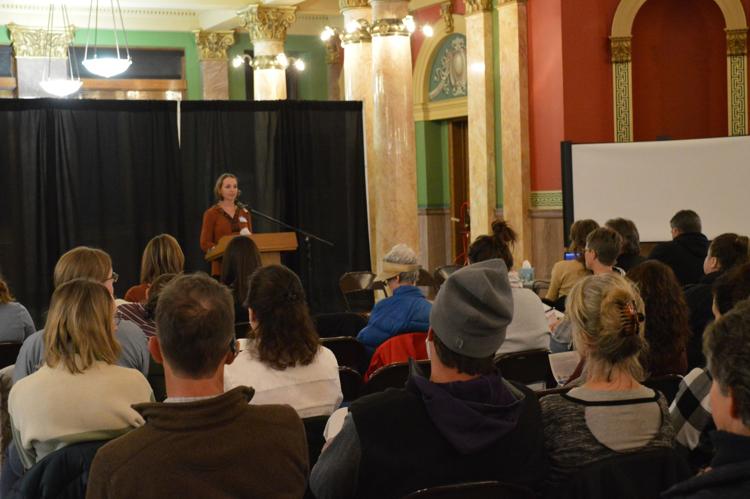 In the four years since her husband's passing, LaBuhn shared that she moved herself and her two daughters from Texas to Montana as a way to take that first step forward after loss.
"Reaching for forgiveness was the most helpful thing I could do," shared LaBuhn.
From memorizing and reciting quotes and Bible verses to developing body and mind awareness with yoga, LaBuhn described the ways she personally sought to find peace and healing. And over time, she explained, hope did slowly return to her life.
"I began to realize that life could be good again and we could move forward and make new memories in beautiful places," said LaBuhn. "I've learned to let it be and ride the waves … to feel the sadness there, but eventually resurface and breathe again."
Following the speeches by Barrett and LaBuhn, a documentary film produced by the American Foundation for Suicide Prevention about the suicide loss experience was shown. This year's film was called, "A Daughter's Journey."
Unlike past few years, this year's AFSP film followed one loss survivor, Sarah, a young adult who lost her father when she was 13.
Following the film screening, a Q&A panel was held with several survivors willing to answer tough questions from the crowd. In between the film screenings and Q&A panel, attendees were able to browse through a resource fair with representation from local organizations like the Center for Mental Health, Montana Veteran Affairs and Tamarack Grief Resource Center.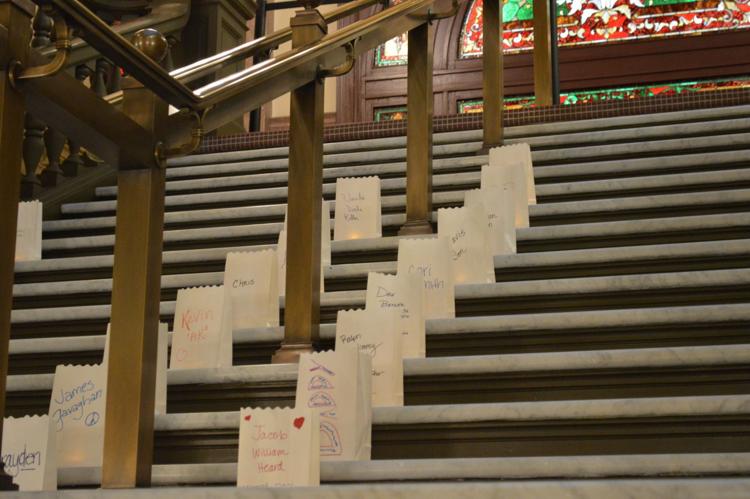 As the Survivor Day events came to a close and attendees turned to exit the rotunda, they were met by a glowing testimony to several lives lost to suicide. Stretched up the staircase behind them were luminaries decorated by attendees in memory of loved ones.
"The luminaries are another way for us to honor and remember those we've lost," said Hegstrom. "They represent people who are lost but not forgotten and not stigmatized. They remind survivors to think well of them and the important part they played in people's life."
In addition, a large patchwork quilt was also on display in the back of the room. According to Katie Levine, director for the Montana chapter of AFSP, each square was designed by someone in Montana in remembrance of someone they lost to suicide. Inscribed on one of the quilt's squares were powerful words for survivors in attendance: "May we strive to forget what has been taken and remember what has been given."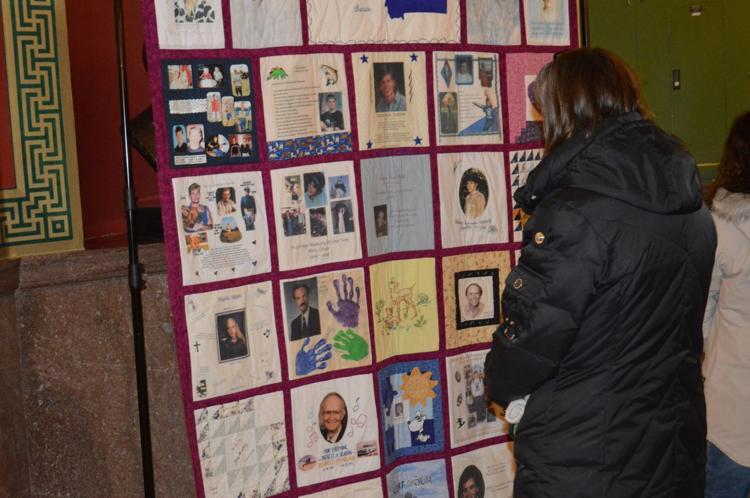 "We're growing as a society around this topic and our capacity to handle it, but we'll always have more work to do," said Hegstrom. "But we're rolling the rock forward together and I think that's really wonderful."