PHILIPSBURG — It was pitch-black outside the car's window. A few inches of night-before snow blanketed the ground, just enough for any deer or elk to leave fresh tracks to follow. It was 6:45 in the morning, and the people in the car had already been up since 4 a.m.
A hearty breakfast of pancakes and eggs settled in their stomachs. The anticipation built. Longtime hunter David Nikonow flicked on the car's overhead light and took another look at the map. The light illuminated the other people in the car — his wife Hannah, and three University of Montana students — all bundled in hats and gloves, and draped in blaze orange.
In a few minutes, the group would hike single-file up a slope in the half-light, breath visible in the 15-degree air, snow crunching as boots broke the untouched surface. They cut a fresh elk track just as the light began to appear.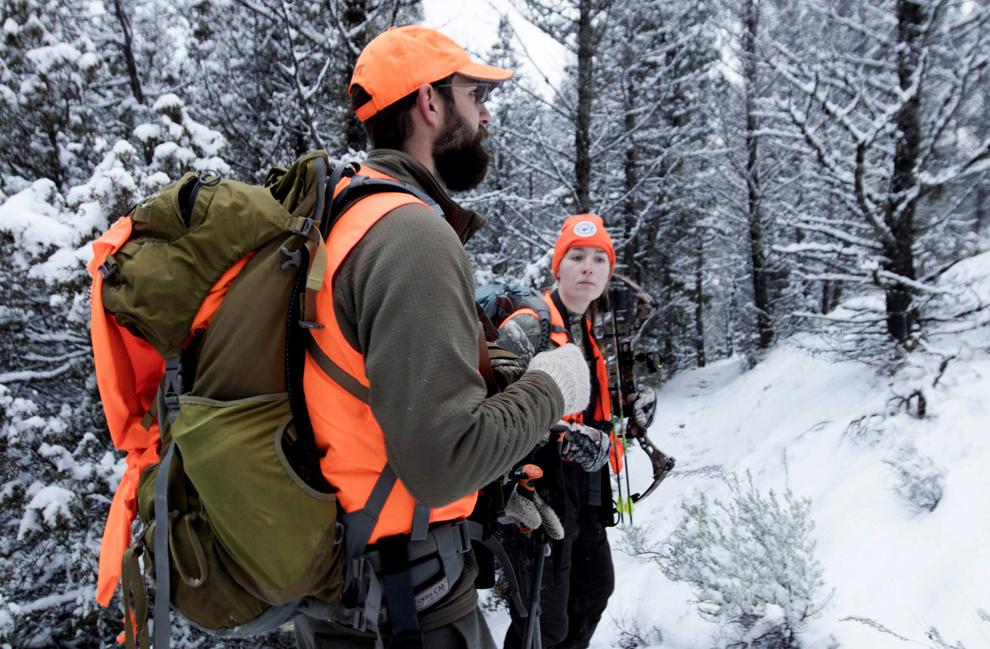 This was the first morning of the fourth annual Hunter Mentorship, a program started by James Goerz, a doctoral student at the University of Montana. What began as an informal hunting invitation for school friends has since become a well-established program, jointly run by the student chapters of Backcountry Hunters and Anglers and the Wildlife Society.
Hunter Mentorship, which pairs experienced hunters like the Nikonows with novices, provides two weekends worth of chances for students to discover a more nuanced view of hunting. "Hunting is not just going out and shooting an animal, hunting is this long process," said Goerz. "For most people that I talk to, it's a lifestyle, it's a culture, it's a tradition; it's heritage."
The participants face questions that often surround hunting. What are some of the people who hunt really like? How to hunt safely and ethically? Is hunting acceptable or not, and why?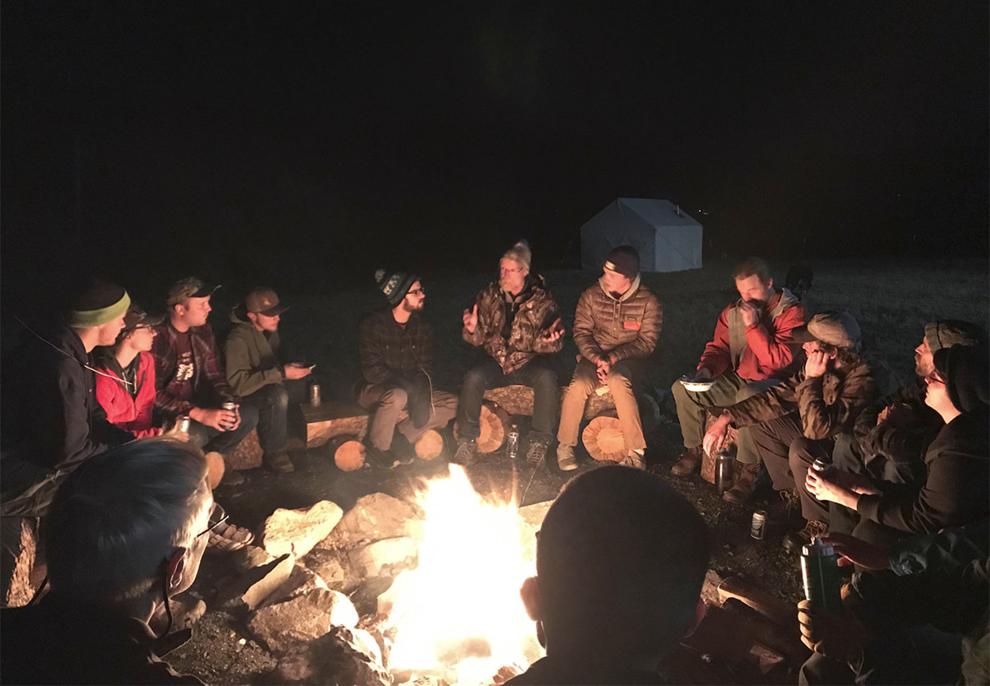 For Madeline Damon, a UM sophomore majoring in wildlife biology, this year's hunt was especially poignant. Along with a bow and arrows, she also carried into the woods the memory of her friend Rebecca Romero, a former member of the UM Wildlife Society student chapter killed this summer in a pedestrian-car collision just months after graduating.
Damon and Romero met through the Wildlife Society, and volunteered at many of the same events. They sat side by side in front of the woodstoves in the Goerzes' cabin this time last year. They learned together how to hunt in Montana from competent, longtime hunters in the Hunter Mentorship program.
Throughout this year's program, Romero was on people's minds. Megan Robbins, president of the Wildlife Society student chapter, reminded everyone the night before the hunt started that a big part of the weekend was honoring Romero.
Romero, originally from California, was bitten by the hunting bug when she came to Montana to study wildlife biology. She saved up to buy her own rifle, and went on her first hunt that year.
This year, Damon tracked elk, bow in hand, partly because of Romero's love of hunting. In Romero's memory, Backcountry Hunters and Anglers, the Wildlife Society and the Goerz family pooled resources this year to fund scholarships to purchase out-of-state hunting licenses for three students  — Damon, from Wisconsin; Atlas McKinley from California; and Sarah Lutch from Arizona. Part of the money came from a grant that Backcountry Hunters and Anglers received from Patagonia and from Artemis, a sportswomen's organization.
Hunter Mentorship is partly about removing some of the hurdles for students who want to experience hunting, whether as observers or active participants.
Cost is one of the hurdles for some students. Out-of-state hunting licenses for students cost $525, an $80 increase since 2015. That's a big chunk of change for a college student just struggling to pay for food, housing and tuition.
"I wouldn't have hunted without the scholarship," Damon said. "I might have been able to put some of my money forward and maybe my parents could have helped me out, but it's something that's so expensive I wouldn't want to ask them for that kind of thing."
Romero was a good example of someone who could have used a scholarship for a license. "She was from California and she came here with an open mind wanting to hunt, but a barrier was the cost," said Mateen Hessami, vice president of the student chapter of Backcountry Hunters and Anglers.
Hessami helped start Hunter Mentorship, and has been an integral part of it since. He killed his first deer in Montana, a mule deer buck, in the same area near Philipsburg where the program participants hunted this year. He's passionate about helping other students understand the role hunting plays in conservation.
Despite attempts to tap into other recreational users for funding, the vast majority of the state wildlife agency's dollars for wildlife conservation still come from hunting and fishing through license dollars and an excise tax on sporting goods like ammunition. Hessami thinks wildlife biology students need to be familiar with the activity that funds much of wildlife management, even if they never plan to harvest an animal themselves.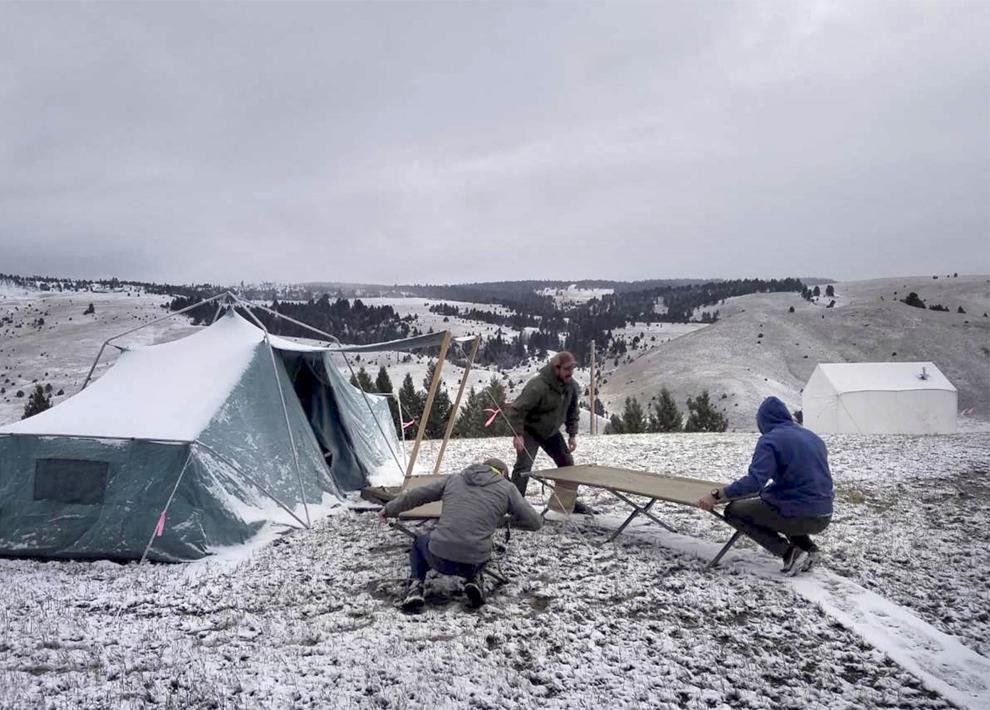 "For college students it's so important to highlight the connection between hunting and fishing and wildlife biology," Hessami said. "I really wanted all my peers to see it through a similar angle that I have."
Hessami said part of what makes hunters such dedicated conservationists is what they take away from the hunt. "I think it's the most intimate connection, he says. "It's more than a memory. It's a tangible takeaway, a freezer full of meat."
McKinley, a transfer wildlife biology junior from California who received one of the scholarships, successfully hunted a mule deer buck earlier in the season, and also accompanied a hunter who harvested a bull elk.
He got said he got into hunting through his love for wildlife and public lands, because he sees hunters as having a strong voice in protecting public lands. In 2017, he took a hunter safety course in California.
"It's been a few years that I've been wanting to do it," he said. "My parents don't hunt, and I had to get a driver's license first, and have money to buy a gun and all that stuff. It was a long time coming."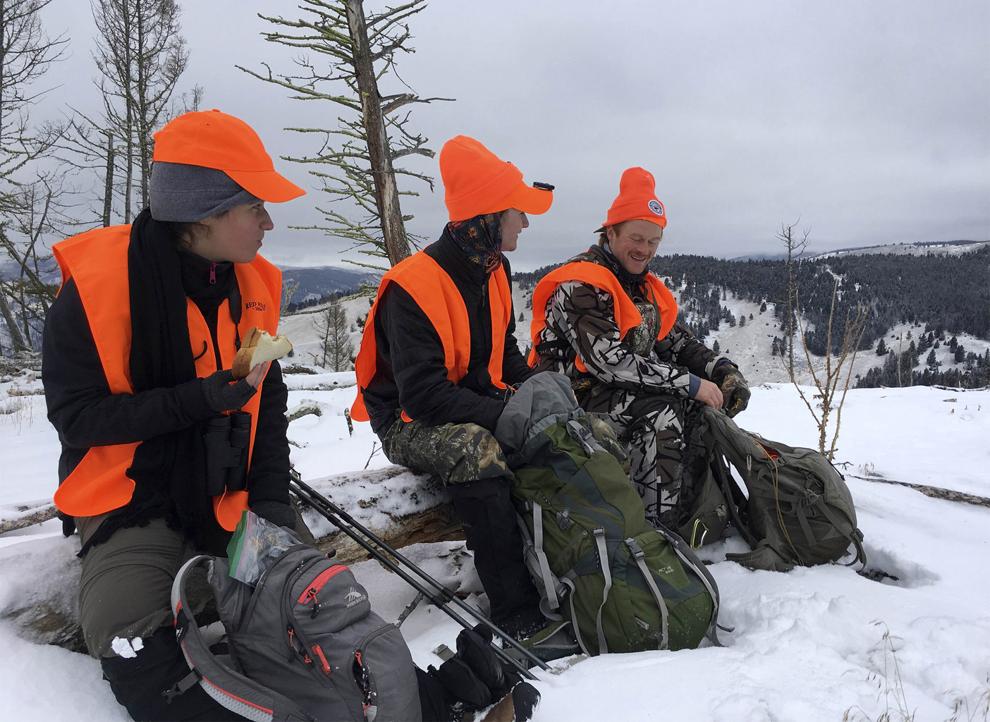 He was so excited about hunting he told his family he wasn't coming home for Thanksgiving because he wasn't sure he could fill his tags by then. McKinley was with mentor Zach Condon when Condon shot the bull elk in a herd that McKinley spotted.
"Atlas was spotting animals all day," said Condon. Being a mentor, said Condon, "wasn't just teaching by showing, it was like, 'Now throw on this pack with 60 pounds of meat and pack it to the truck.' We all suffered together; it was awesome."
McKinley said the weekend was a big confidence boost for his future hunts. "Being out there and helping was like 99 percent of it, it was awesome," he said.
During the Hunter Mentorship program, the students slept at the Goerzes' hunting lodge-style cabin in Philipsburg, and dined on the world-famous Goerz family elk stew. They explored hunting ethics with wildlife biology faculty members Chad Bishop and Scott Mills, and got first-hand experiences hunting or observing hunters on national forest land in the John Long Mountain range.
This year's program was the largest yet, with 15 new hunters paired one-on-one with experienced mentors. "Our goal here is that everybody experiences the outdoors, whether you're a hunter, or you've never experienced it before and just want to know what goes on," said James' father Ken Goerz.
Over the two weekends the hunters harvested a total of seven animals. These included one bull elk, three white-tailed does and three mule deer bucks, including two that Brandon Davis and Steve Cross harvested the first weekend.
Although Damon didn't get a deer, she said it was a privilege to to represent students like Romero.
"I think it's really special that I get to portray or represent someone who's an out-of-state hunter, a female who's taking that initiative to get out there in Montana and go hunting," Damon said. "I want to honor Rebecca's memory by getting out there and putting myself forward."