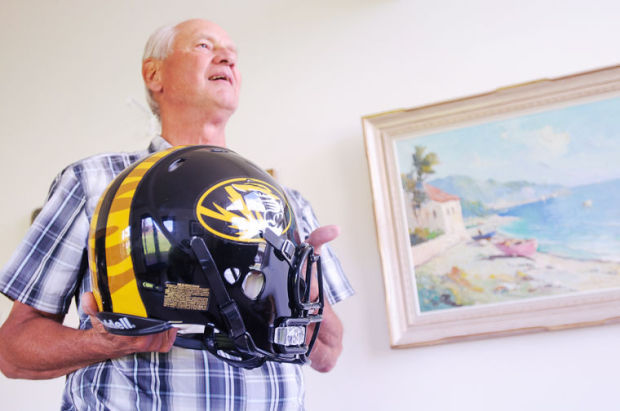 KALISPELL (AP) — Jim Wegener was changing a light bulb in his ex-wife's house in Seattle when the light came on — literally and figuratively.
By fitting the two-pronged bulb above his head, he noticed that it latched in and couldn't be rattled loose.
His jaw dropped and the idea for a new invention raced through his head.
Two years later, he has developed a safety latch for football helmets, preventing them from popping off during play. The new device got its first testing in August.
"The big problem in football today is concussions and brain injuries," he said. "There isn't a hospital in the country that isn't concerned about it. Kalispell Regional Medical Center is certainly one of them."
A registered nurse at Rocky Mountain Heart and Lung in Kalispell, Wegener, 68, spent 20 years earlier in his medical career at Harborview Medical Center in Seattle, where he saw a number of a severe injuries from football.
Wegener also is an ardent football fan, and he's seen helmets pop off players time and time again. He knew his idea was long overdue.
The Wegener Latch is a shockingly simple idea, and Wegener has a patent pending on it. It works by sliding a button into a large opening, then down along a narrower trench where it can't be yanked out like the button snaps on football helmets used today.
The tension from the player's chinstrap keeps it locked, and it can't be removed unless the player pulls down on his face mask and then maneuvers the button out.
Essentially, it's like a door chain.
"The patent attorney I talked to said this was the ripe apple at the bottom of the tree no one had picked," Wegener said. "The patent, prototype and first 1,000 latches pretty much cost me my life savings."
The latches are made from finely honed airplane aluminum and manufactured by a company in Polson.
"It won't break. You simply cannot break it," he said. "The guys in Polson are super into it, they have designed the website and all that."
The website, helmetsafetylatch.com, has videos explaining how the invention works, testimonials from players and coaches, and pictures of helmets from schools that have embraced Wegener's invention.
Schools nationwide are lining up for the new device, which began field testing earlier this month. The first school Wegener visited — his alma mater Kansas State University — ordered 25 to test on the field.
So did Oklahoma and Oklahoma State. And Tulsa. And Texas, Colorado, Nebraska, Montana and Montana State.
His eight-day trip through Big-12 country landed him most schools in the region. He even made inroads to the Southeastern Conference. Ole Miss, Arkansas and Missouri all grabbed some of the prototypes for their helmets.
Penn State and Temple University called him out of the blue and pleaded with him to put the invention on their helmets.
"The response has been overwhelming," Wegener said. "I haven't had one school say they didn't want this."
While the reaction from schools has been massive, Wegener isn't rolling in that sweet football money just yet. These are just testers. If the schools like the helmet safety latch, they will pay in a few months, $25 a pop.
His patent could be used not only for football, but also for hockey, lacrosse, motorcycle and even military helmets. He's especially excited to see how a prototype boat cover works out.
There are a lot of "ifs" to contend with, but Wegener is so confident in his invention that he said he turned down nearly $200,000 from investors several months ago. The investors wanted to wrest control of the company from him, and he walked away.
He's doing things his way, or not at all.
The NCAA's new rule, established last year, states that a player whose helmet comes off in play must sit out at least one play.
"The players are becoming very lax about putting their helmets on properly," Wegener said. "I think you are going to see the NCAA tighten up even more on this rule in the next year."
The reactions to this potentially game-changing invention have been solid, Wegener said. He is particularly proud of a story when he was traveling to the University of Wyoming.
He and his wife Patti, who handles the logistics of the business, called up the equipment manager for the Wyoming Cowboys. Mike "Mad Dog" Aanonsen told Wegener he'd wait for a little while.
When the inventor got there and gave his presentation, Aanonsen — a gruff veteran — was floored.
"He said 'Oh, my God, I'm so glad I waited for you,'" Wegener said. "He ordered 50 on the spot."
Should some of these larger schools decide to invest in the helmet safety latch, it could mean very good business for him.
Using the University of Wyoming as an example, Wegener said the Cowboys have 140 players that come out to practice at the start of the year. Each player has two game helmets and a practice helmet. All would benefit from the latch, he said.
That's just one Football Bowl Subdivision school of the more than 120 in the country. Not to mention Football Championship Subdivision, D-II or D-III.
It isn't just a college issue, either. High school football players number more than one million.
Glacier and Flathead High Schools already have some test latches on their helmets. So does Cut Bank Middle School. Wegener has plans for a cheaper plastic model for Pee Wee and Pop Warner football.
In the whirlwind of the last few weeks, it would be easy to be overwhelmed by what appears to be a company on the cusp of something big. Wegener is still grounded.
"The patent isn't through yet," he said. "We have to wait on the government to accept it. That could take a year or 10 years. They might not even accept it and I'll have to reapply."
While he waits, he can bask in the glowing praise of coaches calling from across the country asking for their helmets on his website.