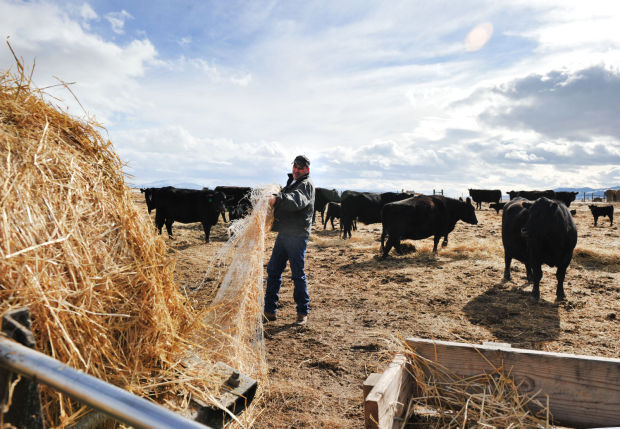 POLSON — A "right to farm and ranch policy" has been adopted by Lake County's Commissioners.
It declares that "agricultural lands and associated operations are worthy of recognition and protection," and states that farm operations can run throughout the night and "may include use of waterways with cattle and machinery crossings."
All 50 states, and several other Montana counties, including Missoula, have codified these principles in recent decades. According to the National Agricultural Law Center, right-to-farm laws protect farmers and ranchers from lawsuits by people who move into a rural area and then try to stop farm operations they deem a nuisance.
"It's really important for agriculture here," said local farmer Susan Lake. "The way we make a living, some people sometimes have different ideas" about what should take place.
Montana state law already specifies that agricultural operations' normal dust, noise and smells don't inherently make them public nuisances. While Lake County's new policy doesn't supersede state law, Planning Director Jacob Feistner said that it "kind of customizes it to Lake County."
In addition to listing the laws, agencies and guidelines that hold sway here, the policy notes several of Lake County agriculture's peculiarities, including its reliance on the Flathead Indian Irrigation Project and overlap with the Flathead Indian Reservation. It calls on the county to "utilize its existing intergovernmental agreements" with the Confederated Salish and Kootenai Tribes and other entities to advance it. The tribes did not reply to a request for comment.
The county's leaders have seen a trend towards more diverse, smaller-scale agricultural operations in recent years, and geared the policy towards that trend. It says that "ranching, farming, horticulture, silviculture, apiculture, aquaculture, aviculture and all manner of new and existing agricultural activities and operations" are critical for the area.
It also "recognizes the benefit of allowing for the production and marketing of value-added agriculture," and the required facilities, such as slaughterhouses or canneries. By supporting these ventures, said county attorney and cattle rancher Wally Congdon, "it supports the opportunity" for agriculture.
You have free articles remaining.
The policy also says that preserving agriculture "should be considered in applications for conservation easements and trust acquisitions, in addition to habitat mitigation purchases by various entities."
The policy has been under preparation on and off since 2015. "We've been worried about it for quite a while," said Lake, who described its passage as "a huge relief to everyone for agriculture."
The policy is advisory, not legally binding. Planning director Feistner said, "it's used as a guiding document so when zoning amendments are made, subdivision regulations are updated, all those regulatory documents, we'll look at the Right to Farm, Growth Policy, all these guiding documents for direction."
This isn't Lake County's only planning document. It also has a growth policy and a density map, which used to have regulatory force but was eased back to "advisory" status earlier this year.
Lake County Commissioner Gale Decker supported that move, and, on Wednesday, identified its treatment of agricultural land as one of the reasons why. The area around Ronan was designated as a "Community Development Area."
"This is some of the best agricultural ground in Lake County and we're gonna take it out of ag and put into housing" under the density map, he said.
Both the map and the Right to Farm Policy are now advisory, but Congdon said "the advisory nature of the density regulations and the right to farm policy are balanced."
"One doesn't trump the other," he said, "you just have to consider both" when making land use decisions. He pointed to Missoula's Orchard Homes area as an example of the kind of development that might result, with large agricultural lots interspersed with smaller residential ones.
The commissioners plan to educate the public about the new policy in the weeks and months ahead. Already, Congdon said he'd gotten several positive reviews from other government officials and colleagues in the cattle business.
With the policy, he said, "finally people acknowledge that agriculture's here, cows aren't just an ugly thing to look at."