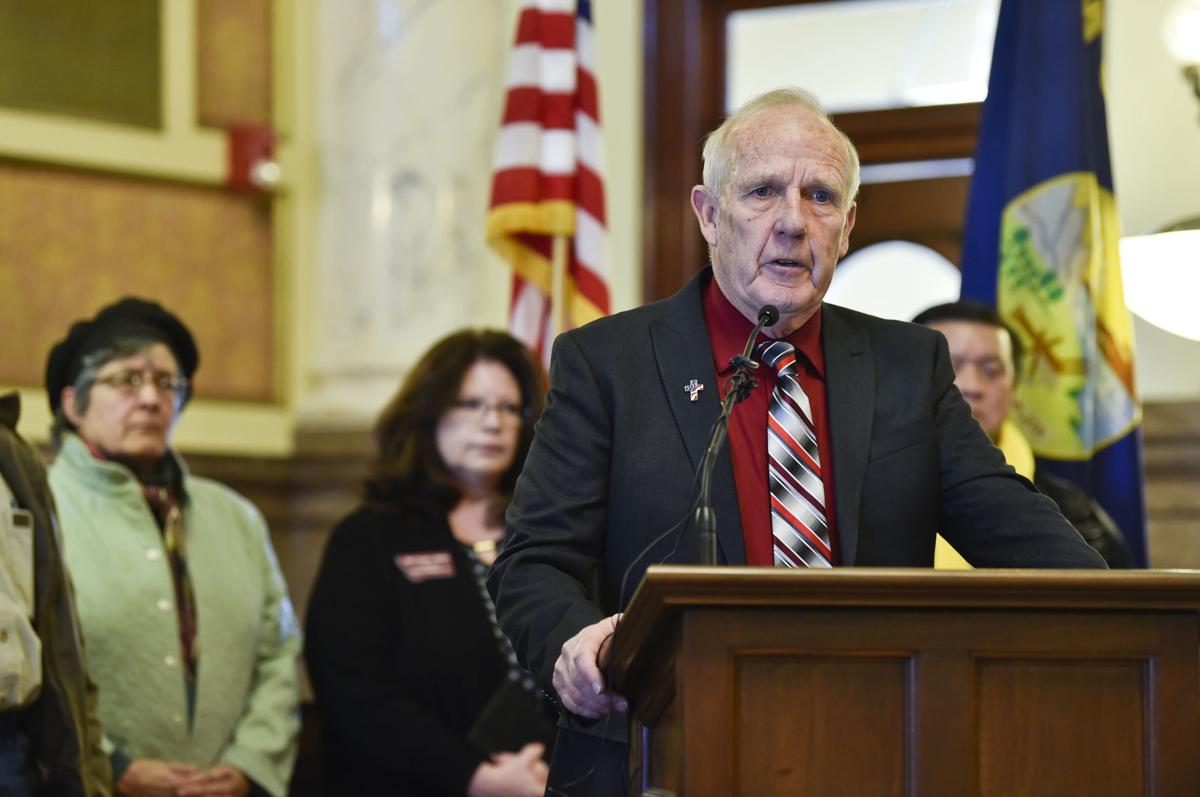 The Act would ratify the Confederated Salish and Kootenai Tribes' water compact and implement several other policies — including a process to place state and federal land into trust for the tribes.
Under this section, the Secretary of the Interior will offer to negotiate a land swap with the State of Montana: The government would offer to give Montana federal land off the Flathead Indian Reservation. In exchange, the government would get state trust land within the reservation, and place it into trust for the tribes.
How much land is up for exchange? At most, enough to equal the value of 36,808 acres that Montana gained through statehood legislation and later bills that allotted the Flathead Indian Reservation to homesteaders — whose mass arrival left tribal members reeling.
Now, the federal government is liable for mismanaging the tribes' water, and these land transfer provisions, along with a $1.9 billion trust fund, would settle those damages. The land exchange process, tribal spokesperson Rob McDonald wrote in an email, "is part of (a) negotiated compensation package to resolve liabilities and settle claims."
But the Lake County Commissioners voiced concern about this prospect at a meeting of the Lake County Pachyderm Club this past Friday in Polson. "The spin is the State of Montana is not going to give up a single acre of land under this settlement," said County Commissioner Gale Decker, "but they neglect to mention that Lake County is giving up 36,808 acres of land, because the trade is being made with the state, but we lose 36,000 (acres) potentially."
The placement of state land into trust wouldn't hit the tax base, explained John Tubbs, director of the Montana Department of Natural Resources and Conservation. "We don't pay taxes now and we won't pay taxes in the future," he said. "We will be very careful about where they locate and we will be working with the counties to make sure they understand the tax consequences of this transfer."
The commissioners also voiced concerns about how lessees on state land could be affected. And at a press conference in Helena earlier this month, Decker raised the prospect of state parks being transferred. "We have asked the senator (Steve Daines) if Big Arm State Park, Wild Horse Island, Finley Point State Park, if those parks are in play for this transfer," Decker said. "We have been told that they are."
Earlier this month, Daines spokesperson Julia Doyle told the Montana Free Press that language providing for transfer of state parks is "not at all in the bill and not in the senator's plan." But in a December message to the commissioners, the senator's staff wrote that "all state-owned land is eligible to be included in this process, but it is not mandatory."
Tubbs also stressed that the full amount does not have to be transferred. "The secretary has to enter into a negotiation (but) it's not directing that all land be transferred."
Tribal spokesperson Rob McDonald, meanwhile, wrote in an email, "In all the mudslinging, there are some key ideas (that) get lost. Land exchanges happen all the time. … They involve private landowners, states, the federal government, and Indian tribes. The settlement legislation simply authorizes a process to reduce red tape on the federal side."
"Under this process and every exchange of state land, the state follows its established laws and regulations. Finding fault in this transparent procedure requires a deep sense of misplaced mistrust."
At last Friday's meeting, Commissioner Bill Barron acknowledged that he and his colleagues were seeking to identify "worst case scenarios" that the legislation could bring about, and said that the bill needed to specify what would happen.
"At the very least this has to be very clear," he said. "Right now it's very ambiguous and 10 or 15 years from now our kids and grandkids are going to be fighting over whether they truly hold their piece of land (or) whether they get to keep it."
But Monte Mills, an associate professor at the University of Montana's Alexander Blewett III School of Law and co-director of its Margery Hunter Brown Indian Law Clinic, said a situation this complex demands some open-endedness.
"It just seems to me it would be really challenging, if not impossible, for the legislation to lay out how each individual exchange is going to take place," he said. "It seems to me the process, at least as laid out in the legislation right now, is flexible enough to allow for considering those interests and making sure they're protected appropriately."
Mills pointed out that state lands only exist within the Flathead Indian Reservation because the land was allotted more than a century ago. Compensation for past wrongdoings, he said, typically comes to tribes in the form of money. Providing land, he said, is "an alternative and pretty innovative way to provide compensation to the tribe."