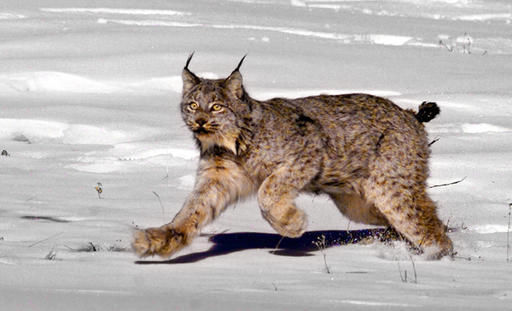 A court ruling on how to manage Canadian lynx under the Endangered Species Act could be overturned by legislation released by all three members of Montana's congressional delegation on Friday.
In what's known as the Cottonwood decision, the U.S. 9th Circuit Court of Appeals found the U.S Forest Service failed to properly update its lynx critical habitat maps after the U.S. Fish and Wildlife Service acknowledged its maps had been improperly drawn by administrators in President George Bush's administration. In October, the U.S. Supreme Court declined to review the case, making it law of the land.
Democratic Sen. Jon Tester and Republican Sen. Steve Daines, along with Republican Rep. Ryan Zinke, all called for Congress to overturn the decision. While their joint bill was introduced on Friday morning, it's unlikely that it will be acted on during the last days of the 2016 congressional session. That means debate will begin under the new Congress and incoming administration of president-elect Donald Trump.
"Congress needs to take urgent action to reverse the disastrous activist court ruling for the sake of forest health, recreation and watershed and habitat protection," Daines said in a press release on Friday. "By seeking a simple fix and codifying the Obama administration's own position into law, we can protect Montana jobs and continue with common sense collaborative forest management projects that have been harmed by this court decision."
In an interview with the Missoulian on Friday, Tester said the bill was necessary because the Cottonwood decision allowed too much opportunity to block Forest Service action with unfounded challenges.
"Every time a new piece of information is found, we'd have to write a new forest plan," Tester said. "That's a recipe for perpetual red tape in motion. Any conservation measure, timber harvest, trail maintenance could be put off. It's that important."
You have free articles remaining.
"It was a huge disappointment to see that Tester is willing to sacrifice the Endangered Species Act again for political purposes," said John Meyer, director of the Cottonwood Environmental Law Center in Bozeman that won the original lawsuit. "Rep. Zinke said he would consider running against Tester if Tester didn't do what he wanted. It seems like Zinke is trying to play politics with the Endangered Species Act and Tester is willing to go along with that to stay in office."
The debate revolves around where federal agencies should address changes in an endangered species' status. In the lynx case, the federal judges ruled the Forest Service and Fish and Wildlife Service should consult at the top agency level to mesh their guidelines for where lynx critical habitat rules should apply to land management actions such as timber sales or road maintenance.
Department of Justice attorneys for the Forest Service argued those consultations should take place on a project-by-project basis. Critics like the Alliance for the Wild Rockies have argued that doesn't meet the Endangered Species Act requirements.
That argument has successfully blocked three large timber sales on the Kootenai, Gallatin and Custer national forests in Montana since the Supreme Court validated the 9th Circuit Cottonwood decision.
"The Forest Service has informed the court that they have started consultation with FWS and it will be completed this winter," said Mike Garrity, executive director of the Alliance for the Wild Rockies. "Congress needs to let the Endangered Species Act work. We can have both logging and lynx as long as the logging is done properly."
"The Endangered Species Act is very clear that if there is a conflict the Lynx must prevail," Garrity added. "Courts can't make law they can only enforce the law."
Nevertheless, the congressional delegation's bill drew support from a wide range of Montana stakeholders. Representatives of the Montana Wood Products Association, Montana Outfitters and Guides Association, Rocky Mountain Elk Foundation and Theodore Roosevelt Conservation Association all sent messages agreeing with the move.
"(T)he Forest Service is held to high standards in regards to critical habitat and endangered species, and additional regulatory burdens courtesy of the 9th circuit court are unwarranted and unnecessary," former Forest Service Chief Dale Bosworth said in a press release. "This legislation will allow the agency to continue their important work and get more restoration work done across Montana."