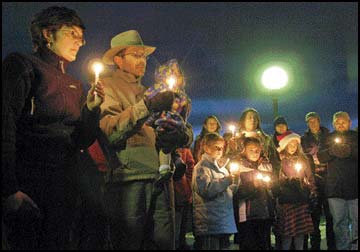 It was just below freezing on one of the longest nights of the year, when 100 Missoulians declared their determination to defeat hate.
Rallying around the senseless death of Forrest Clayton Salcido on the eve of National Homeless Persons' Memorial Day, they pledged to find a third way beyond fighting back or fleeing.
They lit candles in Salcido's honor. They shared the fear that their town was turning into a dangerous place for the weak, the homeless and the outcast. And they called upon one another to make it better.
After gathering for song and memorials at the California Street footbridge where Salcido was killed, the crowd moved to the Badlander bar to call for the next move.
"We need to come together before the tragedy begins," said Salcido's niece, Amanda Salcido. She told of going to college in a Louisiana town a fifth the size of Missoula where kids couldn't ride bicycles because it was too dangerous, and how her friends there couldn't believe she felt safe walking the Missoula streets at night.
Her uncle's death was changing that, she said, but it doesn't have to be that way. Forrest Salcido lived outside and alone mainly by choice.
He told his relatives his greatest fear wasn't the cold or the dark, but being beaten to death. He was beaten to death Dec. 5.
Two Missoula men, Anthony St. Dennis, 18, and Dustin Strahan, 20 have been charged in the crime.
Amanda Salcido linked her uncle's death with other recent attacks on gay and homeless people in Missoula. She asked for vigilance from fellow peace-loving people to defend and watch out for one another on the street.
Missoula Police Capt. Dick Lewis and three fellow officers attended the gathering at the Badlander to bolster that support.
"We're not here for security," Lewis told several people as the officers joined the crowd. "We just want everybody to know that violence is not OK in our community. We want to support these efforts and be part of them. Homelessness is not a crime."
Lt. Gov. John Bohlinger also came to offer both moral and political support. He spoke in honor of Salcido at the bridge, and again of a pledge he and Gov. Brian Schweitzer have made to "end homelessness in Montana in 10 years."
"In this prosperous country of the United States, there is no reason any person should lack shelter," Bohlinger said. "Yet how many of us would be homeless if we did not receive a paycheck for three months? This is so wrong, and this must change."
Other changes are in the works. A group calling itself "We Are Missoula" has gathered 30 agencies and organizations to lobby for stronger hate-crime legislation. On a smaller scale, the man who found Salcido's body is trying to make sure the incident is not forgotten.
"I'd really like to change the name of this bridge in his honor," said Garth Riebe, who'd met Salcido on his regular crossings of the California Street footbridge. "Or even put up a plaque with his name. In a year, I want everybody to still remember him."
Several speakers noted that Thursday's ceremony came between Hanukkah, with its celebration of light in the darkness, and the arrival of Christmas, with the Christian light of the world being born to homeless parents. It was also close to the winter solstice - the longest night of the year, but the beginning of the return to brighter days.