Hanging up the robe can be a difficult choice, but Jeremiah C. Lynch made it. The finality of his retirement is illustrated by only a few boxes shuffled into his home study, and a series of paintings moved here from his judge's chambers. 
"There's always time for some new blood, and I'm extremely happy with the appointment of Judge DeSoto," he said. "I think we need more women on the bench, and she's an absolutely excellent choice."
During an interview at his home last week a day after scouting for huckleberries, Lynch, 67, described the feeling in his first days of retirement as a bit uneasy, considering the sudden inertia of it. 
Before he was sworn in as a federal magistrate in 2006, Lynch was quoted in the Missoulian saying the appointment was a goal "I always aspired to." When asked if he had fulfilled that goal, Lynch said he hoped he had done enough to be fair and informed with every case before him.
Those asked by the Missoulian for their take seemed to believe he had. 
"Generally speaking, he eminently fulfilled the judiciary's lone separation of powers to serve as a guardian of our constitutional rights," said John Rhodes, a federal public defender. "More specifically, he honored liberty on a daily basis, enforcing the Fourth, Fifth and Sixth Amendments, most particularly by applying the presumption of innocence in determining whether or not to release or detain defendants."
"Judge Lynch has had his shoulder to the wheel in our federal courts for most of his career and mine," Helena civil attorney John Morrison said. "His service leaves an important, positive imprint on Montana, and I look forward to seeing him write the next chapter."
Lynch fancies his legal career to that of a student-for-life. He came into studying law at the University of Montana after he had obtained a master's degree in zoology with a focus on genetics from Montana State University. He parlayed that background into a particular interest in the environmental cases that fell on his docket years later, especially a challenge to the operation of the Libby Dam, which threatened the potential extinction of the white sturgeon in the Kootenai River.
"Not knowing that those sturgeon don't get to maturity to breed until 35 or 40 years, and they built the dam in '75, we didn't know their population was being destroyed," he said. "Those cases are really work-intensive because of the extent of the administrative record."
While environmental cases were something he could wash himself in, the word he used when describing the criminal side of the courts was "sad."
"The war on drugs, in my view, is a dismal failure," he said flatly.
You have free articles remaining.
Treatment and rehabilitation, as he sees it, are the best chance for truly turning offenders into productive members of society.
"If we give up on that, we're engaging in folly."
Lynch has seen drugs ravage communities, nodding to his hometown of Butte, America, although he referred to it still as an "amazing place," with "a lot of soul." Growing up there in the 1960s, he said there was no sense of an inequality of wealth. His father was a truck driver and union leader, part of what made him want to push into a legal career, more people-focused than zoology. 
Butte is also where Jeremiah J. Lynch was a state District Court judge for more than 30 years until he retired in 1948, years before Lynch was born. There's actually no relation (even if "the Lynches don't claim each other," the judge said), but the elder Jeremiah was a good friend to Lynch's father, who made his son the judge's namesake.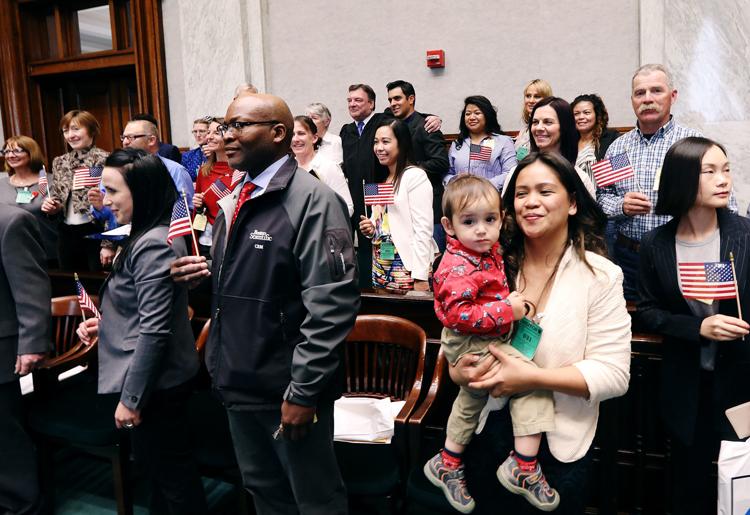 Jeremiah J. Lynch was an Irish immigrant, who worked many tasking jobs before taking the bench, and the retiring Lynch gave deep consideration to those who passed through his own naturalization ceremonies in federal court. He thinks of what people are giving up to gain their U.S. citizenship, their awareness of their newly-minted rights, and the potential each citizen has.
"It stirs me to become an even better citizen, or hope to be," Lynch said. 
The political climate is not lost on Lynch, whose career has required him to be impartial to every argument. He recalled something his father, a World War II veteran, told him shortly before his death.
"He said to me, 'You know, if a young black man wants to kneel before the national anthem, he should be able to, that's what I fought for. Same for me, to stand on a picket line for fair wage,'" Lynch said.
Beyond the thumb wars waged over Twitter, Lynch is more concerned with losing the institutional integrity of the judiciary. He believes the United States Supreme Court has become politicized, as appointments become tools to further political agendas. 
"Every decision that comes out is 5-4, so don't tell me it's not politicized," he said. "Where does it end up? The citizenry has to have belief in the fairness of the judicial decision. … It's an important time in our history."
There's more to Lynch's retirement than huckleberry picking, it appears. He plans to be in place for a recall, in which he is available to take cases on, albeit without pay or staff. 
"When you're going 100 miles an hour for 35 years both in the legal practice and as a judge, to just stop, it's a bit difficult," he said, grinning. "I can't just completely disengage."