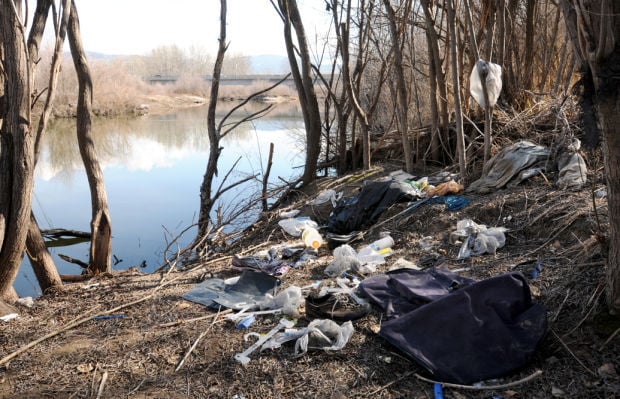 A homeless man who prosecutors allege was involved in the murder of a transient under the Reserve Street Bridge last July pleaded guilty Thursday to one count of aggravated assault.
Kenneth Damien Hickman entered the plea in Missoula County District Court. According to court proceedings, he acknowledged hitting Berry "Jack" Gilbert and causing him serious injury, but denied torturing him before he was shot.
Hickman's sentencing is set for June 18 at 10:30 a.m. before District Judge John Larson. He remains behind bars pending $150,000 bail.
Authorities found Gilbert's body floating in the Clark Fork River on Aug. 5. An autopsy revealed that Gilbert hadn't died from drowning, but rather from a gunshot wound to his head.
The Montana State Crime Lab also noted burns in his flesh and gang symbols carved into his body. 
The Missoula County Sheriff's Department initiated an investigation into Gilbert's death, starting first with Gilbert's girlfriend, Susan Prentkiewicz. She told investigators that on the evening of July 30 a group arrived in the Reserve Street Bridge transient camp where she was staying with Gilbert.
She reported that the men in the group, named "Phoenix" and "Kenny," began acting aggressively to people in the area, and Phoenix and Gilbert began arguing.
Kenny, later identified as Hickman, allegedly struck Gilbert hard enough to knock him to the ground, while he and Phoenix, later identified as Kevin Lino, allegedly carved gang symbols into his body with a knife, she said.
Prosecutors alleged the pair also stomped and kicked Gilbert, while torturing him. 
Prentkiewicz said she was then escorted out of the camp by Hickman and Hickman's girlfriend, Mechailiah Tembreull. Prentkiewicz was waiting there when she heard a gunshot. 
Hickman and Tembreull later were interviewed by investigators in a camp near the Kim Williams Trail. Hickman told deputies that he hit Gilbert, but claimed the rest of the beating and torture was done by Lino. He said he wasn't present when Lino shot Gilbert in the head and dumped him in the river.
According to charging documents, however, Tembreull contradicted that statement and told officers that Hickman was present during the shooting. 
Both Tembreull and Hickman were arrested. Lino and his girlfriend had already fled the area, after telling Prentkiewicz that Gilbert took a train back to Pennsylvania. 
Lino was picked up in Shreveport, Louisiana, in late August and repeatedly declined extradition to Missoula. On Sept. 19, the Missoula County Sheriff's Department requested a governor's warrant to have Lino transported back to Missoula to face the homicide charge.
He arrived in Missoula on Oct. 22 and has repeatedly denied the felony count of deliberate homicide. His trial is set for May 6.
Lino's girlfriend, Angela Marchese, was charged with obstructing justice and later absconded. She was picked up in Virginia and has been transported back to Missoula to face the charge. She's currently in Missoula County jail.
Tembreull pleaded not guilty to accountability to aggravated assault. Her trial is also currently set for May 6.