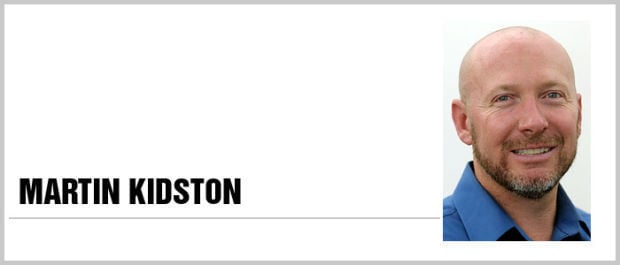 I first heard University of Montana President Royce Engstrom define his plan to build a university for the global century 18 months ago during his state of the university address in August 2012.
Since then, I've been looking for signs of progress – key indicators of a large university moving in a new direction. What is the global century? More importantly, what does it mean to students, professors and a community somewhat dependent on the school's continued success?
Current enrollment challenges aside, the university's new course became clearer on Thursday as it celebrated its 121st birthday. As Engstrom proudly noted, UM remains the state's oldest university, chartered as Montana's liberal-arts-based research institution in 1893.
Throughout the day, faculty members best defined the school's new direction. They spoke of new pursuits in technology and a growing focus on big data, analytics and cyber security.
They outlined new research as well, including that on the human brain. Work in traumatic brain injury and spinal cord injuries will increase in prominence, drawing on experts across campus, regardless of their discipline.
Listening to faculty members speak, I imagined a container ship in the Hawaiian channels. It takes time to chart a new course, but the rudder at UM has turned and a new heading appears to have been set, with academics still fueling the engines.
"We're blessed with a tremendous student body at UM," said Provost Perry Brown. "Everyone has a passion in them. It's up to us to find out what that passion is."
Faculty members are leading the charge, challenged by their peers to step from their comfort zone and reexamine how and what they do in the classroom.
From academic innovation to creative ways of teaching, the push to try something new has moved beyond Main Hall.
"What we've been doing for years and years, probably in the next five or 10 years of the global century, isn't going to be what we need to be doing," said Shawn Clouse, an associate professor of management and information systems. "We need a learning environment here that brings about the 'ah-ha' moments the students talk about."
The Teachers for the Global Century Task Force gathered with students recently to find out what those "ah-ah" moments are, such as the Mountain Electronic Laptop Ensemble, a group from the music department using X-Box technology to capture the moves of dancers and translate them to different sounds.
Amy Kinch of the Faculty Development Office spoke of others who addressed the importance of peer leadership, faculty mentorship, and the moment they decided UM was the school for them.
Clouse added to the considerations, saying personal connections are vital, regardless of how large a class. Team learning, collaborative thinking, problem solving and interdisciplinary studies must also be considered.
One student, Clouse recalled, chose to pursue research in neural science through his study of philosophy. It's there, he added, that faculty across campus must find ways to blend their disciplines.
"There were questions this student wanted to answer from a philosophical perspective that led him to that neural research," Clouse said. "Students really love the interdisciplinary study, that's why they attend a liberal arts school."
Lastly, the committee found, UM must reevaluate its faculty incentives. On that, Clouse said, "We need to take a look at unit standards which support the promotion of the tenure process and not necessarily support good teaching."
There are 86 years remaining in the global century, but learning is a lifelong pursuit. And while the seas may be rough at times – as they currently are in areas of enrollment and budgeting – there's little doubt the right conversations are taking place on campus.
If the ship is to complete its turn, all hands will need to be on deck.
Martin Kidston covers the University of Montana for the Missoulian. He can be reached at (406) 523-5260 or by email at martin.kidston @missoulian.com.