oA wildland fire that ignited about five miles east of East Helena Thursday has grown to 1,538 acres with no containment as of Friday.
The Lewis and Clark and the Broadwater County Sheriff's offices said Friday night they have lifted all evacuation orders that were in place due to the Matt Staff Road fire. The areas surrounding the fire will remain closed to the public and are open to local residents only.
Evacuation orders in Broadwater County were lifted as well, a fire official said Friday night. 
John Huston, program manager of the Montana Department of Natural Resources and Conservation Forestry Division, said in a phone interview Friday morning that earlier in the day, the fire was mapped and the new acreage is "fairly accurate." At one time the fire had been estimated at 1,900 acres.
The cause of the fire has not been determined, but a DNRC news release sent Friday afternoon said "(t)he fire is believed to be human caused and is under investigation."
The Matt Staff Road fire originally burned grassland, then crested the ridge between East Helena and Canyon Ferry Lake and began to burn brush, Huston said.
DNRC Fire Information Officer Wyatt Frampton said a DNRC County Assist Type III fire team of about 40 assumed command of the fire by noon Friday. Type III teams are multi-agency teams used for extended incidents. The local team includes representatives of DNRC, U.S. Forest Service, U.S. Bureau of Land Management as well as local fire departments, law enforcement agencies and government. The fire is burning on land under the protection of the BLM. There are 135 personnel at the scene, according to https://inciweb.nwcg.gov/incident/8309/.
"An Incident Management Team was ordered because this fire exceeded the capacity of the local units," the DNRC news release states. "The team brings additional resources for fighting fire and managing the incident."
The fire was burning to the north east, but once it crossed the ridge it moved a little to the south, Huston said. The team is expecting northerly winds to persist throughout the afternoon, driving the fire farther south.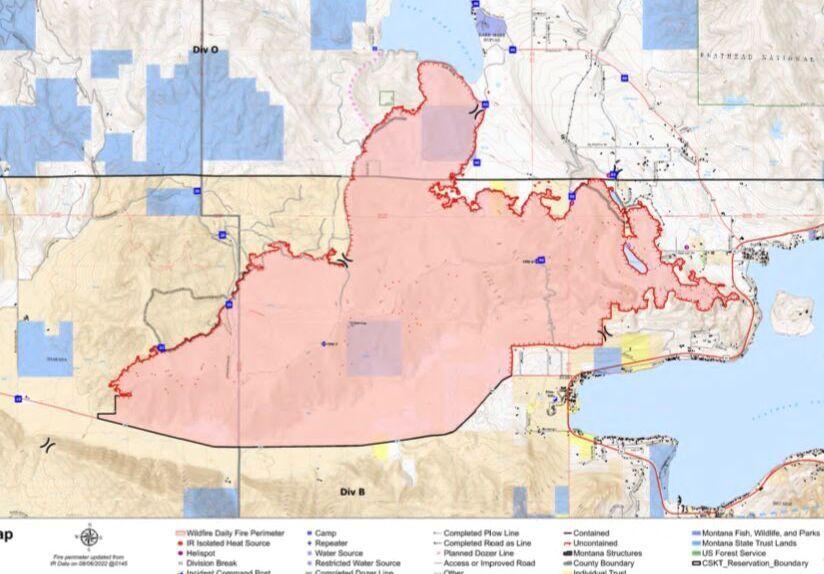 According to Frampton, firefighters Thursday were facing wind gusts in excess of 45 mph. Though calmer and cooler Friday, he said the fire is still exhibiting active fire behavior.
"We're trying to do every thing we can to protect private land and property, but today could get rough," Huston said. "We're asking for the community's continued patience."
The Helena-Lewis and Clark National Forest said Wednesday that the forest was now in very high fire danger status due to ongoing hot and dry conditions.
Lewis and Clark County Sheriff and Fire Warden Leo Dutton said on Facebook Friday night that he and Incident Cmdr. David Hamilton took a helicopter ride Friday evening and said the aerial attack of the fire has stopped the advance. He said ground crews were working their way into some of the rougher terrain to put out hot spots.
He said he and Hamilton were comfortable with what they saw in regards to the fire not advancing toward the West Shore Road of Canyon Ferry Lake. He said acting Chief of Tri-Lakes Volunteer Fire Department Marc Weniger agreed and they lifted the evacuation order for the West Shore of Canyon Ferry.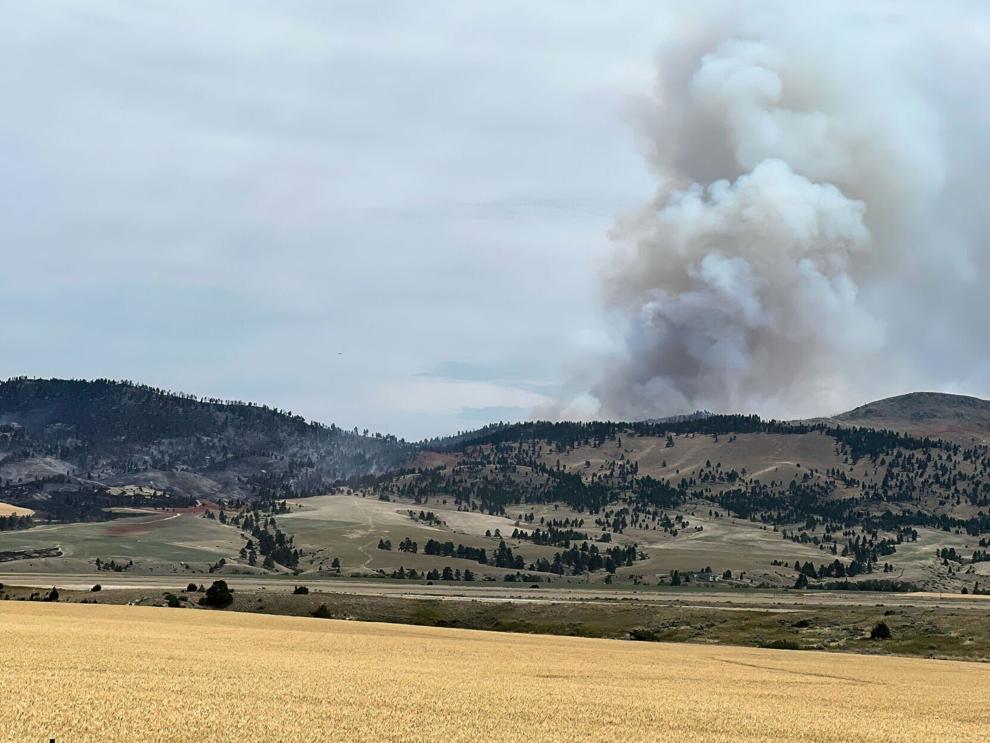 "The road blocks are gone," Dutton wrote. Matt Staff Road has also been reopened to residents but remains closed to the public.
He said the fire started very close to Spokane Creek Road just off U.S. Highway 12 near state Highway 284,  and quickly spread to a wheat field.
Dutton said Gary Dobler and his son saw the fire from their farm and raced to get tractors and tilling equipment.
"They plowed right in front of this quickly spreading fire to stop the advancement to the south in the wheat field," he wrote on Facebook. "There is no way they could get in front of it."
"Sometimes common people like you and me do heroic acts, this is one of them," Dutton said.
Anyone with information should call 406-447-8293 and talk with Deputy James Coppola. Dutton said the U.S. Forest Service and the Helena Interagency Fire Investigation Team are conducting the investigation.
BLM's Butte Field Office said in a news release sent 5 p.m. Friday that it is "closing some of its public lands for public safety and to support fire operations."
The closure order takes effect immediately "for all BLM-managed lands impacted by (the fire)," the news release states.
Montana Red Cross opened an evacuation center Thursday evening for those displaced by the fire, but that by 10 p.m., no one used the service.
"We have volunteers on the ground ready to open the center up again if needed," said American Red Cross Regional Communications Director Matt Ochsner.
Those in need of Red Cross assistance can also call 800-272-6668.
Frampton said aerial fire suppression efforts were halted for an unspecified amount of time Friday morning because of a civilian drone being flown in the area, a federal crime, and Lewis and Clark County Sheriff's Office is investigating.
No primary structures have been lost to the fire, and Frampton credited the "extremely effective and aggressive local response."
A public meeting will be held 7 p.m. Friday at 3200 Spokane Creek Road, East Helena.
 Find information on the fire at:
Story updated to say it is a  DNRC County Assist Type III fire team.