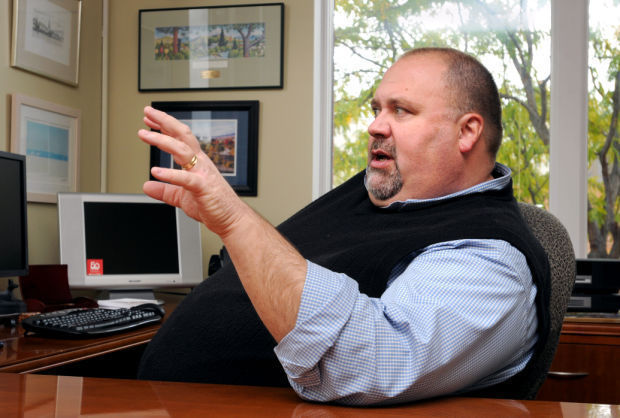 John Engen remembers eating his very first submarine sandwich at the Kmart cafeteria.
It was mustard, pickle and bologna, a treat on an outing with his dad.
Now Engen, seeking his third term as mayor of Missoula, sees the redevelopment at the old Kmart site as evidence the different parties involved in economic development are working together and making progress. In 2014, a Cabela's Outpost will open on the site, and a Kohl's is slated to open there as well.
"So there are construction jobs today," Engen said. "There are going to be retail jobs today. There will be other jobs, more economic activity, increased property value and tax base. I think that's a success story."
In 2010, the mayor said economic development was his responsibility, and he announced an initiative that eventually became the Missoula Economic Partnership. The MEP's goals include bringing 25 new startup companies to Missoula and increasing annual payroll by $172 million.
This year will be the first that MEP announces quantitative progress toward those goals, and Engen said he had no sneak peek to share in advance of the formal release. However, he said the organization has "certainly had an effect on jobs" as well as on communication.
"The various folks who are working on economic development are talking to each other, and are talking to each other in a fairly collaborative manner," said Engen, who pointed to the Kmart redevelopment as an outcome of that cooperative spirit.
If he keeps his seat, the mayor plans to move forward on negotiating the purchase of Mountain Water Co. from the Carlyle Group. He has requested the Missoula City Council adopt an ordinance that gives him the authority to enter into negotiations with Carlyle.
After one term on the council, Engen was first elected mayor in 2005, and he ran unopposed for the seat in 2009. He's undertaken numerous initiatives in those eight years and faced some significant challenges.
In 2008, the economy went into a tailspin, and Engen said weathering the economic storm is one of his successes as mayor. The administration cut the budget and kept the city afloat and, Engen said, in decent condition.
"It's not a sexy accomplishment, but it's one that required considerable work and cooperation and creativity," he said.
The tough economy also redirected his goal to have voters pass a bond for a new police department building. Engen said that idea isn't on the table anymore, and police are using a satellite location instead for briefings and vehicle storage. To accommodate police, he said they will look at more satellite options as well as a remodel that costs a few million dollars rather than the estimated $20 million for a new cop shop.
"A really good recession can kind of clear your head," he said.
Engen said one of the biggest challenges in running the city is striking the balance among the "many competing interests that Missoulians have."
"And it's daily. It's issue driven. A lot of this job is about what you don't expect," he said. "So you can make lots of plans, but at the same time, you have to be nimble enough to think on your feet and have the relationships and resources you need to manage big issues."
For instance, Engen said he never would have anticipated he would be in negotiations with the U.S. Department of Justice over the Missoula Police Department's response to rape and sexual violence. Last year, the DOJ investigated the University of Montana and the police department for gender bias; agreements are in place to improve responses.
"It's been a painful process, but we're all going to be better for it," Engen said.
Another arguably painful undertaking was splitting up the development office shared between the city and the county. To improve customer service, Engen established a branch of the city called Development Services, and he said it's "a success in the making."
It's too soon to be able to point to evidence that shows the change had its desired effect, but Engen said he heard complaints for some 12 years, and he's addressing them. A few years ago, he initiated an overhaul of the city's decades-old development regulations, and the council adopted the new code.
If he's re-elected, Engen said he wants to institute a survey used by the International City Managers Association to measure the city's performance in Development Services – and across the board: "It's a bit of an investment, but I'd like us to start looking at that so we can do a benchmark year and then start making improvements."
The mayor has wanted to create affordable housing, but it's been a slippery target. Early on in his tenure, Engen focused on workforce housing and put together a video that described the problem, the gap between a working family's income and the median cost of housing; he wanted to put a policy in place to help address the problem.
Since then, he's shifted direction. The economy tanked, the lending environment tightened, and Engen said a housing survey suggested the need for affordable rentals is even more immediate than the need for ownership.
Now, he's seeing progress with multifamily units, and he's talking with the Missoula Redevelopment Agency to assist with workforce housing and a related policy in the districts the MRA operates. Engen said he hopes that if more quality rentals come on the market, more people living six or seven at a time in old homes might move into a good rental – and free up the house to be rehabilitated by a family.
Earlier this year, the city and county adopted a plan to end homelessness, an initiative Engen requested.
One constant personal challenge for Engen is his weight. He has lost "hundreds of pounds" while he has been in office, and he's gained as well.
"I think about my weight every day," Engen said. "It is a tremendous personal struggle. It is a small public struggle."
He knows his constituents worry about his health, and he said he just read an anonymous letter from a woman who told him lap-band surgery changed her son's life. He quit drinking three years ago, his blood pressure and cholesterol are good, and he continues to try to manage his weight, he said.
"I'm going to live a long time. What I don't want to be is miserable," Engen said.
He manages a busy schedule, one that's packed from early in the morning to sometimes late in the evening. Engen shared a look at a typical work day from last week: Meet with a local activist about career opportunities; meet with bond counsel to talk about Mountain Water; meet with a public art committee member interested in a sculpture park; interview a candidate for a local board; attend an awards ceremony; interview another potential board candidate; meet with a council member about transportation and Mountain Water; meet with the council president; and attend an evening candidate forum.
"I continue, eight years on, to love the work, love the community. I feel as if I'm better at the job than I was when I started, and I hope that I get better every day," Engen said. "That's the interesting thing about it. You learn so much ... the things that I can talk to and understand and contribute to are so much different than what they were."
Be the first to know
Get local news delivered to your inbox!