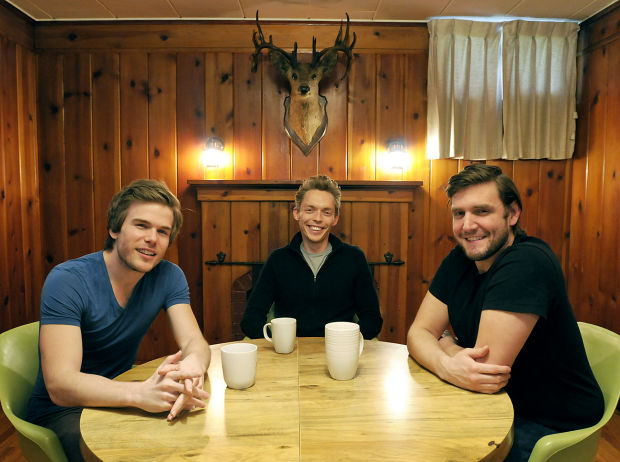 Joshua Fields Millburn, a best-selling author on Amazon, can remember the stacks of rejection letters he collected from agents and publishers when he tried to break into the book business the old-fashioned way.
"The system was set up that way," Millburn says. "One day, I said, 'Wait a minute. I've been successful on my own in the business world, why can't I do the same in the publishing world? The only thing preventing me is me.' "
Now Millburn and two others who have successfully made their own way in self-publishing, Ryan Nicodemus and Colin Wright, are launching Asymmetrical Press in Missoula.
It's designed to help other writers navigate the new world of publishing, where print and bookstores are just the traditional ways writers deliver their words to readers.
They call it "reinventing the flat tire that is today's publishing industry."
"What we do right now has the potential to dictate what publishing will look like for decades," Wright says. "This is a responsibility and opportunity we don't intend to let pass us by. The publishing industry is evolving. Let's evolve with it."
It's doubtful Millburn still has those rejection letters. He and Nicodemus shucked six-figure salaries in the telecommunications industry and adopted minimalist lifestyles that led them to Montana last fall (the Missoulian profiled the pair on Nov. 12).
In becoming minimalists the two gave up most of their worldly possessions – rejection letters included – in search of a simpler, happier, healthier lifestyle.
Almost by accident, they discovered a fairly large audience interested in reading about how less equated to more in their new lives.
Wright is also a minimalist, but uses his unencumbered life to travel the planet and write about his adventures.
"He's where my minimalist journey started," Millburn says. A tweeted video he saw by Wright was the first time Millburn had heard of minimalism.
"I didn't know what the hell it was, but I was willing to give it a shot," he says. "Minimalism allowed Colin to be able to pursue what he's about. I'm not about traveling the world, but I am passionate about writing."
When Millburn told his longtime friend what he was about to do, Nicodemus – as miserable in his corporate existence as Millburn was – decided to give it a try too.
Freed from their 80-hour-a-week corporate lives, Millburn and Nicodemus started a website – theminimalists.com – where they write about their newfound passion for minimalism.
Fifty-two people visited it the first month the site was up. Millburn, who had risen at 4:44 a.m. every day so he could spend an hour writing fiction before heading off to his job, was ecstatic. He'd never had 52 people who wanted to read anything he'd ever written before.
By the second month, 500 people had stopped by the site. By the time they moved to Philipsburg last fall, they had 150,000 subscribers.
The interest opened up unexpected doors for Nicodemus, who otherwise mentors people on how to make positive changes in their lives, and Millburn, who teaches writing classes online. In less than two years, they've collaborated on three books and Millburn has written two more himself.
Wright, who became a friend and offered advice along the way, has written 10 books about his travels, including his latest, "Iceland India Interstate." He maintains a blog called Exile Lifestyle and publishes a biweekly newsletter called "Exiles."
He typically spends four months in a country. His followers are currently being asked to vote on where in the world to send him next.
"Send me someplace cool or I'll come find you, live on your couch, and eat all your pastries," Wright warns them.
Millburn says he and Nicodemus "lassoed" Wright off his journeys for six months to help start Asymmetrical Press.
"The publishing industry is changing just like the music industry," Millburn says. "Writers now have the ability to publish high-quality stuff on their own, and even make a living at it."
Vanity presses, which were costly, have been supplanted by platforms that allow writers to get their works out "for next to nothing" according to Millburn.
They could have gone anywhere to start up Asymmetrical Press, but Millburn says the trio chose Missoula for its creative population, beauty and "amazing people."
"The culture per capita is much higher here than it is in most places," he says. "There are so many very creative people here."
Typically, he says, the ones who write know writing. Getting their works published can be another matter.
"There's nothing wrong with approaching a publisher," Millburn says, "but you don't have to wait for their permission. You no longer have to be beholden to the gatekeepers. You can do good work, get your name out there and make money. We bypassed the gatekeepers and took our work to readers online."
They all have titles that have sold more than 10,000 copies, Millburn says, making them available in paperback, e-book and audio book formats – and they've learned a lot about what to do, and not do, that they can share.
So, he says, have others. Asymmetrical Press is as much a community as anything, he adds, and has already attracted 1,500 people of various backgrounds and skill sets who interact and share resources.
"There's no submission policy – you just get involved in our community," Millburn says. At Asymmetrical Press writers can find help for editing, formatting, design work, printing, branding, promoting, marketing and getting their works out on a variety of platforms.
Anyone can access it, Millburn says. The company itself, meantime, has signed four authors it likes and is in talks with others. Nicodemus, Wright and Millburn will work with them directly.
"It's important to us that we do not own the rights to their work," Millburn says. "We treat it like a partnership."
Writers they have signed get a 51 percent cut of revenues – much higher than the typical 6 to 7 percent they would get from traditional publishers, and better than the 17 percent best-selling authors such as Stephen King receive, according to Millburn.
But money is not the motivating factor for guys who gave up high-paying jobs to live simpler lives.
"It's about adding value to other people's lives," Millburn says. "Ideally, we'll help anyone publish their own work."
The three will talk about their new venture Tuesday at 7 p.m. at Shakespeare and Co. in Missoula. They'll also sign copies of their books.