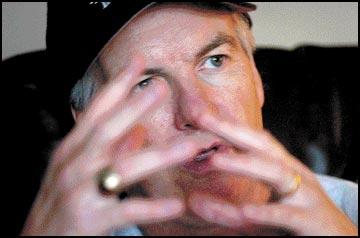 There are 93,000 people on the waiting list for a kidney transplant in the U.S., and the majority of those will have to wait 5-10 years for a deceased donor, according to the United Network for Organ Sharing.
However, there is a way to bypass the waiting list: Find a willing living donor.
That's why two Missoula friends have teamed up to start a nonprofit website called The Kidney Exchange Connection. Their goal is to help connect those in desperate need of the organ with those willing to part ways with theirs.
Gary Smith, a Missoula financial adviser, and Kate Menzia, who is earning her master's degree in nonprofit administration from the University of Montana, are the brains behind the operation.
Smith became a vocal proponent of kidney donation when his brother Layne suffered a catastrophic injury while skiing in 2000. While undergoing testing at the hospital, doctors discovered that Layne's kidneys were failing and he only had six years to live. The Smith brothers also discovered that because of the backed-up waiting list, Layne's chances of survival would continue to plummet and he would have to be placed on dialysis.
"I wanted to donate my kidney to my brother, but I didn't match my brother," Gary Smith explained. "It has to do with blood type and a variety of other factors."
It turns out that there are many family members who don't match one another. The solution to this conundrum is called a "paired exchange." Basically, Gary was told that if he donated his kidney to a stranger with whom he matched, a member of that person's family would be willing to donate to his brother. It was a win-win for all involved.
Gary and Layne completed a paired exchange with brothers Devon and Jason Baum in 2006.
"It's been eight years since this happened, and all the people involved are doing well," Gary Smith said. "Layne's doing great."
Smith said he had no idea about paired exchanges before his brother's accident, and he believes the knowledge could save thousands of people from premature deaths every year.
The website he started with Menzia, kidneyexchangeconnection.org, will feature a forum where people can ask questions related to kidney transplants and exchanges.
"This is our way of giving back," Menzia said. "We want to help others do the same."
The website will have a live chat function where people can talk to each other. Menzia said this will be the first website dedicated to kidney transplants in the Inland Northwest.
"Especially out here, the closest kidney foundation is Denver," she said. "We decided because of his experience that there were people in this community that wanted to donate and they didn't know how to go about it. It's only a regional Northwest website so far. We really want to reach out to Montanans. We are hoping to get rural states like South Dakota, North Dakota and Wyoming."
The website will feature information, support and sharing features. There is also a Facebook page of the same name. Smith and Menzia said they are also looking for financial donors and volunteers.