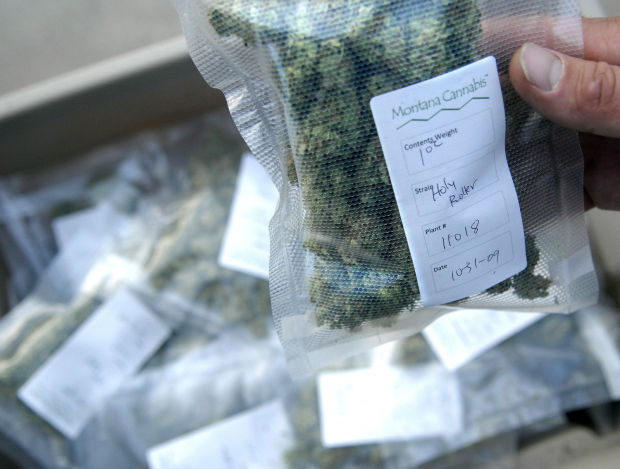 HELENA – In a brief filed with the Montana Supreme Court this week, Attorney General Tim Fox argued that a Helena district judge erroneously blocked three provisions of the state's strict 2011 medical marijuana law.
Fox and Assistant Attorneys General Stuart Segrest and Matthew Cochenour filed the brief Wednesday in support of their appeal asking the Supreme Court to overturn Helena District Judge James Reynolds' January decision and reverse his injunctions.
They argued that Reynolds erred in permanently enjoining the law's prohibition of commercial sales of medical marijuana in Montana. The judge had also struck down a provision that prohibited a marijuana provider from assisting more than three people licensed by the state from obtaining medical marijuana or marijuana-infused products, at no cost.
They said Reynolds was wrong to block enforcement of law's provision that directs the Board of Medical Examiners to review the practice of any Montana physician who recommended medical marijuana for 25 or more patients in a 12-month period.
Finally, they contended that Reynolds erroneously blocked the law's ban on advertising the commercial sale of medical marijuana in Montana.
It will be the second time the Montana Supreme Court will hear appeals of Reynolds' rulings on the 2011 medical marijuana law.
None of these three provisions of the 2011 law have ever taken effect because of injunctions issued by Reynolds in 2011 and 2015 decisions.
In 2011, Reynolds preliminarily enjoined these three provisions. Then-Attorney General and now Gov. Steve Bullock appealed Reynolds' decision to the Montana Supreme Court.
In September 2012, the Montana Supreme Court, in a 6-1 decision, reversed Reynolds' 2011 ruling. It remanded the case and ordered him to evaluate the law under what's called a "rational basis" instead of the "strict scrutiny basis" that he used.
Reynolds used the less strict "rational basis" test in his 2015 decision, but reached the same conclusions.
Fox and his colleagues argued that Reynolds erred by assuming "access" to marijuana was a purpose of the state law.
"Until the federal government changes marijuana's classification, the drug will remain a Schedule I drug under federal and state law," they said. "This fact was certainly of concern to the Legislature as it tried to balance the competing interests of allowing sick Montanans to use marijuana for medicinal purposes while limiting the conflict and potential liability under federal law."
The number of cardholders began increasing greatly in 2010 when so-called "cannabis caravans" traveled the state and set up clinics in hotels. They provided medical marijuana cards to hundreds of people, often in five or 10 minutes, after brief consultations with physicians and often via the Internet.
Montanans voted in 2004 to legalize medical marijuana for certain diseases, and the number of cardholders grew slowly to about 2,000 in March 2009.
The 2011 law was passed in response to the number of cardholders soaring to 27,000 by December 2010. That number peaked at 31,500 in May 2011, and the number of cardholders plunged after the new law took effect, failing to about 7,000 in June 2013.
The number of cardholders has been slowly rising again. Last month, about 11,500 Montanans had so-called "green cards," according to the state Department of Public Health and Human Services.
The latest registry showed 216 physicians registered to recommend medical marijuana to patients. Nine have recommended medical pot to 301 or more patients, including one with up to 3,820 patients.
"The 25-patient trigger addressed flagrant abuses by some doctors, including 'marijuana caravans' or 'traveling clinics' where doctors would provide certifications for hundreds of individuals without first establishing a doctor-patient relationship." Fox and his assistants wrote.
These provisions were "intended to stop the runaway certifications, issued without a physician-patient relationship, that led to an abundance of patients in the 18- to 30-year old range with a chronic pain diagnosis," they added.
They also said Reynolds erred in striking the 2011 ban on advertising marijuana and byproducts.
"Advertising marijuana and marijuana-related products is not constitutionally protected speech because marijuana is illegal and advertising marijuana is illegal," Fox and his assistants wrote.
Attorneys for the Montana Cannabis Industry Association and other plaintiffs will file their brief later.