Montana hotel and entertainment businesses still bear the brunt of the recession, as data for the state's metropolitan areas revealed last week.
Hotel, entertainment and recreation businesses in the category continue to recover jobs, but employment remained lower in June than for the same month a year earlier. Leisure and hospitality employment was down in Billings, Great Falls and Missoula, though Missoula was recovering more slowly.
"Comparing June 2020 to June 2019, we see that Billings and Great Falls in the leisure category have declined about 10% each, but Missoula has declined by 20%. So apparently the recovery in the leisure industry in Missoula is worse than Billings and Great Falls," said Paul Polzin, Bureau of Business and Economic Research director emeritus.
The state and area employment, hours and earnings data was posted this week by the U.S. Bureau of Labor and Statistics. Employment had plunged in April as nonessential businesses were shut down and a stay-at-home order was imposed by Gov. Steve Bullock in response to the COVID-19 pandemic, but jobless numbers have improved since businesses reopened in May.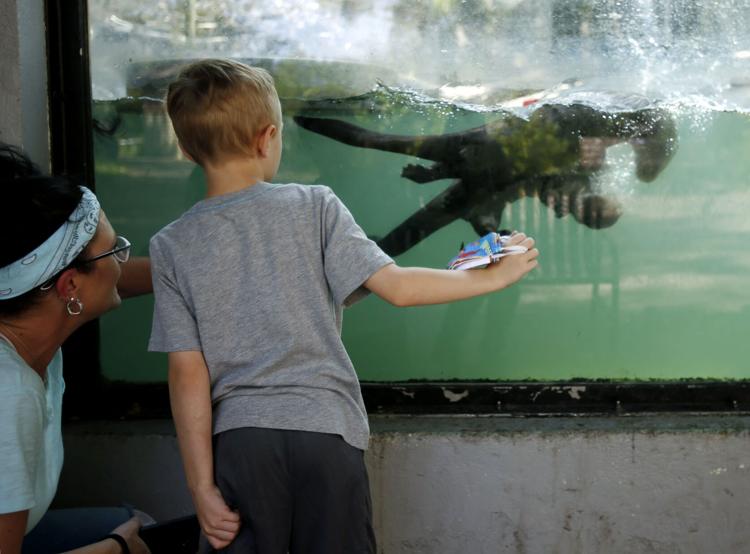 State unemployment has improved from nearly 12% in April to roughly 7% in June. The recession, which started in March, continues. Although the jobless rate is getting better, the recession is spreading from leisure and hospitality to other parts of the economy, Polzin said.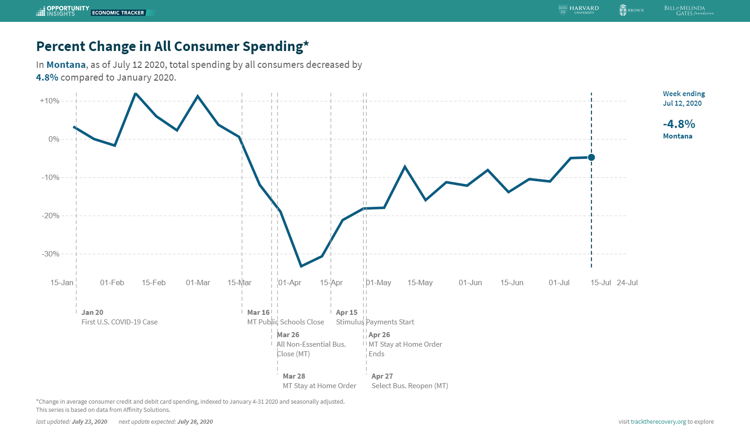 Billings bears down
What might explain leisure and hospitality business recovering better in Billings is business travel, Polzin speculated. Mike Nelson, a Billings native who, with brother Chris Nelson, owns the four-star Northern Hotel, said business travel is part of the equation, but not all.
"Billings is the place where business gets done in Montana," Nelson said. "People come here. We have a big government contingent. We have a big health care contingent, the biggest in our trade area. Lots of the business of the oil patch gets done here."
The Northern is a business hotel. It's downtown. The second-floor conference rooms upstairs are an important part of what the hotel has to offer, as is the white-tablecloth restaurant on the ground floor. Catering to business customers was advantageous, Nelson said, starting with the fact that businesses book conferences and meetings up to two years out. Those booking habits give certainty to Northern's budget forecasts.
That certainty started to fade in March as the Federal Reserve cut benchmark interest rates to zero and injected $700 billion into the economy for quantitative easing.
"Basically every CEO said, 'We've got to stop. We can see what's going to happen to business,'" Nelson said. "And so, meetings and business travel pretty much evaporated."
What followed were cancellations of hotel rooms and conferences, and the trend is continuing.
Business travel is what accounts for 60% of the Northern occupancy in the two slow quarters of the year, basically October through March. From April through September, business is usually about half of the Northern's business. Right now, business travelers are about 10% of the Northern's business. Visitors from out of state have declined, and what's become important are Montanans looking to get out.
"We've lovingly renamed that contingent the MODA, and that's Montanans Out Driving Around," Nelson said.
To gauge consumer spending, one of the resources Nelson turns to is Opportunity Insights, which tracks debit and credit card activity. Opportunity Insights puts Montana consumer spending on arts and entertainment down 61.5% since the start of the year. Opportunity Insights analysis starts with Jan. 20, when the first U.S. COVID-19 case was identified. Economists recognized February as the last month of growth before the recession.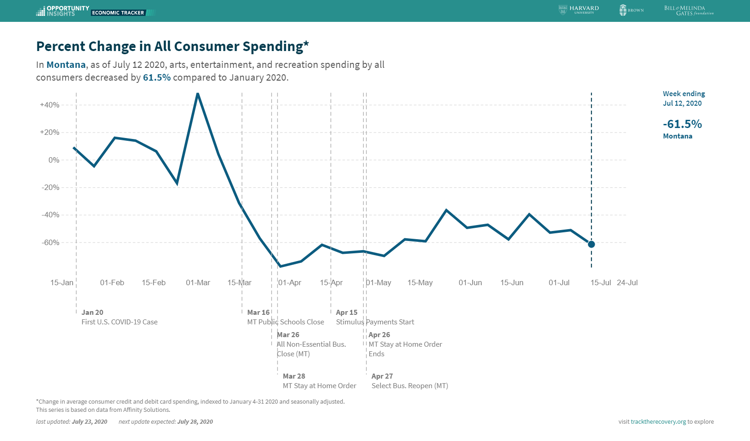 What to watch
Entertainment has been a growth industry in Missoula for the past few years, with new concert venues being created and the number of shows increasing. KettleHouse amphitheater, a 4,000-seat venue that opened in 2017 was the biggest venue, but others were in works before the pandemic, said Grant Kier of Missoula Economic Partnership, an economic development corporation. Additionally, the University of Montana's entertainment venues, from auditoriums to sports arenas, also went dark.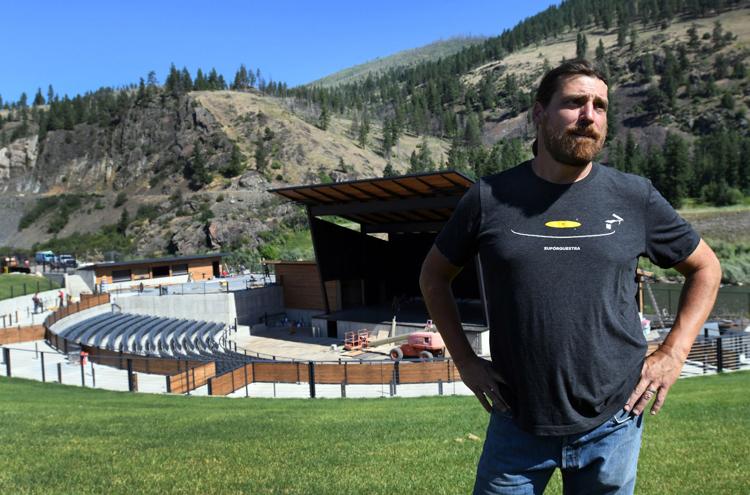 "Certainly in the last five to seven years, arts and entertainment and big concerts, big venue concerts, have been a huge part of our entertainment revenue," Kier said. "All of the large facilities that have been built up and have had a ton of momentum built over the past several years are sitting empty all summer. There's no question that's been a hit for us."
Restaurant and hotel spending in Montana, based on debit and credit card use, is off 41.9%, seasonally adjusted, since January with the steepest drop starting March 15, the week that major Montana events, like high school basketball tournaments were canceled and public schools started closing. During the state-imposed shutdown of nonessential businesses in April, hotel and restaurant spending was down 70%, or worse, from where it was in January, according to Opportunity Insights. Non-essential businesses started closing March 26. Selected businesses started reopening April 27.
Airport data tells another part of the travel slump affecting leisure and hospitality businesses. Passenger numbers at the airport in Billings were actually better during the first two months of the year than they had been for the same months the year before.
Then in March the numbers crashed; total passengers in Billings numbered 40,019 in March compared to 70,000 for the same month the year before. April and May, passengers were down 93% and 81% respectively. In June, the disparity was still bad. There were 27,338 passengers at the Billings airport in June, compared to 90,085 in June 2019 a 69.7% decline.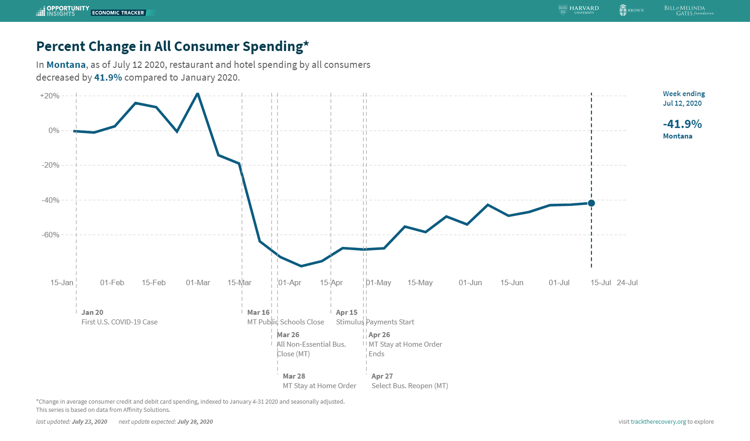 Missoula and Great Falls passenger numbers experienced a trough similar to Billings in April and May, but down 76.4% and 77.8% respectively in June. The Montana Aeronautics Division of the Montana Department of Transportation posts the data monthly.
School effects
Summer is the make-or-break season for many leisure and hospitality businesses. That season is book-ended by the wind down and start up of public schools. Polzin said whether children return to school could be a significant event for Montana's economy in general. Spending on school supplies and clothing in July and August are major economic events.
For ZooMontana in Billings, the return school in the fall means the return to classroom visits with animals from the state's only zoo. Not presenting in classrooms would be significant, said Jeff Ewelt, Zoo Montana director. School closures in the spring, which lead to canceled field trips, have already taken a bit out of ZooMontana.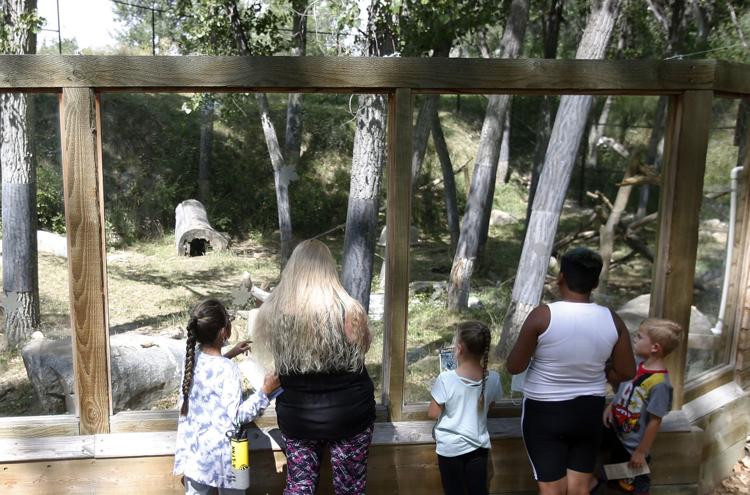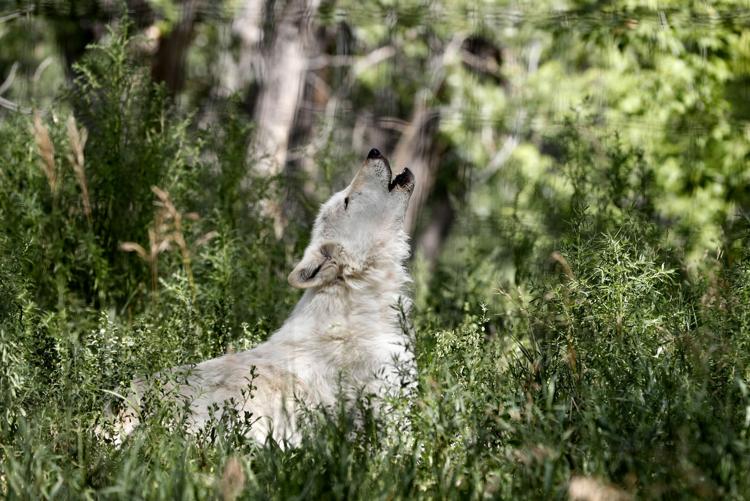 "Month of May is when we get all of our field trip kids in," Ewelt said. "We'll have over 12,000 kids coming through here from various schools, and we missed out on all of that this year, not just financially that loss, but being able to reach all those kids. That's the time when we're talking to most of our kids. In the fall, that's when we do our outreach. We're actually going out into the schools."
Summer visitations to the zoo have actually been good, Ewelt said. The Zoo shut down for two months to be safe at the start of the pandemic, but since it reopened turnout has been strong. Parents in particular seem drawn to a place where children can be outside. Educational Zoo Montana summer camps have been active, Ewelt said.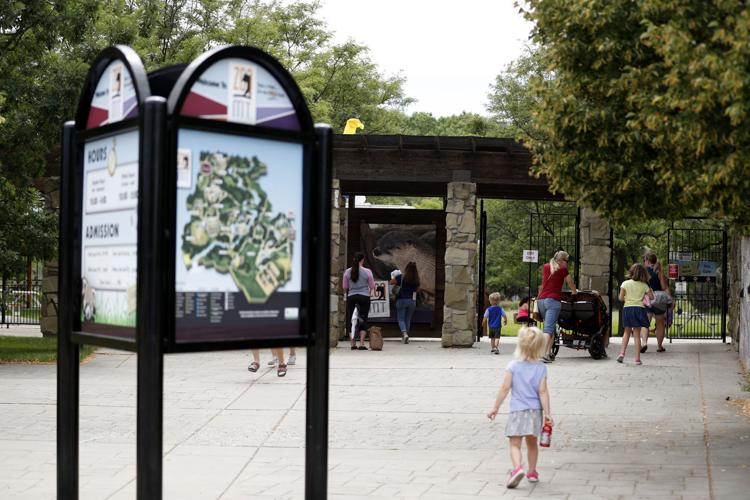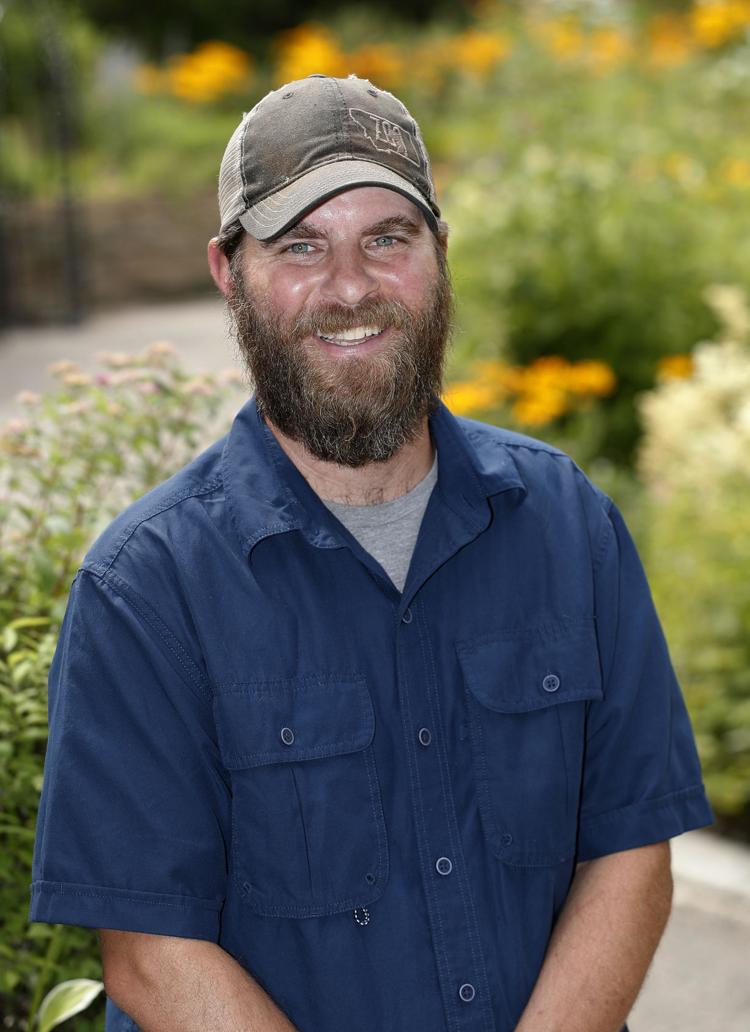 There's a possibility ZooMontana would see better-than-normal traffic in September if students didn't return to the classroom.
"People want to get outside. People want to do stuff with their families, and there's just not much to do right now," Ewelt said. "We're one of the few facilities where we're fully operational because you can distance outside here. You don't have to wear your mask outdoors here. We do ask, obviously, in the building. We're actually reaping the benefits of that."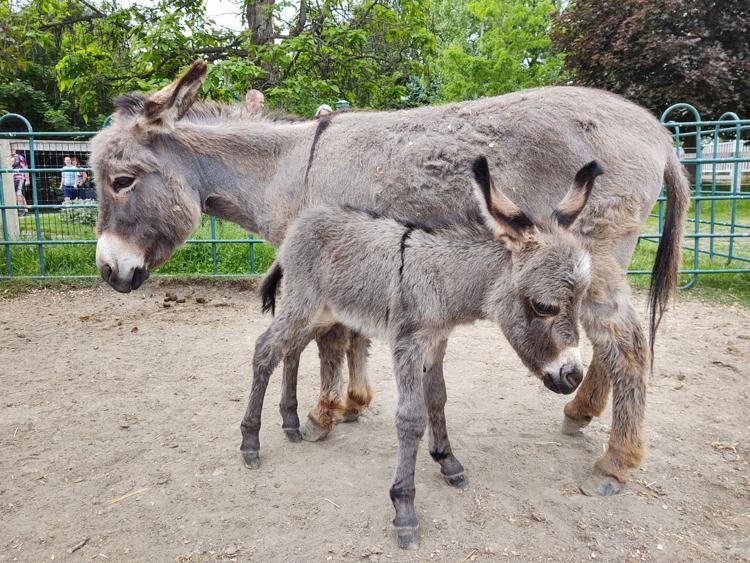 Be the first to know
Get local news delivered to your inbox!