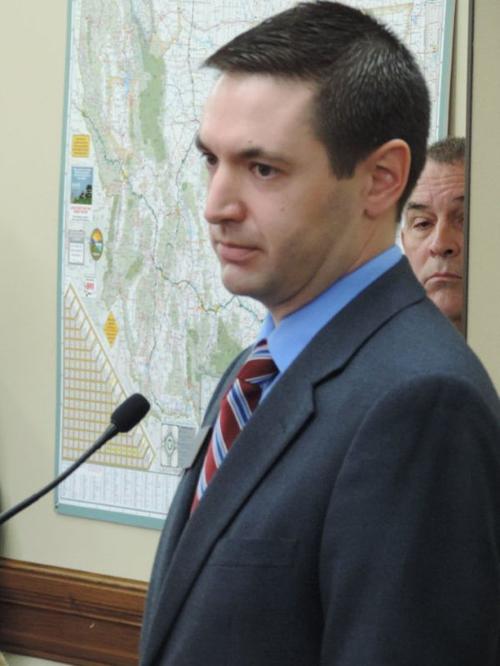 HELENA – For the second straight day, the Montana House on Saturday failed to muster the necessary two-thirds' majority vote to pass a contentious $150 million public works bill, delaying the expected adjournment of the 2015 Legislature.
After two votes failed, the House gave up for the day and will return Monday morning for another attempt to pass Senate Bill 416, which has become the final sticking point of the Legislature. Monday is the 86th day of the scheduled 90-day session.
The bill provides at least $150 million in cash, bonding and borrowing authority to finance scores of local public-works projects and construction of new state buildings, on college campuses and elsewhere. A percentage of the projects is set aside for local governments in eastern Montana feeling the impacts of oil and gas development.
Because the bill creates state debt, it requires approval by two-thirds of both the House and Senate, or 67 votes in the House. On Saturday, the bill got only 64 and 60 votes on two tries. A majority of House Republicans is opposing the measure, saying it includes too much bonded debt and doesn't fund the right projects.
House Speaker Austin Knudsen, R-Culbertson, said after the votes Saturday he'll meet with his leadership team on what to do. Knudsen voted for the bill.
"I think we're kind of in limbo now," Knudsen said.
House Majority Whip Greg Hertz, R-Polson, who has opposed SB416, said he and some other Republicans want to meet with House Democrats and senators over the weekend to see if they can come up with an acceptable plan.
"I don't think we can get bonding done," Hertz said.
He said he also wants an infrastructure bill that would include money for schools for roof repairs and new boilers.
But House Minority Leader Chuck Hunter, D-Helena, said in an interview he has no plan to negotiate with Republicans this weekend.
"The bill is in as good of shape as it's ever going to be," he said. "I think the only amendments that are proposed, some of them are proposed quite frankly to kill the bill.
"I think those who worked on this compromise feel like everyone's given a lot already. When you start altering that arrangement, it gores somebody else. … I hope people begin over the weekend begin to understand that's the reality."
Gov. Steve Bullock issued a statement later Saturday about the infrastructure debate taking place in the House.
"I'm hopeful that over the weekend legislators will put politics aside, recognize that this bill will create jobs and come back on Monday ready to finish their work," Bullock said.
During a House Republican caucus Saturday morning, Rep. Art Wittich, R-Bozeman, said there are 35 House Republicans who don't want to borrow to finance the projects and urged them to stick together and hold out for a better bill. He called it the most important decision of the legislative session.
"And frankly, from a conservative standpoint, it may be the only thing we get in the session," Wittich said. "We have virtually lost everything we came here to accomplish, including truly compromise legislation."
Knudsen told the Republican caucus said he was in a tough position as a leader, having opposed bonding in the past two legislative sessions, but as speaker he has been at the negotiating table the past couple of weeks.
"I feel like I am honor-bound by my own integrity to vote for (SB)416," he said. "I want to make absolutely clear that at no point have I ever told anybody that they have to support this bill. … There's been no attempts to extort anybody. There's been no attempts to trade votes or twist arms. Vote it up or down."
Rep. Don Jones, R-Billings, asked Knudsen if he believes Bullock "is willing to sacrifice everything at this point … because he is not going to negotiate."
"Do I think the governor's willing to walk away?" Knudsen said. "If you're asking for my honest opinion, my honest opinion is yes. I think he's willing to sacrifice infrastructure in the state of Montana for this bill."