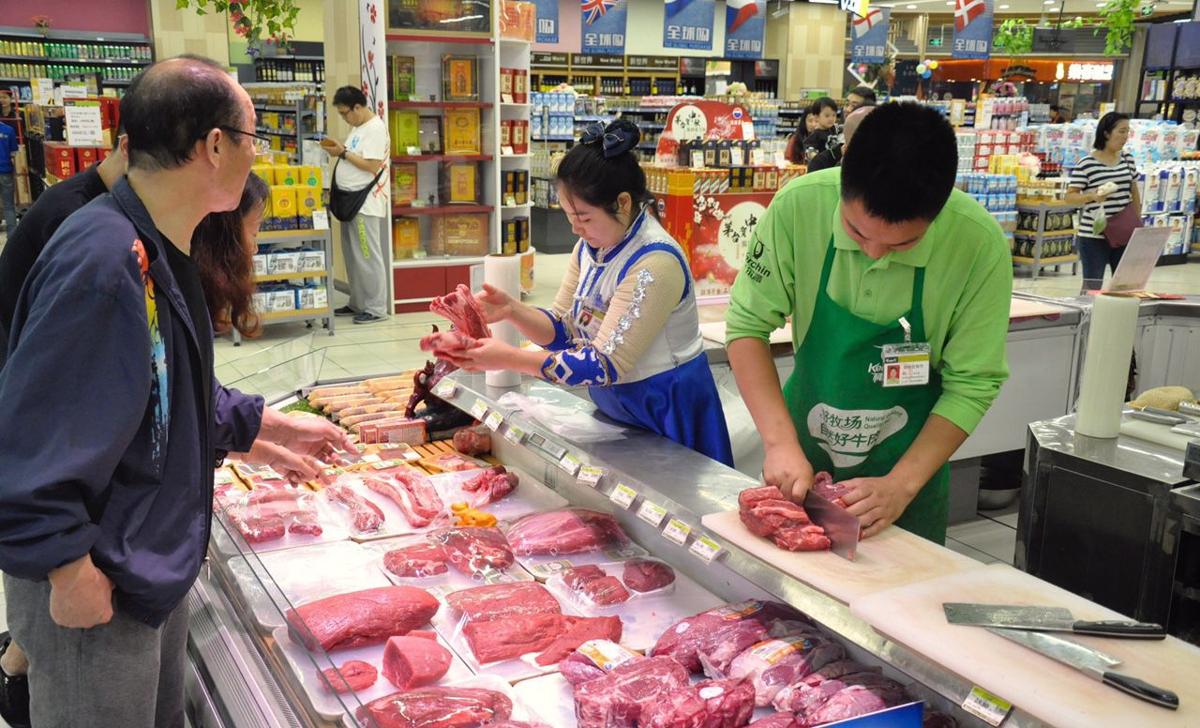 Montana may have chipped in an easy trade win as President Donald Trump begins his visit to China on Wednesday after Sen. Steve Daines announced a $200 million beef deal with a Chinese retailer.
In what some observers called a "tweetable deliverable," the agreement between JD.com Inc. and the Montana Stockgrowers Association was signed in Beijing with U.S. Commerce Secretary Wilbur Ross and Chinese Vice Premier Wang Yang in attendance.
It was part of a larger move where JD.com, China's second-largest online retailer, agreed to buy about $2 billion in U.S. goods over the next three years. Stockgrowers Association Executive Vice President Errol Rice and Cross Four Ranch owner Fred Wacker represented Montana at the signing.
The deal caps several years of trade diplomacy by Daines and former Montana senator and ambassador to China Max Baucus. In addition to the $200 million in Montana beef purchases, JD.com also sealed a memorandum of understanding to invest another $100 million in a new slaughterhouse facility in Montana.
"The ability to ship beef there is a huge opportunity," Daines said in an interview with the Missoulian in August. "This agreement was 14 years in the making. You've got to keep in mind the size of the prize. China is the second-largest beef import market in the world."
It also presents a unique challenge for Montana ranchers. Most of them raise calves that are born in winter or early spring and then shipped out of state for fattening and slaughter in the fall. The resulting steaks and burger get mixed into the national beef commodity market.
"It would take a lot of work, but somebody can find a niche market for Montana beef," Baucus said in an August interview. "The Chinese think of Montana as Yellowstone Park, open spaces and the Big Sky. We could have cachet as providers of Montana beef."
That means marketing the meat by its Montana provenance, just as Japanese cattle dealers brag about their premium Kobe or Wagyu steaks. And that's likely to take a lot of face-to-face dealing even after the JD.com ink dries.
"A lot of it is just showing up and being there," Baucus said. "The Montana governor would have to go over many times, and set up some kind of plan to market Montana beef, similar to what we've done with Japan and Korea."
Baucus made opening the Chinese beef market one of his priorities as ambassador after he retired from the Senate in 2014. China had banned U.S. beef since 2003 after a Washington state producer reported a case of bovine spongiform encephalopathy, better known as mad cow disease. Baucus helped negotiate a re-opening of the Chinese beef market in 2016, but the door barely cracked because of Chinese restrictions on hormone use in U.S. cattle production.
Daines rode the issue as well, on both sides of the Pacific Ocean.
"I hand-carried four tenderloin steaks from Fred Wacker's ranch to the vice- premier when I went to China in April," Daines said. "We put them in a Coleman cooler, which was probably made in China, but the steaks were made in Montana. They want to see the quality and traceability. I showed them the pasture where the calf was born and tagged to slaughter."
He followed up with a personal barbecue dinner with Chinese Ambassador to the United States Cui Tiankai at Daines' home in Bozeman in September. Chinese business representatives met with Montana agricultural producers at a Belgrade roundtable to discuss future trade deals.
Ranchers have watched with their noses pressed up against the glass as Chinese restaurants and supermarkets served up increasing amounts of beef from other countries. China imported 825,000 tons of beef in 2016. Most of that came from Australia and South America.
"When export of Montana beef to China is more or less stabilized, and channels are established, we could find your main buyers in China, Chinese companies that import a lot of Montana beef," Cui said during his Montana visit. "And maybe with the help of some Chinese banks, like China Bank in New York, they could invest in the infrastructure here, insure a stable and long-lasting supply."
Wacker also raises antibiotic-free, implant-free Angus cattle for Whole Foods. He told the Chinese delegation how state ranchers could provide a rare, Montana-specific beef sale to China.
"We have the land, we have the cattle, we have the quality, we have the water," Wacker said. "We have the interest in putting in a major processing plant here, and we also have a very high-quality product."
That makes the second part of the JD.com deal crucial for Montana's local branding effort. The state hasn't had a major meatpacking plant for 33 years, since Billings' Pierce Packing Co. closed in 1984. The slaughterhouse employed 500 people before national consolidation of the meatpacking industry pushed the 50-year-old company to extinction.
"It's something we are lacking in Montana, and something we'd like to see happen," Montana Stockgrowers Association spokeswoman Kori Anderson said. "It would provide infrastructure to process beef here in state. We only have a couple of very small feedlots as it is, and the vast majority of our cattle is heading out of state for processing."
Montana shipped almost 1.5 million calves to slaughter in 2016. Nationwide, U.S. beef producers raised about 35 million beef calves. The U.S. Department of Agriculture estimates Montana's contribution to $6.3-billion beef export market was worth about $132 million in 2015. But that relatively small share could be an advantage for Big Sky ranchers.
"The Chinese want to know where that calf has come from," Anderson said. "It's a lot more paperwork, but we are able to make those adjustments a lot quicker. We produce some of the finest beef in the world. We just have to work through a process for marketing Montana-raised cattle."
Billings Gazette Reporter Tom Lutey contributed to this story