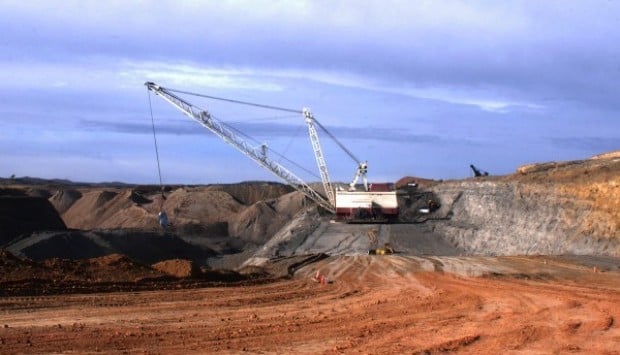 BILLINGS — Up To 75 employees of Montana's Decker Coal Mine will be laid off from the surface mine near the Wyoming border in mid-January, managers said Friday.
A spokesman for mine operator Ambre Energy North America attributed the layoffs to "ongoing expense management activities," but offered no details. It is co-owned by Ambre-subsidiary KCP Inc. and Western Minerals LLC, a subsidiary of Cloud Peak Energy.
About 160 people work at the mine located in the coal-rich Powder River Basin, an area along the Montana-Wyoming border that produces more coal than any other region in the U.S. The mine is located in Big Horn County, although many of its workers come from the Sheridan, Wyo. area.
Ambre spokesman Brian Gard said in a statement that the layoffs were unrelated to a legal dispute between the owners over whether to expand production.
Coal production at Decker dropped sharply over the last few years, from 7 million tons in 2006 to 3 million tons last year, federal mining records show. The mine reported a net loss of $21.1 million last year and had projected a $11.9 million loss for 2012.
Western Minerals has alleged Ambre wanted to mine more coal with an eye toward exporting the fuel to overseas markets, particularly in Asia. The legal dispute emerged in July, when Western Minerals filed a lawsuit that said the mine's plan called for an end to all production when its last customer contract ends in 2013.
Coal was once the dominant fuel for electricity generation in the U.S. But domestic demand has been flagging over the past several years due to cheap natural gas, tighter rules on pollution from coal-burning power plants and an aggressive legal campaign against the industry by environmentalists. Coal companies see exports as a way to turn around that decline.
Ambre is headquartered in Australia but manages its U.S. coal business from Salt Lake City.
The company describes itself as "a coal marketing, mining and infrastructure company that aspires to become the largest supplier of United States thermal coal to the Asia-Pacific market."
The lawsuit over the Decker mine claimed Ambre knew about plans to end production when it bought its 50 percent stake and took over management of Decker Coal Co. last year. The suit said the company and its subsidiaries have been acting outside of its joint-venture agreement to position itself for an expansion of Decker coal production.
Ambre is seeking to dismiss the case, which is before U.S. District Judge Richard Cebull.
They company's attorneys stated in court filings that it is not the direct owner of the Decker mine, and has reached no agreements with prospective customers to ship the coal overseas. As a result, the company said the court lacks jurisdiction.