COLUMBIA FALLS - From the gateway on Half Moon Road, F.H. Stoltze Land and Lumber looks a lot like it did in 1923.
About 200 truckloads of logs roll through every week. They get dumped in muddy yards, awaiting their time in the sawmills. The roar makes it hard to talk, even outside the big metal sheds.
"It looks the same on the outside, but we work really hard to be competitive on the inside," Stoltze resource manager Paul McKenzie said on a recent tour of the 120-acre mill site. "We use our brains more and our backs less. There's a lot fewer injuries."
Optical scanners have replaced the green chain and the crew of 20 struggling with the entry-level task of pulling planks by hand into sorting bins. Mill electricians used to wire motors – now they program software.
"But there's not much difference in the wood input and output," McKenzie continued. "The mill produces about as much lumber in one shift today as it did with two shifts in the 1970s."
Logs were bigger then. Stoltze didn't bother with trees less than 17 inches what is termed "diameter at breast height," or DBH. When Montana's big old-growth trees started to run out in the late '70s, it modified one of its saw lines to accept logs as small as 5 inches DBH.
In the past 25 years, Montana has lost two-thirds of its large timber mills. The giants like Champion International, Crown Zellerbach, Georgia Pacific, St. Regis Paper and Stimson Lumber merged and left the state. Plum Creek Timber Co. was the final national corporation in Montana before it was bought by Weyerhaeuser Corp. last February.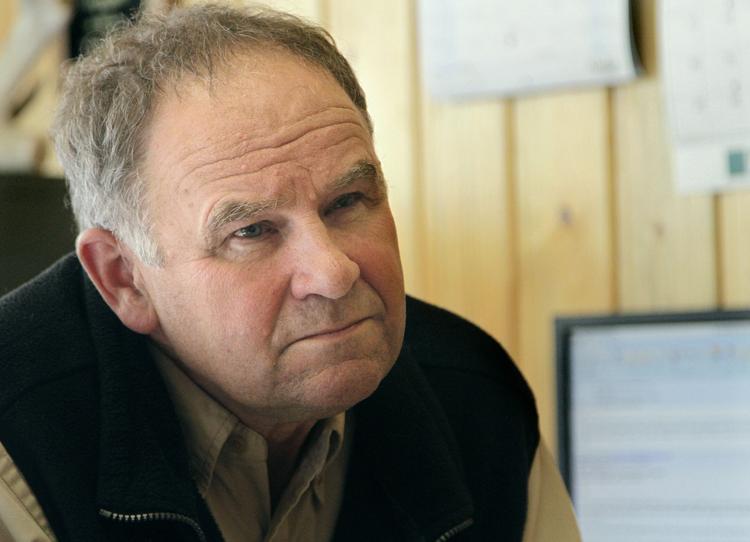 Stoltze and six other locally owned timber companies face a future very different from the century when they started. Most came into existence riding an economic wave of national prosperity, where public timber was considered a limitless bounty. In the 21st century, Montana's last Paul Bunyans stand with its last cowboys, plying old-world skills on a landscape crowded with new problems.
"It changes the playing field in Montana in that there's a greater percentage of family-owned mills and mill production than there are large corporations," said Gordy Sanders, resource manager for Pyramid Mountain Lumber in Seeley Lake. "You will never have a new mill built in Montana. If you have $100 million, you're not going to build a sawmill with it.
"But the small mills, the family-owned mills are in business and make decisions differently than large corporations. They have to make a profit at some point, but they also enjoy what they do. They like to support communities with good-paying jobs. And they're willing to take risks. Given an ample supply of raw materials, they may decide to expand."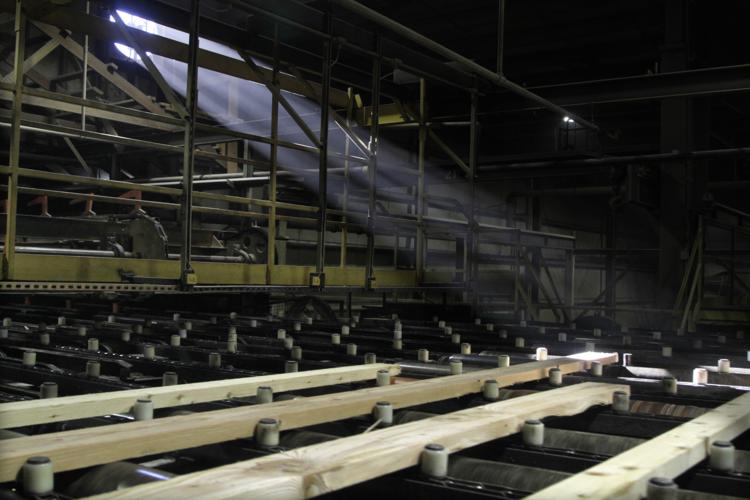 By raw materials, Sanders means trees. When you live in the nation's fourth-largest state and a quarter of that is covered with trees, an ample supply seems assured. But 22 of Pyramid's fellow mills have gone silent since 1990 because they couldn't get enough wood to saw.
Montana's timber industry peaked around 1980, when its mills consumed nearly a billion board-feet of wood a year.
"Now it's about a third that amount," said Todd Morgan, timber analyst for the University of Montana's Bureau of Business and Economic Research. "In Montana, we have good productive forest land, and a sizable chunk of that happens to be in the national forest system. About half the state's forest inventory is trees between 9 and 17 inches in diameter – an ideal size for current mills. Three-quarters of that grows on federal land."
The United States consumes about 43 billion board-feet of lumber a year, but it only produced 31.6 billion board-feet in 2015. The remaining third came from Canada. Montana contributed 535 million board-feet, about 1.6 percent of the total.
But that 1.6 percent claims a special rack in the construction yard, according to Stoltze Vice President Chuck Roady. When a tree takes 100 years to mature in this arid, steep country, it grows up tough.
"Montana wood is machine-stress rated," Roady explained. "It has tight grain. It's dense. That makes it valuable for things like trusses and floor joists. It has more strength than southern yellow pine grown in the Southeast. That's important any place that has snow loads or earthquake standards."
Machine-stress rated wood from Montana and Idaho can withstand between 1,800 and 2,400 pounds of stress per square inch. Lumber grown west of the Cascade Mountains of Washington and Oregon matures three times as fast, but has one-third the strength.
"It's in big demand in the market – it just doesn't grow as fast," Roady said. "We sell our wood all over the country. There's a huge demand for our Douglas fir and larch."
Stoltze is the only family-owned company with its own timber land left in Montana. It owns about 40,000 acres, mostly in the Whitefish Range north of Columbia Falls. That property provides about 15 percent of the 60 million board-feet of lumber the mill cuts annually.
"That's what keeps me and Paul up at night – where do we get logs?" Roady said. "If you live in the South or west of the Cascades or Canada, you don't worry about log sourcing."
By contrast, Weyerhaeuser Corp. owns 876,000 acres in Montana alone. It also runs three mills in Flathead County surrounding Stoltze – down from five since it acquired Plum Creek and closed two plants in Columbia Falls.
You have free articles remaining.
Stoltze currently employs 120 workers on a shift and a half, running the mill 60 hours a week. It used to have mills in Dillon, Darby and in Utah. All depended on logs from federal lands. All closed.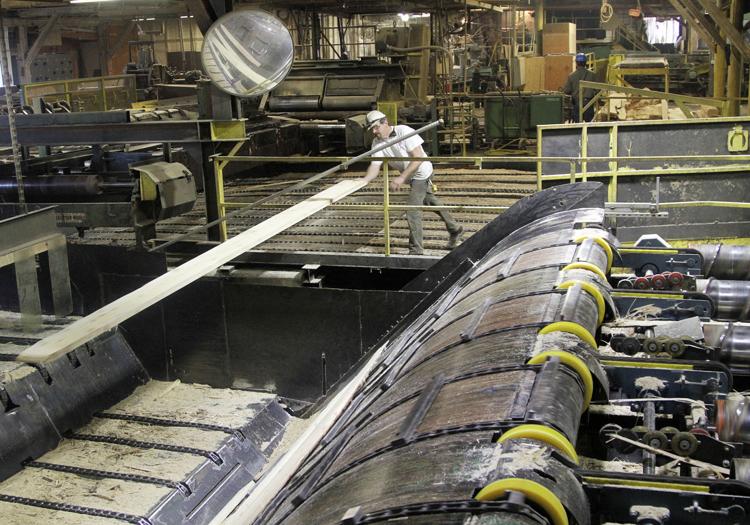 When Weyerhaeuser shuttered the two Columbia Falls mills last July, Stoltze bought the logs and in-process lumber that was still drying in kilns. It also picked up some of the skilled workers Weyerhaeuser let go.
"We want that infrastructure to stay here," Roady said. "The logging contractors, the chip trucks, the log trucks – we share all that."
On the manufacturing side, the Flathead needs Weyerhaeuser's medium-density fiberboard plant to keep buying sawdust and chips from the sawmills. And the sawmills need a place to get rid of their wood waste. Missoula's Roseburg Forest Products takes the shavings for particle board, but not the chips and sawdust (It's not considered one of the 10 sawmills).
Some of that goes into the boiler furnaces that generate mill electricity. Post-and-pole mills take the small trees for fence material. Other low-quality trees get a truck ride to Bonner, where Willis Enterprises runs the last chipping facility in the state since Smurfit-Stone Container closed in Frenchtown.
Without that ecosystem of byproduct use, Montana mills would have to truck their leftovers to Idaho, Washington or even Canada. Every mile on the road subtracts value from the load.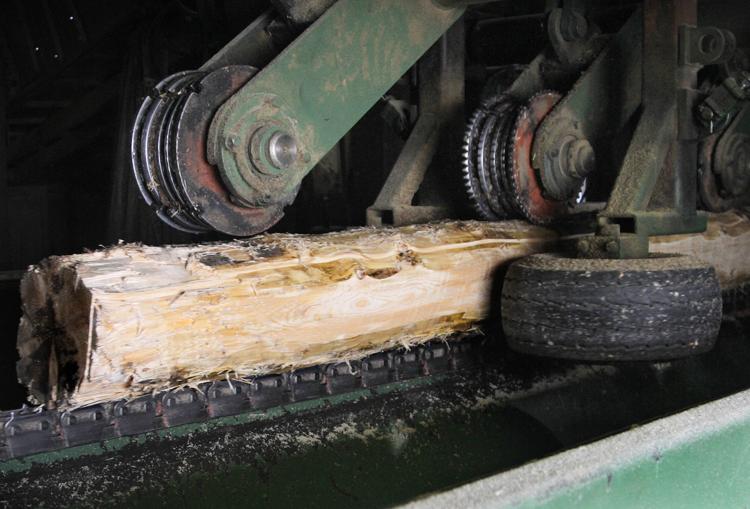 Mills like Stoltze and Pyramid buy almost all their trees from private property owners. That's even though the U.S. Forest Service owns 81.3 percent of the state's potential saw logs, according to the timber analysis firm Western Wood Products.
"One thing that catches my eye in the sources of timber in Montana is 45 percent 'other private,'" said Greg Andrews of Western Wood Products. That means wood coming from non-industrial lands like ranches and housing developments – small, isolated and expensive to harvest.
The National Forest System sells about two of every 10 logs going to those eight Montana mills. To increase that, the eight remaining mills have pushed some uniquely Montana adaptations like stewardship contracting. Essentially, the Forest Service barters commercially valuable public trees for private services like turning unneeded logging roads into hiking trails.
"There's plenty of available timber to support an increase in active forest management on National Forest System land," said Pyramid's Sanders. "If you do the right thing on the ground for the right reason, there will be products that get removed that all the industry can benefit from. It's a matter of where you select to do your treatment. We've found we get greater support for large landscape-level thinking, where you're considering how to help fisheries, wildlife and fuels reduction, across the landscape."
Stewardship contracts get developed by collaborative groups. Ideally, they bring a roundtable of foresters, environmentalists, homeowners, recreation groups and other stakeholders whose consensus result assures the project meets lots of different goals.
Critics challenge that the process' time-grinding format discourages participation by people who have a stake in the forest but aren't paid to represent their point of view. They also object to congressional efforts to shield stewardship contracts from many federal oversight and appeal provisions –which advocates say are necessary to encourage people to commit to all that time.
Stewardship contracts also make up just 30 percent of the timber sales that currently take place in Montana annually, according to Julia Altemus of Montana Wood Products Association.
"The environmental community was not supportive of stewardship contracting in the first few years of the pilot (program, of which Montana was an early participant)," Altemus said. "As we got closer to the 2013 sunset of the program, they realized that the service work getting done was of value and changed their mind. Stewardship sales are usually not litigated." 
But at the heart of the fight lies an old credibility issue. Stoltze had to add a line for 5-inch logs because the 20th century saw rampant over-cutting of Montana's old-growth forests. The Forest Service reduced its Montana allowable sale quantity from about 800 million board-feet in 1970 to 100 million in 2015 because it faced the fact it was unsustainably over-harvesting the public trust.
At Stoltze, Chuck Roady believes that simply quantifies something he's always tried to respect.
"I won't make excuses for the things that were done in the past – we failed miserably in that," Roady said. "In the 1950s and '60s, who'd have thought what we were doing was bad? Our grandparents didn't know it was bad when they were skidding logs down the creek. You've got to get back on the horse. We won't make the same mistakes."
For proof, Roady pledged his personal legacy.
"We're not going to do anything to hurt where we live," Roady said. "This is where I hike and hunt and fish. That's why I live here. That's the reason I became a forester. It's aggravating to hear someone else say they're trying to save me from our own stupidity. There is no way I'm going to do something to hurt the place I love."