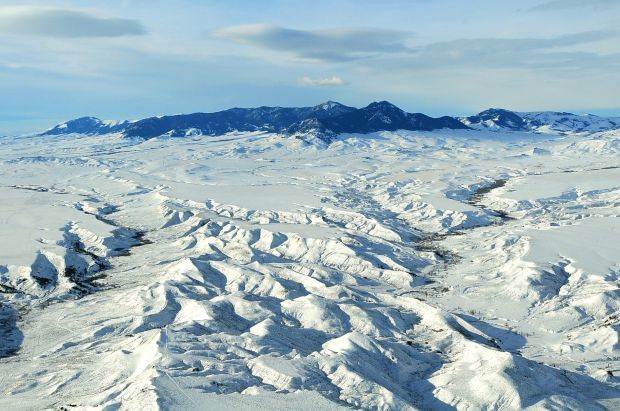 BILLINGS - Snowpack across most of Montana was higher than normal as of Jan. 1 and just a hair below levels from the same time in 2014.
"The snowpack in Montana began accumulating in the mountains a few weeks later than normal this winter, but since the end of November has made dramatic improvements across most of the state," according to the monthly water supply outlook report from the U.S. Department of Agriculture's Natural Resources Conservation Service in Bozeman.
At the New Year, snowpack across Montana was at 109 percent of normal for Jan. 1 and 99 percent of 2014 levels.
The Yellowstone River basin was at 110 percent of normal, with the upper basin at 116 percent and the lower checking in at 103. They were 96 and 85 percent of last year.
The combined Smith, Judith and Musselshell basins, within the Missouri basin, was at 112 percent of normal and 76 percent of last year. Overall, the Missouri sat at 109 percent of its normal snowpack.
Much of the higher percentages can be attributed to a pair of snowstorms that blanketed Montana at the end of the year.
"Due to the late start, basin-wide seasonal snowpack was below normal for the majority of November," the NRCS report stated.
However, by the start of 2015, just five of the state's 18 major sub-basins were below average for snowpack.
The storms in November and December quickly caught up the region's snowpack and continued snows pushed many of the basins above their normal numbers.
While exact numbers weren't immediately available, continued storms into early January likely boosted those numbers even more.
The Billings area has recorded another 17.7 inches of snow through the first 11 days of January and 39.3 inches for the entire season, according to the National Weather Service.
The NRCS noted that basins across Montana typically get 40 to 45 percent of their snowpack through Jan. 1 but that coming months will have an impact later in the year.
"With so much of the winter left to come streamflow prospects in the spring will be influenced by the weather and snowfall over the next five months," it said in the report.
The NRCS April-July streamflow forecast indicates that, across Montana, it will be at 107 percent of normal. The Yellowstone basin prediction calls for 105 percent of normal while the Missouri predicts 101 percent, including 117 percent on the Smith, Judith and Musselshell sub-basin.