That sentence came out of a Tobii Dynavox I-12+, a speech-generating device that 5-year-old Yara Elion is learning to use in order to communicate.
It's a huge step for the Stevensville preschooler, who has Rett syndrome, a severe neurological disorder. The device tracks her eye gaze, which she uses to select different pictures and words to talk.
It cost $14,895 and was covered by Medicaid, said Tim Miller, director of the Bitterroot Valley Education Co-op, as it was deemed medically necessary. That's thanks to co-op speech language pathologist Karen Gideon, said Miller and Yara's mother, Nina Elion. Without Gideon's tireless work documenting Yara's progress with a trial device, Elion said it would have been a challenging process to work through solo.
"I hope I still would have gotten one by the time she was 6 or 7, because I know it's an important thing to have, but the process was expedited at a crucial time where it's a smaller learning environment (preschool), staff that know her and fewer distractions," Elion said.
Medicaid covering the cost is lucky, Miller said, as the state's share of special education funding has dropped from 81.5 percent in 1990 to 33 percent today. Federal contributions also have ticked lower, with local district general funds and taxpayers filling the growing gap.
State special education funding is flat at $42.89 million. It's increased 3 percent since 2010, former Office of Public Instruction Chief of Staff Madalyn Quinlan told the School Funding Interim Commission in September 2015 (0.9 percent in 2014 and 2 percent in 2015, with no increases the other years).
Five percent of the state's funding goes to Montana's 21 co-ops, which serve 81 percent of Montana's school districts and 36 percent of the state's special education students.
A special education co-op provides related services for rural school districts, such as occupational therapy, speech pathology and more.
It's in statute that general K-12 funding receives an inflationary increase, whereas special education is a line item in House Bill 2 each legislative session, meaning there's no guarantee of an increase year to year.
The Bitterroot co-op serves six school districts: in total, 367 students with disabilities. Miller has about $660,000 to work with in his budget, 51 percent of which is locally funded (the co-op is also a licensed mental health provider, with a separate budget of $1.6 million).
"We lose ground every year," he said.
Special education funding is tied to total school enrollment, not a count of students with special needs. It was set up that way, Quinlan told the commission last year, to not create an incentive for over-identification.
While enrollment is declining in many rural districts, the number of students with disabilities is increasing, as is the severity of some of their disabilities — as is, in turn, the cost of services.
In the 14 school districts the Missoula Area Education Cooperative serves, total enrollment dropped from 3,712 in 2002 to 3,201 in 2016.
Students with disabilities rose from 13 to 17 percent of the schools' population in that time frame.
Co-ops don't have taxing authority, so any gap in their budget has to be funded locally, from their member school districts' general funds.
"There's no place else for co-ops to go," Rep. Kathy Kelker, D-Billings, told the SFIC in September 2015. "Districts have to go into their general fund, which creates competition between general fund for regular education and special education funding."
Statute requires all districts – those belonging to co-ops and those who provide special education on their own – to match at least 33 percent of the funding they get from the state.
The average is closer to 41.3 percent statewide. With the Bitterroot co-op, it's 51 percent.
"We're stuck on the good will of our school districts," Miller said.
But sometimes rural districts are reluctant to run a permissive levy, Missoula co-op director Linda Maass pointed out, because they're sympathetic to their cash-strapped taxpayers.
"So they're stuck," she said.
Rural districts belong to co-ops because, for example, one student who needs a part-time speech pathologist is a hard sell to recruit and retain an employee. The co-op will hire that speech path instead, who can then travel between multiple schools in the co-op who all need varying hours of the service.
In FY 15, co-ops received $2.1 million from the state for administration and travel. Actual expenses totaled $4.3 million, according to an OPI report.
The Central Montana Learning Resource Center co-op serves a six-county area covering 12,000 square miles. Director Chris Rice told the commission that looking three years out her co-op projects at least a $300,000 deficit.
"When we get in this crunch for funding, there begins to be a resentment factor on the part of some people," Miller said. "These are dollars going to students with high needs. Some people tend to think in terms of these kids and families are problems. The reality is the vast majority want to be in school, they want to be included and accepted.
"These kids are worth it. They're important."
Inflationary increases for basic and per-student appropriations came out of the Legislature in 2003, and the ensuing "equity and adequacy" lawsuit in 2005 led to the creation of other funding components, such as quality educator, at-risk student and others.
The inflationary increases apply to all students, including special education students who are considered as any other student in the ANB (Average Number Belonging) count. But since special education's funding is separate, it doesn't receive its own inflationary adjustment.
Efforts to give special education the same inflationary increase stretch back to 2005, when then-Rep. Bill Glaser, R-Huntley, put forth a bill. It died in committee.
In 2013, another bill resulted in additional funding components such as Data for Achievement and Natural Resource Development, but special education again didn't receive an inflationary increase.
An inflationary increase – though at different amounts and different time frames – has earned the support of Gov. Steve Bullock, Superintendent Elsie Arntzen, MEA-MFT, organizations within School Administrators of Montana, teachers' unions and parents of students with disabilities.
It even had bipartisan support by the end of the School Funding Interim Commission's work last fall. They deemed special education funding a priority, and in August the commissioners voted unanimously – six Republicans, six Democrats and four public members – on three bill drafts that would give special education funding an inflationary increase.
This session, the commission's recommendations came through in several bills, (see related story), including three brought forth by Kelker.
A week in to the session, all three were tabled in the GOP-majority House Education Committee.
The quick tabling irked Rep. Casey Schreiner, D-Great Falls, who said it was politics getting in the way of policy.
"If we think it's good policy, we pass out of our committee and they (appropriations committee) make those decisions," Schreiner said. "I think this is, unfortunately, a way to kill this bill and make it go away without people thinking about it."
Rep. Jeff Essmann, R-Billings – who also served on the School Funding Interim Commission and voted in favor of the three special education funding bill drafts that led to Kelker's bills – said it pained him to see them tabled. Essmann, the vice-chair of House Education, made the motions to table the three bills in January.
He and Rep. Seth Berglee, R-Joliet, agreed it comes down to the tight budget legislators are dealing with this session.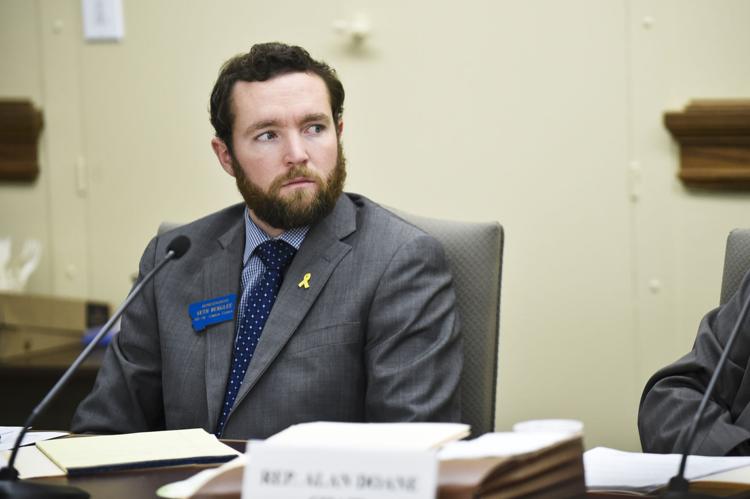 "There are a lot of critical needs out there that are going to be not funded to an adequate amount this year based on our budget," Berglee said. "The position of myself and others on this committee is not an attempt to subvert the process and keep special education from being funded. It's holding these bills in our committee until appropriations has a chance to act on the bigger components of the budget so we can figure out what we have money left for."
In February, one of Kelker's special education bills, HB 32, passed out of House Education unanimously. It made it through second reading on the House floor 63-37, and was sent to the appropriations committee. There, Republicans tabled it once again, with Rep. Jon Knokey of Bozeman the only Republican to join Democrats in voting for the bill.
It would have added $3 million to special education over the biennium, and restructured co-op payments from 5 percent of the special education appropriation to 7.1 percent. The bill asked that the increases be ongoing, rather than one-time-only.
"Some of them (co-ops) describe themselves as close to bankruptcy," Kelker told the committee.
House Democrats made a last-ditch effort Thursday to add a $1.4 million one-time-only increase for special education into House Bill 2. It failed 43-57.
HB 2 is now in the Senate.
Miller said the same arguments for equity and adequacy in general education funding in the 2005 lawsuit could be made today for special education funding.
Special education funding is inadequate, he said, which leads districts to pull from their general funds to support the mandated services, in turn reducing funding that could be used for all students, an issue of inequity.
"There's an emphasis on local control in this state, so it's interesting when you hear some legislators say it's a federal government problem and they'll solve it if they want to," Miller said.
There's also concern that Medicaid reimbursement for services like the communication device for Elion could end if a cap is placed on Medicaid's Early, Periodic, Screening, Diagnosis, and Treatment (EPSDT) services. The burden would shift again to schools, Miller said.
"There would be ripples in the pond here," Maass said.
Rural districts are not the only ones pulling from the general fund to support special education.
From fiscal year 2005 to 2016, special education expenses in Missoula County Public Schools increased nearly $4.9 million. The state picked up 26 percent of that increase, the federal contribution decreased 1 percent, and the local slice of the pie shot up 74 percent.
MCPS is seeing a similar increase in special education students: from 1,028 in 2012 to 1,217 in 2016.
As disabilities grow more severe, students require more one-on-one support. Last year alone, MCPS had to add 12 para educators.
"Between salary and benefits, that's over $300,000," said Superintendent Mark Thane.
Elion said Yara has shown tremendous progress in just the few months she's been working with the eye gaze communication device, even as Elion and Gideon tweak the program to expand options on the screen.
"She's benefiting from having more options and more things to say," Elion said. "It shows she's got more cognitive capacity."
This summer, they'll work with the device more and find a way to mount it to Yara's chair so by the time she enters kindergarten this fall, she's ready to go.
"The goal is to truly integrate this as her main form of communication that follows her everywhere she goes," Elion said.
Elion chats with other people online about Rett syndrome, including those who have the disorder and use the eye gaze machine to type their responses.
"There's a big range of ability with Rett, so I don't know if Yara will get there or not, but now we know the technology is there," Elion said.