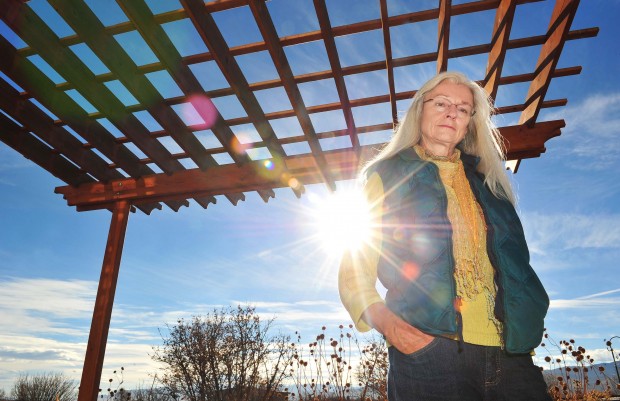 Helena author Joan Bird has a Ph.D. in zoology, and her career has been dedicated to the natural world, including work for the Montana Environmental Information Center, Montana Fish, Wildlife and Parks, and the Nature Conservancy.
In her new book, she makes her case for the existence of phenomena born far from the Treasure State's terra firma: extraterrestrial lifeforms.
Bird writes in the introduction to "Montana UFOs and Extraterrestrials" that, although she's a scientist, she is comfortable with the notion that there are some things science just can't explain. She's also had a lifelong fascination with bits of information that don't seem to belong. "Unidentified flying objects," or UFOs, certainly fall into that category.
That attitude led Bird to a field known among its practitioners as "ufology," and ultimately to the writing of "Montana UFOs."
Montana, it turns out, has been the scene of some of the most significant unexplained occurrences involving UFOs, dating back more than 70 years. Two in particular, a 15-second, color film shot by Nick Mariana in Great Falls on Aug. 15, 1950, showing two silvery spheres in flight; and an incident in 1967 in which 10 Minuteman missiles were deactivated in their silos while a UFO hovered overhead, are considered of primary significance.
Bird examines the former incident in her first chapter, and uses it as a jumping-off point for a review of official U.S. government reports on the subject. At first, she says, Air Force researchers were told their jobs were to "debunk" all sightings, and to convince people that conventional explanations existed for all such reports.
Later reports, such as the 1953 "Project Blue Book" report, were more circumspect, leaving many sightings in the "unexplained" category, a more-or-less tacit acknowledgement of their validity, according to Bird.
She chose to publish the book "because I think it's a real phenomenon, but also because of people's fears of sharing stories."
Her presentations in Hamilton and Missoula will begin with the story of what came to be known as the "Montana Film" of Mariana's sighting, and the history of official investigations since that time.
She always leaves time at the end, however, both for questions and for people to share their own stories. She believes it's important for people to have an opportunity to tell of things they've seen, heard, or experienced, in a supportive atmosphere.
"Half the time I come back with experiences from the most surprising people – you just never know," she mused.
"I think there's a 'tipping point' in beliefs, major shifts when enough people believe. If more people felt free to talk about these experiences, we'd be close."
Her personal theory is that there is no single explanation for all the sightings and encounters. "I think there are many different beings, from many different places, and that's part of the reason it's so confusing."
Many reports of close encounters describe creatures who look like humans. "They walk among us," is the conclusion from many of those encounters. Another subset of reports invokes the almond-eyed alien countenance that has become somewhat familiar; and smaller numbers report reptilian or insect-like beings.
In a few cases, Bird says, aliens have communicated a message to people who have encountered them, a message that boils down to, "we're concerned with what's happening on Earth, with the loss of biological diversity; we have the potential technology to assist you, if we're asked," according to Bird's summation.
She believes that contact is probable, and that talking about UFOs and alien visitors is necessary now, to help prepare us for that contact.
"People need help to learn and to integrate this information, to help with the shock if something happens," she said.
Skeptics and believers will have a chance to compare stories with her and with each other on Friday, Nov. 30, at the Bitterroot Public Library, 306 State St., at 7 p.m., and on Saturday, Dec. 1, at Chapter One Book Store, 252 Main Street, from 11 a.m. until 1 p.m. On Sunday, Dec. 2, she'll sign books at Missoula's Fact & Fiction from 1:30-3 p.m. "Montana UFOs and Extraterrestrials" is published by Riverbend Publishing of Helena, $14.95 in paperback.