The city of Libby is emerging as a test case for how an urban community in Montana deals with chronic wasting disease, according to Montana Fish, Wildlife and Parks.
The fatal, degenerative neurological disease was first detected in Montana in 2017, according to the agency. It affects deer, elk and moose. So far, five whitetails have tested positive in Libby this year.
Typically, chronic wasting disease occurs in more rural or agricultural areas, said Dillon Tabish, spokesperson for Fish, Wildlife and Parks.
However, he said the detection in Libby, a community of roughly 2,600, means the town is becoming the test case for urban management, and other cities are looking to the Lincoln County community as they seek to be proactive. Tabish said cities such as Missoula, Billings and Glasgow all have reached out with requests to stay apprised of the situation.
"We need to try to get ahead of this," Tabish said, relaying the sentiment from other communities.
The regional information and education program manager for the agency offered remarks Friday at one of three public updates scheduled in Libby on the response to chronic wasting disease. Fish, Wildlife and Parks will hold additional updates at noon Aug. 2 and Aug. 16 in Libby City Hall, 952 Spruce St.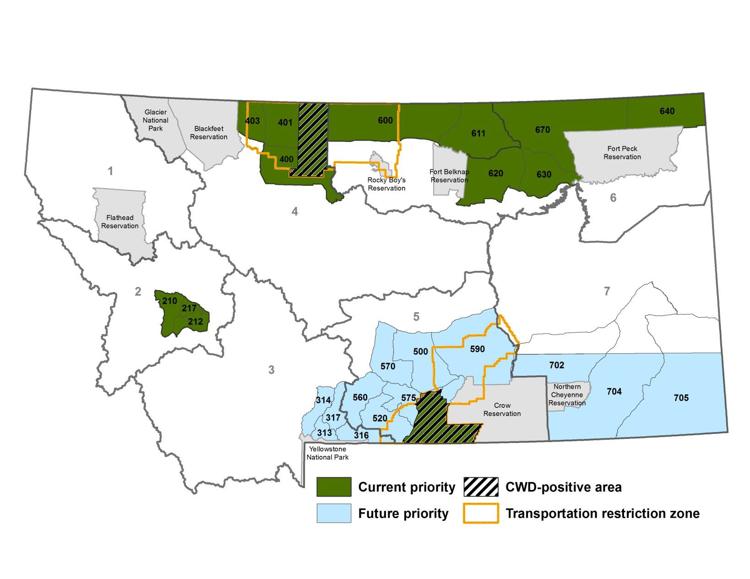 The first case detected in Libby was in a doe that died in late May, and the second, a sick buck, was reported just four blocks away from the first incident June 14. Tabish earlier noted the Libby incidents were unusual because both involved deer roaming inside city limits.
At the meeting Friday, Tabish said only whitetail deer have tested positive in the area so far, but 37 animals have been sent for testing, including three mule deer. The Missoulian listened to the meeting via speakerphone.
Chronic wasting disease has been found in Canada in Alberta and Saskatchewan, and a management zone exists at the northern border of Montana. According to an FWP management plan, the disease is present in 25 states in the U.S. and also has been found in Norway, Finland and South Korea.
In order to understand the extent of the problem in Libby, the state agency must conduct additional tests, and it can't test only deer within the city limits that appear sick. Tabish said the agency plans to conduct 200 tests in the greater management zone.
"We're sampling as much as we can because we've got to know how bad this is before we can develop a plan," Tabish said.
He said Montana is fortunate in that it can learn from other states that already have handled the arrival of the disease. In the U.S., detection has taken place over the last couple of decades. 
You have free articles remaining.
In order to conduct tests in the Libby area, Fish, Wildlife and Parks will issue 600 extra general hunting tags. The preliminary plan is to allow two "antler-less" tags this hunting season per hunter, although details are still being confirmed. (FWP is waiting until the fall so fawns are more likely to survive on their own.)
All deer harvested in the management zone must be tested, and the agency will pay the cost, Tabish said. He said testing is not mandatory outside the zone around Libby, but hunters still may choose to collect the lymph nodes and submit the samples for results at their own expense of $17.
According to Fish, Wildlife and Parks, hunters must go a step further than basic field dressing and quarter the animal in the field, leaving the spinal column and brain tissue behind. Carcasses cannot be taken outside of the management zone.
At the meeting, Libby game warden Tamie Laverdure-Fitchett said the additional tags don't have any effect on private property rights. The official said hunters still need permission to go onto private property, and enforcement remains the same.
"The rules haven't changed at all," said Laverdure-Fitchett, with FWP.
Behavior is changing, however, and more adjustments are needed. 
Some people who live within cities think they are helping deer by feeding them, but that activity perpetuates the problem by concentrating animals in a small area, Tabish said. It also attracts into urban areas predators such as mountain lions.
"It is common, unfortunately, in many towns across Montana," Tabish said of feeding deer.
However, he said one business in Libby has decided to stop selling food that some people have put out for deer.
Tabish also noted that earlier in the week, the City Council approved a resolution to allow the city, sheriff's deputies and Fish, Wildlife and Parks to harvest deer and collect samples on city property.
At the meeting, one participant wanted to know the response time on testing, and Tabish said it runs 10 to 14 days. Montana has a testing lab, he said, but it doesn't have the specific certifications to run chronic wasting disease.
Tabish noted building a new lab would be expensive. At this point, he said more questions than answers exist about chronic wasting disease, but Sen. Steve Daines, R-Montana, has proposed an increase in federal money for related research.
In other states, chronic wasting disease has decimated as much as 20% to 40% of herds, Tabish said. However, if the concentration of the disease remains at 5% or less, he said it won't cause a traumatic loss.