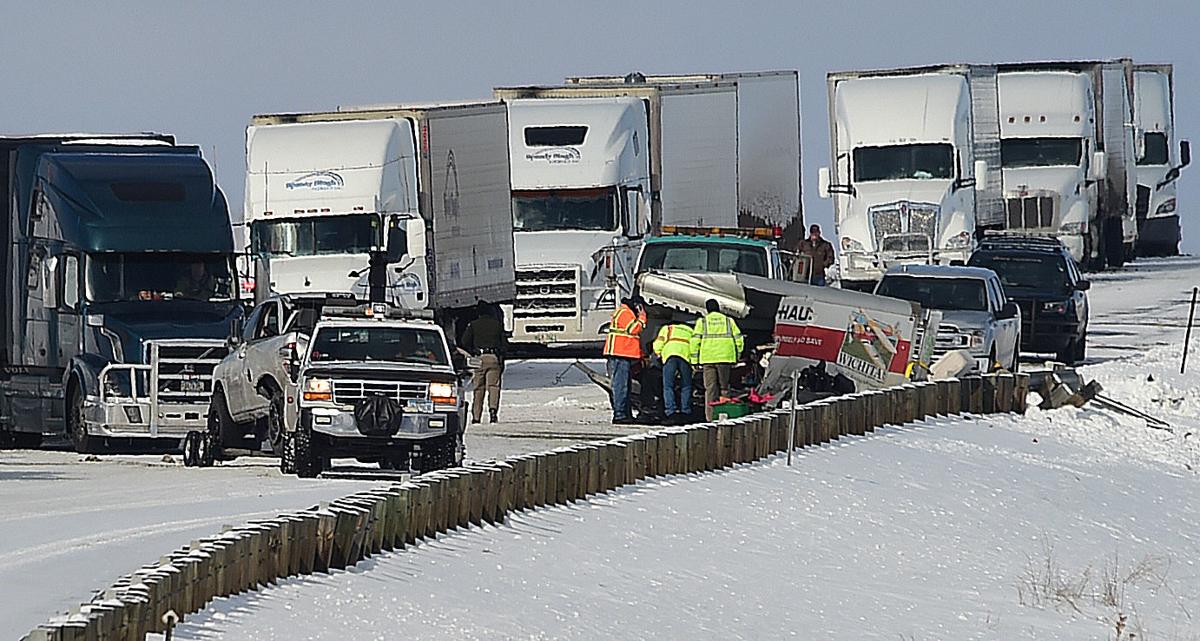 The two tow truck operators killed in a crash early Sunday morning on the interstate were identified Monday by the Stillwater County coroner.
One of the victims was 37-year-old Nicholas Ryan Visser of Billings, according to Sheriff Charles "Chip" Kem.
The other victim was 28-year-old William Casie Allen from Reed Point, the sheriff said.
Visser and Allen were on foot recovering a vehicle early Sunday morning near mile marker 414 on I-90 between Columbus and Park City when they were hit by a pickup truck towing a trailer.
Both men had worked for Hanser's Automotive in Billings since 2018. The company is raising money through the website GoFundMe to help the men's families pay for funeral expenses and other costs.
Coralene Corbridge, a human resources manager for Hanser's, said people interested in helping may also contact her. 
He "deserved to have another 60 years of fishing, bow hunting, and shooting ahead of him. He was a brave young man who was taken from us far too soon," the GoFundMe page says.
"He may have looked the part of the gruff biker dude, but his soul was kind and gentle," the tribute to him says.
First responder tribute
A tribute Friday night along the Rimrocks is being planned by the Yellowstone Valley Tow Truck Association. Organizing the event is Kristopher Moore, who also owns Thin Line Towing and Recovery.
A long list of local and regional first responder agencies have been invited, along with Billings tow truck companies to gather near the Highway 3 water tower and turn on their emergency lights in tribute to Visser and Allen. 
The tribute is scheduled to begin at 7 p.m. and people are asked to view from downtown, the South Side or the West End. A procession may go down North 27th Street, but Moore said that was still tentative and no final decision had been made.
For the last eight years Moore said he has worked in the towing industry. He said that on average a tow truck driver is killed nationally every six days. That figure has been referenced by the American Automobile Association in recent years.
Working on an off-ramp Monday morning after a car slid off the road, Moore said he was more aware of his surroundings than he normally would be. 
"You're constantly looking over your shoulder," he said. "Yesterday's accident was incredibly sad. It's got all the tow truck drivers in town more vigilant and more on edge."
A deadly job
Moore said that in light of the risks, tow truck operators can't guarantee they'll come home at the end of the day.
"Sadly most people consider tow truck drivers more like a glorified garbage truck man than an emergency responder, but more of us are struck and killed by cars than any other emergency service there is," he said.
When weather deteriorates, the extent to which tow truck operators are needed increases. Local law enforcement rotate through a list of tow truck operators each day. On an average day, with normal weather, Moore said the rotation through the list moves seven to 10 spots a day.
"This last week it has been moving, I would say probably on average 15 to 20 spots a day," he said. "Tow trucks are out there more often, longer during the day and in conditions where it's a lot more likely someone is going to slide right into us."
A summary of the study on the Centers for Disease Control and Prevention website notes that death rate is more than 15 times the 2.8 deaths per 100,000 population for all U.S. private industries combined.
The leading causes of death for the years reviewed were motor vehicle accidents, followed by contact with objects and equipment.
"Motor vehicle incidents frequently involved workers on the side of the road being struck by passing vehicles," the summary of the study says.
Distracted, drunk, drowsy...
Jerry Prete has more than 30 years of experience as a firefighter and is Eastern Regional manager for the MSU Fire Services Training School. He's also the state traffic incident training coordinator for the National Incident Management Responder Training, and works to train first responders on how to manage traffic incidents. 
Along with those duties, Prete and Beth Rehbein manage the Move Over Montana Facebook page, which is aimed at raising awareness of roadside risks to responders in the state. Prete said that Rehbein's husband, a law enforcement officer, has been hit twice in the last five years.
Prete breaks down risky drivers into something he calls the Five D's: distracted, drunk, drowsy, drugged and dumb.
"Those are the five drivers that threaten our lives and distraction is by far the number one issue we face," he said. Distractions can range from cell phones to kids in the car.
By law people need to slow down and when safely possible vacate the nearest lane when approaching responders working in a road setting, according to Prete. People have to slow down by at least 20 mph below the posted speed limit on a highway with a speed limit above 50 mph. Prete noted the law additionally requires people to slow down to a reasonable extent, which he said is dependent on things like road conditions and line of sight. 
"I know of an ambulance that was hit last week. I know of a fire truck that was struck last week. They missed the people, but they hit the vehicles" he said, adding that he did not see those crashes make the news anywhere. "I don't know some of it I think is some departments think there might be a stigma because their vehicle got hit. We can do everything right and we still have to understand that we're dealing with a human factor."
Sunday's deadly crash
According to a crash narrative released Sunday night by the Montana Highway Patrol, the 18-year-old driver of the pickup truck that struck Visser and Allen was attempting to pass a semi that had slowed to avoid a collision. After moving into the passing lane where a tow truck was recovering a vehicle, he hit Visser and Allen.
Both men were pronounced dead at the scene. The pickup driver and the driver of the semi were uninjured, according to MHP.
An official report from the medical examiner is still pending, but according to the Stillwater County coroner blunt force trauma is the likely cause of death for both Allen and Visser.
Road conditions in the crash narrative were described as icy, and speed was suspected as a possible factor in the crash.
The crash was reported at about 6:18 a.m. Sunday. 
Questions about the crash should be directed to the Montana Highway Patrol, who is investigating the crash, according to Kem. 
Investigating the crash is Trooper Wyatt Duncan. He said that Visser and Allen had a reflective sign set up to warn drivers of a crash ahead, and that the sign was set up at a distance that was in compliance with regulations. The two men had responded to the area to help a truck that had crashed pulling a U-haul earlier in the morning. The pickup had been hooked up to one wrecker and they were in the process of securing the U-Haul to a rollback wrecker truck when the fatal crash happened.
Duncan said the driver of the pickup who struck Visser and Allen then swerved back and hit the semi. Duncan said once his investigation is completed and reviewed within his agency it will be forwarded to the Stillwater County attorney's office to review for possible charges.
Be the first to know
Get local news delivered to your inbox!