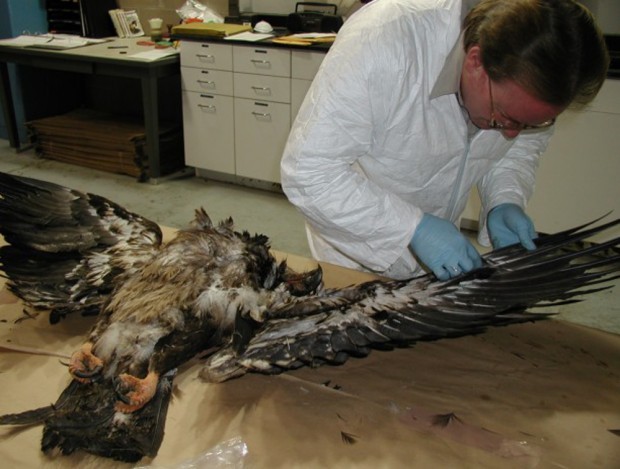 BILLINGS – An eagle feather dislodged from the bustle of a Crow or Northern Cheyenne during a traditional dance can bring a powwow to a standstill.
"When an eagle feather falls and touches the ground it indicates the death of that eagle," explained Burton Pretty On Top, Crow cultural director. "Dancing is stopped and a veteran is asked to come out and retrieve the feather and give it back to the dancer."
The dancer, in his turn, offers the veteran a gift. Then the veteran prays for the dancer.
On the adjacent Northern Cheyenne Reservation, the eagle is held in equal esteem.
"If a dancer drops a feather, there is a ceremony," said traditional dancer Winfield Russell, a Vietnam veteran.
A "pickup song" is sung and a combat veteran is asked to handle the feather, he said. If no veteran is available, the task is delegated to one of the ceremonial men.
"Not just anybody can pick it up," Russell said.
Combat veterans go through a ceremony that allows them to carry feathers from the sacred bird.
The eagle is inextricably entwined with traditional people of the Northern Plains tribes, even most who were raised in the Christian faith.
"Eagles are the symbol of the creator," Pretty On Top said. "First Maker taught us that there is but one God. The eagle is our spiritual messenger to God."
Jerome Whitehip, an employee of the cultural department, likened the eagle's role to that of a priest in his Catholic church.
"We go to confession, and who carries our words to God?" he asked. "It's the priest. The eagle is parallel to the priest in European religion."
But eagles can be difficult to acquire and trickier to own under a load of federal laws designed to ensure that recovery of this iconic bird continues.
Under the Bald and Golden Eagle Protection Act, only American Indians can possess bald eagle parts acquired after 1940 or golden eagles after 1962.
And the only place that they can get them legally, other than as gifts from family or friends, is the National Eagle Repository in Denver.
It can be a long wait – years for those seeking a whole eagle.
The repository, part of the U.S. Fish and Wildlife Service, receives about 2,400 eagle carcasses a year, said Dennis Wiist, a wildlife specialist there.
The list of American Indians waiting for an eagle is twice that long.
Eagles can't be killed legally and their parts can't be sold, transported, traded, imported or exported. Even possession of post-Bald and Golden Eagle Protection Act eagle parts requires a permit. Eagle parts can be handed down through families or given to other Native Americans for religious purposes. They can't be given to a non-Indian.
"It's an awkward situation," said Conrad Fisher, historic preservation officer for the Northern Cheyenne Tribe. "Eagle feathers have been used for thousands of years by Native Americans. They probably go back to the genesis.
"Without them, we're losing part of who we are as Native American people. They are critical and essential to our survival."
Eagles that come to the Repository are usually sent by state or federal wildlife officers. Many have been hit by vehicles or electrocuted on power lines, Wiist said. Others have been illegally shot or trapped. Sometimes eagles are sent from zoos or rehabilitation centers after their deaths.
"We get the birds out within a week if they are in good condition," Wiist said.
But even moving as fast as possible to get eagles into Native American hands does not make up for the chronic shortage.
"I know people who have been on that waiting list for eight years," said Melissa Holds The Enemy, an attorney for the Crow Tribe. "Obviously the system in place is not accommodating our way of life."
The wait depends on whether the applicant wants a whole eagle, feathers or other parts, Wiist said. Those seeking miscellaneous feathers usually get them within three months, he said. Those seeking a higher quality of loose feathers may have to wait six months.
Golden eagles are more in demand than bald eagles. According to the repository website, it takes about five years to get a whole immature golden eagle and four and a half years to get an adult golden or a golden eagle tail.
Bald eagles may be available in two and a half years, and the tail of a bald eagle has about the same wait time. A pair of eagle wings takes about a year. Trunks, heads and talons can be supplied on request.
Nearly 95 percent of requests are for whole eagles, the FWS website says.
Applicants must present FWS with certification of tribal enrollment before they can receive an eagle.
Be the first to know
Get local news delivered to your inbox!