Lake County has paused a bridge replacement project to give a family of birds some peace and quiet.
Eugene Beckes spotted the robin-size birds, a species called American dippers, last month near a bridge carrying Mission Creek Road over a creek. "I was on a walk down there … and I saw a couple of dippers, and I thought 'Oh, no, they have a nest down there."
He found it under the bridge. "I came around a piling, and I was about face to face with the thing, and a dipper flew out."
Despite their small size and slate-gray plumage, these birds have enthralled Beckes in a decades-long birdwatching and bird photography career. "They're just amazing birds to watch," he said of the dippers, capable of diving 20 feet underwater for food, even in fast-moving streams. "It's quite amazing. They're really impressive little animals."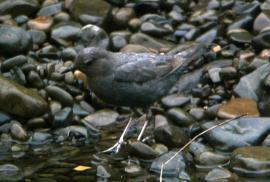 But the bridge that holds their nest is slated for removal. "It's an aging wooden structure that has essentially been condemned by the state of Montana, and we have it restricted by a 3-ton weight limit and one lane," said Jay Garrick, Lake County's roads supervisor. The bridge accesses about a dozen properties on the east side of the Mission Valley near St. Ignatius.
Beckes, one of the affected residents, learned of the project and contacted Garrick on May 29, asking the county to hold off on the project until the birds' chicks had fledged, or left the nest.
You have free articles remaining.
So for now, the county is waiting to replace the bridge. "We spoke with the county commissioners and they've agreed to delay the demolition of the bridge until the dipper chicks have fledged," Garrick said Friday.
How long this will take is uncertain. According to the Audubon Guide to North American Birds, dipper chicks fledge 18 to 25 days after hatching. Beckes hasn't peered too closely into the nest to avoid disturbing them, but on June 4 he sent Garrick a photo of a parent bird bringing a fish back to the nest, indicating there were some baby birds in need of feeding. He's confident they'll leave the nest by mid-June.
Beckes was also concerned about the installation of a temporary detour bridge alongside the old one. "That's going to be pretty chaotic, that alternate bridge, and that could cause enough disruption to cause the birds to leave their nest," Beckes predicted. Garrick, on the other hand, doubts the disruption will be any worse than the traffic that currently crosses the bridge.
Though not endangered or threatened, American dippers are protected by both Montana state law and the federal Migratory Bird Treaty Act. Catherine Wightman, habitat coordinator at Montana Fish, Wildlife and Parks, believes that an action like installing an alternate bridge near an active nest would fall into a legal "gray area" under the act, and advised the county to consult with the U.S. Fish and Wildlife Service before proceeding.
In any case, Garrick said Friday that work on the detour bridge won't begin for at least two weeks. To explain what would happen if the chicks hadn't fledged by then, he used an apt metaphor.
"I guess we'll cross that bridge when we get there."