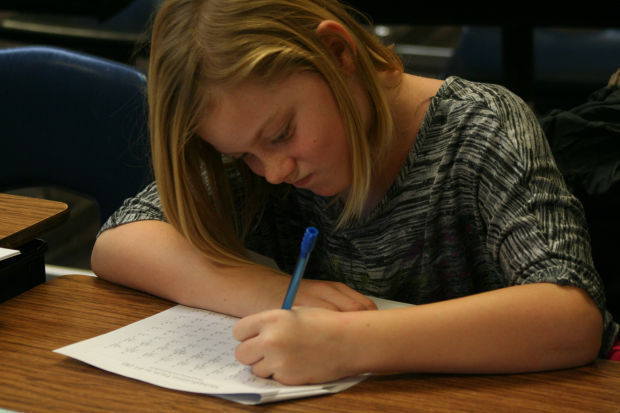 HAMILTON – Daly Elementary School may have found the key to inspiration and motivation. Teachers there have created a challenge and are tracking math computations toward a goal of a million math facts.
Each class keeps track of how many math facts and math problems they solve. As the numbers are charted, students are asking for more math work to do. Yes, read that again. Students are asking for more math work.
Daly Principal Eric Larson said the math challenge is awesome.
"They aren't viewing it as homework – just math practice," said Larson. "It is very exciting in that every child at Daly participates and contributes to the numbers. It has given the social climate of the school a culture blast.
"The students just went nuts for it."
The idea for this challenge came from fourth-grade teacher Jake Jessop.
Jessop is in his first year at Daly. He had taught nearly 20 years of math at the sixth-grade level and knew the importance of having math facts like the multiplication tables memorized. He wanted to inspire the love of math and give students enthusiasm for learning math facts.
His initial plan was just for the fourth grade, but realizing that he'd be teaching this year's third-grade students next year the program quickly developed into a schoolwide challenge.
Second-graders are doing addition and subtraction, third-graders are doing multiplication and division, and fourth-graders build on that, and the fifth grade is doing fractions.
Taking additional math opportunities, the fourth-grade students are keeping the numbers tallied for the grades and Jessop's class is doing the calculations for the entire school.
To make the project more visual, the school has Math Million bulletin boards for each grade, one for the entire school and streamers that are added along the ceiling – one meter for each 1,000 math facts practiced. The streamers start at the office, zigzag through each hall, each wing, the Daly Den and the Mustang gym.
"When they reach a million math facts, we'll have one kilometer of streamers across the ceiling," said Jessop.
After three weeks, the Daly students have completed 552,721 math calculations. They will probably reach their goal of a million before the 10 weeks are up. In fact, if calculations are correct and the numbers stay strong, the contest will be over in seven weeks.
Students completing 1,000 math problems have a 12-second ceremony becoming "Math Fact Ninja" or "Math Fact Minion" – receiving a meter of streamer as a head band which they proudly wear through the school and playground.
For his class, Jessop hands out worksheets full of 100 math problems stapled in packets of 10.
"I handed them out on the first Monday and one of my students brought it in completed the next day and asked for another one," said Jessop. "This week that student has done 4,000 problems and it's only Thursday.
"My class went after it and is leading the challenge. Now, some can do 1,000 problems in 32 minutes. They are setting themselves up for success in the next grade. Some things you just need to know – some things just have to be memorized.
"We are building a foundation that will last a lifetime. I tell my students 'We are setting this thing in concrete, so that when you're in seventh grade facing algebra you don't have worry about these details because they are part of you'."
Teachers at Daly appreciate the program because it adds excitement and reinforces skills without adding more to their workload – other than coming up with math calculations the students can work on – by student request.