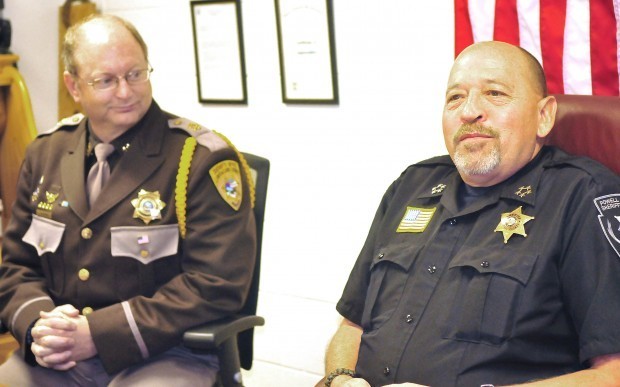 HELENA — Officials on Thursday said no arrests are imminent in the year-old John "Mike" Crites murder investigation, but search warrants were executed Wednesday at the Turk Road residences of two neighbors who had a longstanding dispute with him over roads and land access in the Birdseye area.
At a joint press conference with Powell County Sheriff Scott Howard, Lewis and Clark County Sheriff Leo Dutton continued to offer little information about the Crites case and declined to discuss the circumstances surrounding the warrants, other than to say no arrests were made. The warrants were executed by 11 officers around 7:45 a.m. Wednesday at the homes of Dennis Shaw and of Katy Wessel and John Mehan, according to Lewis and Clark County property tax records.
Wessel, Mehan and Shaw are involved in a lawsuit with Crites' estate over the land and access to public lands beyond Crites' property. Mehan has pleaded not guilty on a charge of evidence tampering in the case after he allegedly took down two surveillance cameras.
Shaw said that the officers who searched his house were courteous, and they stayed at his residence until 2:30 p.m., taking coolers and ropes with them. He added that he doesn't know what they were searching for.
Crites disappeared around June 26, 2011. His dismembered remains were found in garbage bags on MacDonald Pass a year ago Friday.
"They think I know something about it (Crites' death) and I don't know how to convince them I don't know a damn thing about it," Shaw said. "I said I would take a lie detector test or anything else they want. How do you get away from something like this, because you're just at their mercy? I don't know what they think that I did."
Officers also quietly searched the Mehan house for about 10 hours, taking tools, saws, Hefty garbage bags, one handgun from a variety of guns in a safe and bolt cutters, among other items. An officer also swabbed the inside of Mehan's mouth for a DNA sample.
Jack Morris, Mehan's attorney, said they weren't sure why the search warrant was executed, because Mehan has cooperated with investigators looking into Crites' death.
"He answered their questions where specific items on the property would be stored; he tried to cooperate as best he could," Morris said. "He would like to get out from being in the middle of this. He maintains he had nothing to do with the disappearance of Mr. Crites. He knows nothing about it and will continue to cooperate with law enforcement.
"Hopefully this case will be solved and the Mehans and Crites can move on with their lives."
The warrants were served a week after a human skull and other undisclosed remains were found east of Elliston below MacDonald Pass, which is just a few miles west of where some of Crites' remains were discovered in bags. Portions of Crites' body were missing from the bags; Dutton has declined to discuss exactly what was in them, citing the ongoing investigation.
But he did want to assure the public that they're moving forward on the case.
You have free articles remaining.
"We are working feverishly," Dutton said. "There's a lot of activity going on."
The newest human remains were found about 6:45 p.m. Sept. 25 just off of Lime Quarry Hills Road. The road is north of Highway 12 and south of the Little Blackfoot Creek and train trestle.
Howard said they received a 911 call from a couple traveling through the area who had stopped along the highway to exercise their dogs.
"While in the area, their dogs were acting very strange and led them to what later on was determined to be human remains," Howard said. "There was a skull and other human remains found."
Howard said he's requested an expedited investigation at the Montana State Crime Lab into the skull to see if it is Crites. If dental records are good enough, they may have an answer within three weeks; if not, DNA testing could double the time it takes.
Dutton and Howard would not say if they found other evidence with the skull or if — like Crites' — the remains were in a garbage bag.
They also declined to discuss whether there was any duplication among the skull, Crites' bagged remains and a pair of human legs found June 26 by hikers north of Butte. However, a preliminary DNA analysis of the legs in August didn't come up with any matches.
Howard did say despite that the three morbid discoveries, he believes only two victims are involved. He added that he has no reason to believe the deaths are the work of a serial killer.
"There's no serial killer until some evidence shows up and says that," Howard said.
But he added that stance could change depending on the crime lab reports.
Dutton said the investigation is taking a long time because authorities want to have a solid case before making an arrest.
"We are going to solve this but that will take good investigative work plus help from the community," Dutton said. "I know some members of the public are frustrated that it seems to be taking a while, but when you got to court … you want to have a good case."
He said authorities are also seeking help from anyone who may know something about either of the three sets of remains.
Reporter Sanjay Talwani contributed to this report.