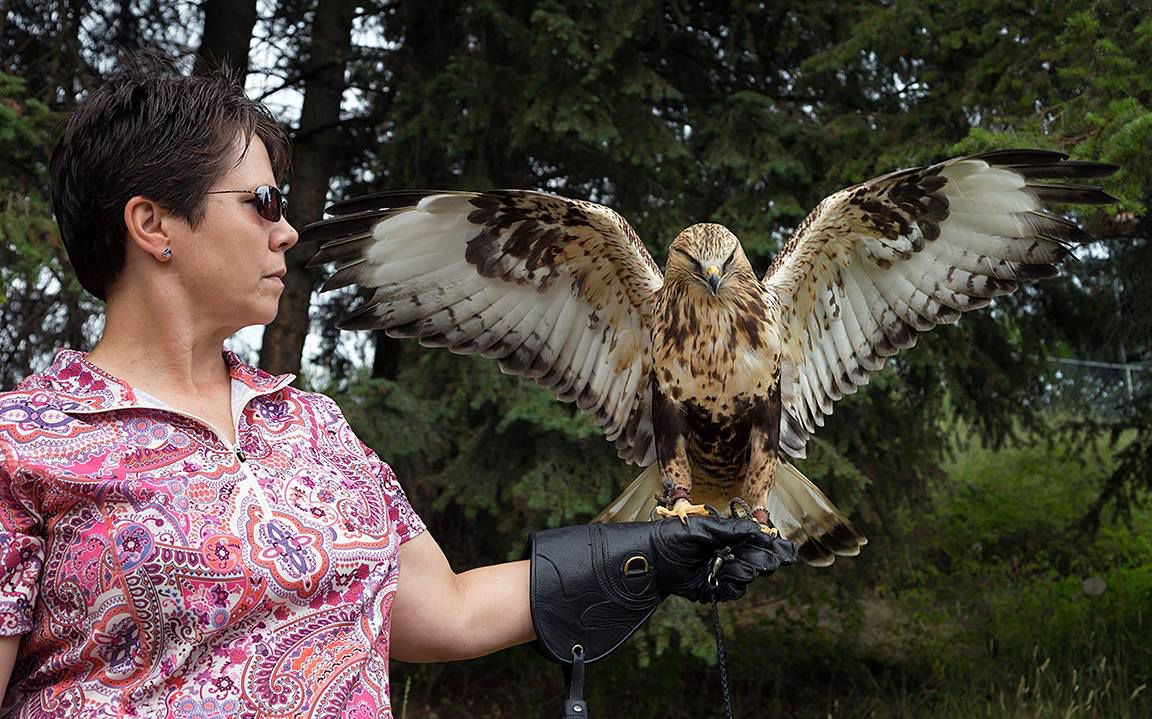 A gust of wind in Kalispell launched a frantic week for Kari Gabriel.
This past Saturday's gales caused plenty of damage across northwest Montana — including to the kennel where Gabriel keeps Hawkeye, one of three raptors that she uses for educational purposes.
"She's a rough-legged hawk," said Gabriel, a practice manager at Calm Animal Clinic and member of the Kalispell City Council. "She got out sometime Saturday morning when my enclosure flipped in my backyard."
Nearly six years ago, Gabriel nursed Hawkeye back to health after a car collision cost the bird all her eyesight in one eye and much of it in the other — and the ability to hunt for prey. Gabriel could use the bird in education, bringing Hawkeye to student groups as the "Montana Bird Lady," but couldn't release her into the wild.
Now, she had to get her back.
That was no easy task in a northwest Montana winter, she explained. "Finding a rough-legged hawk here this time of year is like finding a needle in a haystack, because they migrate here in the winter, so there are thousands of them."
As word spread and volunteers joined the search, she told them to look for a hawk with jesses, cords that would have been wrapped around Hawkeye's feet. Initially, she said, "No one could confirm that they had seen a hawk with those jesses."
Then she got a tip: someone walking in a residential area just north of downtown Kalispell saw Hawkeye. "She flew right over him."
More sightings in the area followed, and on Wednesday, with Hawkeye roosting in a tree, Gabriel and her volunteer network — which had swelled to about 100 — made their first rescue attempt. "Flathead Electric sent a bucket truck, and Independent Tree Services sent a bucket truck. Unfortunately, she was about 85 feet up in that tree, and they can only go up about 70."
And so they spent another day watching and waiting; Gabriel counted eight flights around the neighborhood Thursday. Hawks don't fly after dark, so once Hawkeye had settled in for the night, they tried again.
But again, the bird had roosted beyond the reach of the bucket trucks.
"The ladder truck was the only thing that could reach it," said Chris Hammond, a wildlife biologist with Montana Fish, Wildlife and Parks who helped with the effort. And so the Kalispell Fire Department parked its ladder truck alongside the tree, enabling Gabriel and firefighter Brandon French to retrieve the rogue raptor.
"She wasn't happy, of course, to be pulled out of that tree at night ... so she was agitated," Gabriel said. But all things considered, "she's great. She's thin, and that's what tells me she hasn't eaten."
Hawkeye's now resting in her kennel and fattening up on her favorite dish — beef hearts — while her owner tries to keep this from happening again.
"I need to go out and reinforce all the grommets" on the kennels for Hawkeye, Jack the prairie falcon, and Tink the saw-whet owl, she said. Her kennel was made of steel and weighted down with sandbags, but even that wasn't enough for Saturday's winds. Now, Gabriel's trying to figure out how to fund a more permanent structure.
While injured raptors often have to be rescued, neither Hammond nor Lauri Hanauska-Brown, Fish, Wildlife and Parks's non-game management bureau chief, could remember another raptor escaping from its owner like this. But Hanauska-Brown made clear that these can only be kept for education, rehabilitation or falconry, and with a license. "I would suggest, if someone was to see something like this, that they call us to figure out whose bird it might be."
In Hawkeye's case, that kind of vigilance paid off.
"I can't give enough thanks to the Kalispell Fire Department and that crew last night, and FWP for making that all come together," Gabriel said. "It was awesome."