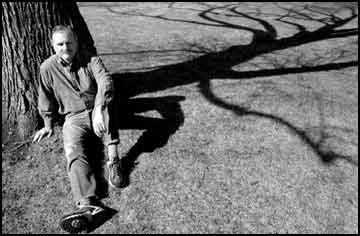 UM-based wilderness guru earns researcher of the year award
WEST GLACIER - Of the thousands of top-notch scientists working in the vast outdoor laboratory that is America's national parks and wilderness areas, only one is chosen as the Park Service's researcher of the year.
This year's winner is a guy named Dr. Dirt.
Dr. David Cole came by that nickname honestly, out in the field, stomping through dirt, hands in the dirt, sleeping on dirt, and, of course, doing a bit of dirt research.
Cole, as you might have guessed, is no academic draped in a white lab coat; he is a real-world scientist, who likes to do his research where the Vibram meets the trail.
Although he keeps a desk on Missoula's University of Montana campus, Cole's real office is the wide-open backcountry, where he has made a career of studying wilderness recreation. The idea, he said, is to help officials manage wilderness based on how people use, and sometimes abuse, wilderness.
"It's the best job in the world," Cole said. "I personally like to spend as much time out there as I can, and I saw this type of research as a way to do science and stay in the wilderness as much as possible."
Along the way, Cole has become something of a guru for wilderness land managers, an expert source whose ideas have changed even the way America defines wilderness.
"The thing is, he's just so accessible," said Jack Potter. "His work is all incredibly understandable and usable for people trying to manage these places. Everybody turns to Dave Cole for the answers. He's written a big chapter in the bible of wilderness management."
Potter is supervisory biologist at Glacier National Park, and was the man who nominated Cole for the award. (In 1997, another of Potter's nominees, grizzly bear researcher Kate Kendall, also won the national award.)
"I knew I was nominating him on behalf of a whole lot of people in the Rocky Mountain Region," Potter said. "This didn't come from Washington; it came from the field. It wasn't one bureaucrat patting another bureaucrat on the back. It was about real achievement on the ground, making a real difference, giving some real scientific basis for the decisions people are making."
According to Potter, Cole's work over the past 25 years has fundamentally shaped the way the Park Service manages wilderness areas.
For example, it was once widely believed that spreading wilderness users out over a large landscape was the best way to minimize the impacts of their presence. Cole, however, has been able to show that concentrating people in smaller areas leads to greater protection of the larger area.
By measuring things such as soil compaction associated with human trampling, Cole not only earned the nickname Dr. Dirt but also proved what Potter calls a "curvilinear relationship between use and impact."
In other words, a pristine spot is impacted greatly by the first few tramplings, but then the impact levels off. Stomp around on an area already stomped on, and you're less likely to do damage than if you stomp around a piece of virgin territory.
That understanding has led managers at Glacier National Park to confine hikers and campers to heavily used designated trails and campsites, leaving other areas largely untouched. Doing so meant acknowledging that not every piece of dirt in a wilderness should be treated as "wilderness." The new definition meant some "sacrifice zones" were necessary to protect the surrounding lands.
Oddly, the Forest Service - Cole's boss - has not adopted that approach, while the Park Service - which gave him the award - has embraced it wholly.
"He's shattered a lot of preconceptions," Potter said of Cole's work, "and sometimes new ideas take awhile to catch on."
Dr. Dirt, however, is a patient man.
He has, after all, built a career specializing in a field that wasn't even a field when he first began. Armed with a Ph.D. in geography and an interest in working in the wilderness, Cole has in large part pioneered an entire field of study.
Over the past quarter century, he has built up a large following, as well as a long-term, big-picture stack of data that places wilderness squarely in the context of human use. Along the way, he has helped author the principals of the now widespread Leave No Trace wilderness ethic, documented who is using wilderness and how, tracked trends and changes, and developed an entire scientific protocol designed to help wilderness managers collect their own data. He also produced more than 130 scientific publications.
Among the backcountry changes Cole has documented is the fact that wilderness users are considerably older on average than they used to be, and are covering more miles in a day hike than ever before. They are trading horses for hiking boots, and are spending less time hunting and fishing. Their trips are shorter, but they also are pushing farther into extremely remote places, making big impacts on sites that until recently saw no human use at all.
At wilderness areas near big urban centers such as Portland, Ore., and Seattle, Cole is documenting an emerging debate about how many people can cram their way into the wilderness and still call it wilderness. Similar debates, he said, are soon to come at places like Avalanche Lake in Glacier National Park and at some of the canyons leading into the Bitterroot Mountains south of Missoula.
Most of Dr. Dirt's work, however, has less to do with determining the age and number of hikers and more to do with digging around in their footprints. He has data stretching back decades, using empirical measuring sticks to gauge impacts at campsites, lake shores, trails, meadows and mountaintops.
The biggest use-related threats to wilderness, he said, are threats - as yet largely unknown and little understood - to wildlife as people delve farther into remote areas. Those areas, he said, are the last havens for species that demand a measure of privacy, yet his data show more use in places that 10 years ago had no use whatsoever.
People are in better shape, he said, and are more inclined to "extreme outdoor pursuits." Their gear is better and lighter, their technology more enabling.
Cole is not, however, waving any red flags. Although he has seen undeniable on-the-ground change in the wilderness over the past couple of decades, "things are not as different now as we might have guessed they would be when we looked ahead 25 years ago."
The biggest change of all, in fact, might be that his self-taught career - really an excuse to travel the backcountry - has emerged as a growing field of study, earning him the top honor among a highly respected field of research scientists working nationwide in wild parks and wilderness areas.
"It's quite an honor," he said. "No one would have predicted it back when I was scrambling to get this thing rolling."
Dr. Dirt next scrambles to San Diego, where he will receive his award at the George Wright Society meetings on April 17.
Be the first to know
Get local news delivered to your inbox!